Undergraduate
Bachelor of Music
The Bachelor of Music provides specialisations for composers, performers and musicologists, as well as those focused on creative music technology.
The learning experience
UWA facilities include lecture theatres, case study rooms and break-out areas for group work and individual study.
One of Australia's most picturesque campuses
Five residential colleges
Vibrant student experience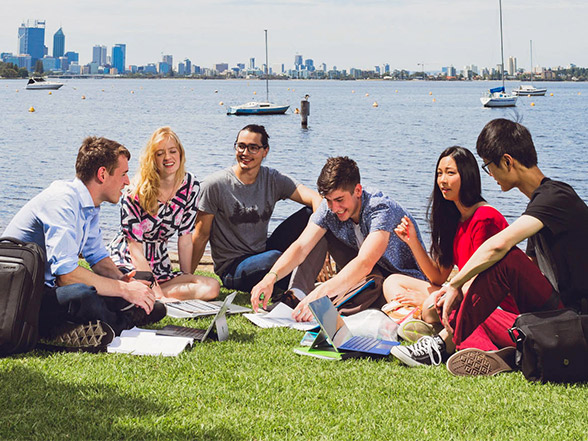 Vibrant student experience
Adjacent to the Swan River, our Perth campus is among the most picturesque in Australia with iconic sandstone buildings sitting among heritage-listed gardens. We're just 10 minutes from Perth's main shopping and business district and close to many of the city's stunning beaches.
On campus, you'll have an array of essential amenities to enjoy, including cafés, libraries, bookshops, a vibrant cultural precinct and tonnes of clubs and societies to join and experience student life to its fullest. Our supportive Student Guild means you can try your hand at volunteering, get independent advice on a range of matters or attend one of the many varied events on and off campus.
Fees and scholarships
Scholarships
Scholarships are available to students from a diverse range of backgrounds, including academic achievement, financial need, educational disadvantage, leadership and community service, artistic or sporting achievements, and being from a rural or remote area.
Careers and further study
Bachelor of Music
Career opportunities
Performer
Composer
DJ
Creative artist
Music administrator
Academic
Music teacher
Music psychologist
Entry requirements
Admission requirements
To be considered for this course you need to:
achieve the University's minimum entry score
demonstrate English language competence
satisfy any prerequisites for your preferred majors (refer to individual major descriptions for prerequisite details)
You can view the prerequisites and recommended subjects for your chosen course here.
View our admission requirements for specific information, depending on your education history.
Assured Pathway information
If you have a professional career in mind, take advantage of one of our
Assured Pathways
. An Assured Pathway gives you an assured place in one of our postgraduate professional courses (such as Law, Engineering or Medicine) from the start of your studies with us. The pathways combine a range of undergraduate and postgraduate courses, providing you with a clearer direction to your career of choice.
Admission entry to UWA
We offer a number of other pathways for you to gain entry into our undergraduate degrees if you do not meet the standard admission requirements. Learn more about our admission entry pathways.
About the Bachelor of Music
Study music at UWA and join one of the world's highest-ranked performing arts programs. This extended major degree allows you to work with world-class musicians to develop your skills as an emerging artist. You will have the opportunity to pursue postgraduate training in many areas, including national and international centres of music excellence, and be ready for a career in the creative arts industry.
Bachelor of Music
Why study Music
UWA has a long history in developing world-class performers, composers and musicologists
Make industry connections with the leading players in Western Australia and internationally, including WASO, WA Opera, the music industry and leading performers in the classical and music technology fields
You'll learn from world-class teachers in your instrument and/or field
This highly practical degree means you'll learn performance by performing
Bachelor of Music
Quick details
Degree specific majors
Minimum ATAR
Intake
Full time completion
CRICOS CODE
Extended major
Studying an extended major in Music will provide you with a rigorous, high-quality tertiary music education.
Bachelor of Music
You'll learn to
perform, create and write about music
understand the history of your genre
be able to think creatively
express your passion through music
Bachelor of Music
Streams and requirements
Performance/Musicology/Studio Teaching Streams:
A practical requirement equivalent to AMEB Grade 7, demonstrated by an audition
A strong background in music theory

Composition Stream:
A practical requirement equivalent to AMEB Grade 5, demonstrated by an audition
A strong background in music theory
A portfolio is also required

The University of Western Australia