FACILITY
Conservatorium Instrument Collection
Supporting musical production and creativity
From the Fazioli concert grand piano to a Balinese gamelan, UWA's Conservatorium of Music has a wide and varied collection of instruments available for use by students and researchers. Many of these are used every day by our staff and students for teaching and practice but there are also some special items in the collection.
Our historical instrument collection, housed in the Eileen Joyce Studio, has both original and replica instruments including a clavichord, harpsichords, fortepianos, and chamber organs. Each practice room has a piano, replaced annually due to a sponsorship agreement with Kawai Australia. We also have several concert grand pianos (by Fazioli, Steinways (2), Kawai and Yamaha) serviced by our master technician Paul Tunzi.
There is also an impressive collection of historical wind, brass and stringed instruments (including baroque violins, violas and bows, a theorbo, natural horns and a classical bassoon) available for students to engage in historically informed performance practice.
We also have high-quality modern instruments available for advanced students to use during their studies. Our two percussion studios are kitted out with marimbas, vibraphones, xylophones, a timpani, glockenspiels, concert toms, bass drums, chimes and more. Students enrolled in elective units play on eight custom-built African marimbas and 24 djembes and use samba gear, boomwhakers and found instruments.
Access
Most instruments are available for use by current students and, in certain circumstances, can be hired by members of the community. These instruments can be seen in action at many of our concerts throughout the year, including:
Piñata Percussion Percussive Masterworks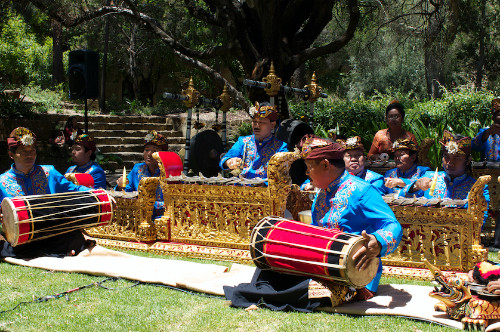 Contact the Conservatorium of Music
Location
Find us on campus
Map