UWA STARTER
Active Leadership: Developing Leadership Skills
Active Leadership: Developing Leadership Skills offers young people an opportunity to learn more about their leadership style, build their teamwork capabilities and develop resilience. This is the first time an opportunity of this type has been offered to senior secondary students, and is an excellent opportunity to engage in a university level leadership program in preparation for tertiary studies and beyond.
Active Leadership provides students with a unique opportunity to investigate the attributes of effective leadership through experiential learning. Students examine their own potential for leadership through an assisted process, and are exposed to leadership theories and research to enable critical engagement with the concept of leadership.
This micro credential also explores leadership within teams and students explore how leadership is related to interpersonal behaviour, communication, and the capacity to motivate others and to self-manage. A variety of practical opportunities in sport and recreational pursuits such as fitness training, modified team sports, sailing, mountain biking, kayaking and trekking, allow students to practise their leadership skills.
Upon successful completion of this micro-credential, you'll receive:
Six PD Points
A Certificate of Achievement
A UWA Professional Development Transcript, listing all successfully completed micro-credentials
Delivery mode
On campus (Watersports Complex or UWA Boatshed)

Course dates

22 April 2023 - 16 August 2023

Applications close

19 April 2023

Duration

11 sessions

Total effort


150 hours

Academic lead:

Associate Professor Michael Rosenberg and
Associate Professor Olivier Girard

Cost

$1,100 (inc GST)

Critical information summary
SSEHM101 Active Leadership

(PDF 245KB)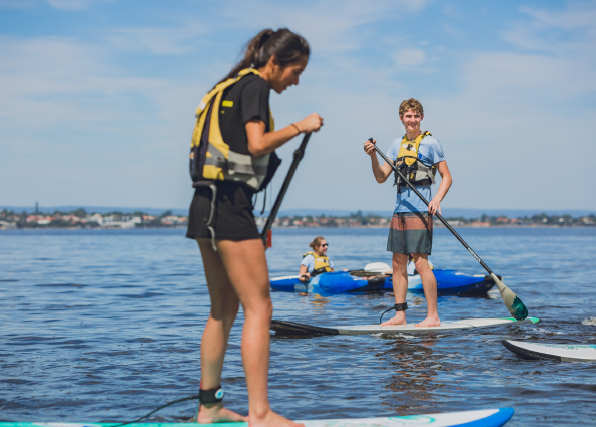 Work within a team environment to achieve common goals
Identify the key attributes and skills needed to be an effective leader
Understand which leadership styles are most effective in particular contexts
Reflect critically on and improve personal leadership understanding, experience, insights and goals
Why study this course?
Supports the growth of leadership characteristics and behaviours, while focussing on wellbeing.

Using unique activity-based scenarios, the program develops leadership skills through experiential learning that supports and embeds learning.
How does it work?
Active Leadership offers students an opportunity to explore leadership through its practical application and theoretical underpinnings. Students learn about leadership working within a team and by applying this knowledge in practical sessions.
Each session students participate in a recreational activity, enabling them to develop leadership skills in a safe environment and explore how to get the best out of themselves and their team.
What's next after this course?
Future study

Students who successfully complete this micro-credential will:

Receive a UWA Professional Development Transcript at the end of your studies, listing your completed UWA micro-credential/s – great for uni entry and your resume!
Earn 6 PD Points - gain credit for one unit when enrolling in selected UWA bachelor degrees.
Gain points that can contribute towards admission to UWA via Experience-based entry.
The University of Western Australia