Psychology honours
Honours is a final, usually fourth, year of undergraduate study. You continue to focus on your major subjects while developing research, time management, problem solving, communication and other useful skills.
We recognise the need to train more Indigenous psychologists, and have created a pathway in to Honours for Aboriginal and/or Torres Strait Islander applicants, see the Entry Requirements and Prerequisites for more information. This pathway has been developed as part of an exception of the Equal Opportunity Act 1984 [s51] that is being applied to achieve equality.
A full description of the honours program and sequence can be found in the honours in Psychological Science UWA handbook entry.
On this page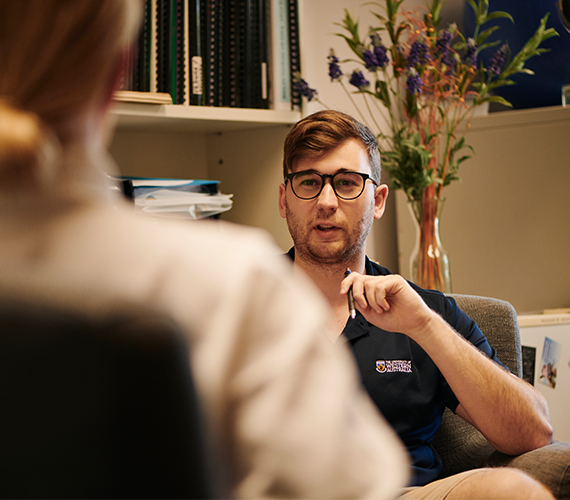 Points to consider before you apply
Deferral - apply only for the year you want to start. Deferral is not available for this program.
Taking time off - you should have completed your level 3 Psychology units within the seven years prior to applying for honours, so most applicants can take several years off.
Part-time study - is available but you must complete the course in two years. Student visa holders are required to study full time.
Commencement – this course is only available for Semester 1 entry.
Late applications – late applications will not be accepted. Applicants must have all results finalised by the application closing date
Successful completion of a bachelor's degree with an accredited sequence of psychology study (including a Graduate Diploma in Psychology)
UWA applicants applying for entry to the honours program in 2024 or later must have completed one of: the traditional double major (2 majors in Psychology) degree, or one of the new single major, or extended major degrees. These degree structures contain different numbers of level 3 psychology units.

Selection criteria:


All Level 2 and Level 3 psychology units are included the entry rank calculation.
The average of all Level 3 psychology unit marks will be weighted twice as heavily as the average of all Level 2 psychology unit marks.
Psychology Honours Applicant Ranking Score = (a + 2*b)/3.
Where: a = the equivalent of a UWA weighted average mark of Level 2 psychology units, and b = the equivalent of a UWA weighted average mark of Level 3 psychology units e.g. if your Level 2 average is 70 and your Level 3 average is 80, your formula score would be (70 + 160)/3 = 76.67.

Applicants will be ranked according to their entry rank and offered places from the top of the list (rank 1) until the School has filled its available places (rank n). The total number of places available (n) will vary according to the number of staff available to supervise.

Indigenous applicants

Indigenous applicants who score at or above an average of 70 per cent in the Level 3 psychology units will be granted entry to the program and are exempt from the ranking process described above.

Non-UWA applicants

Applicants who hold a three-year bachelor's degree with an accredited sequence of psychology study (including a Graduate Diploma in Psychology) from another University are welcome to apply. Your degree must be APAC-accredited. Your grades will be assessed on a case-by-case basis if they are not provided on the same scale as UWA grades.

Up to 5% of Psychology honours program places may be made to Non-UWA psychology course graduates.
How to apply for 2024 entry
To apply for honours (Bachelor of Arts BH001 or Bachelor of Science BH004) follow the steps given below:
Ensure that you meet the entry requirements.
Attend the honours conference or download the honours information session recording: Attend the School of Psychological Science Honours conference to find out more about our honours program. The conference typically runs during the mid-semester break of Semester 2. It's free and you don't need to book - just turn up. Announcements will be made via email to current 3rd year UWA students and via social media channels. An information session for prospective applicants is held on that day, and you're encouraged to attend that meeting. If you missed it, you can view a recording of the session here.
Know the timeline: Please refer to the UWA Deadlines and Dates page for deadlines for both Australian and International applicants. Current students and graduates from UWA are to apply on Student Connect. Non-UWA applicants should apply via the UWA Lodging Your Application page. Applicants must provide all Psychology results by the deadline. Failure to do so will result in the application being deemed ineligible. Deferred exams and delayed external results will result in an application being incomplete.
Please ensure you submit your application by the due dates as specified on the UWA Lodging Your Application page. Please note that Psychology Honours applications have an earlier closing date than other specialisations.
Note: Supervisor preferences are nominated after offers are issued.
Before applying consider your interests

Whilst you are no longer required to complete the supervisor preference form at the time of applying for our honours program, we know that many of you will be thinking about the sorts of projects that you might like to work on.

The best way to start considering this question is to search the UWA Research Repository for our academic staff who may supervise your research project. Be sure to consider academics whose research interests overlap with your own; but also be sure not to define your research interests too narrowly. Read a paper or two listed on their website to get a sense of how they tackle research in that area.

Note that the repository page includes links to profiles of PhD students, honorary/adjunct/non UWA staff and research assistants who are not typically available to supervise honours projects. e.g. your primary supervisor must be from within the School of Psychological Science.

Contacting supervisors

Some of you may wish to follow that up by meeting with potential supervisors. Contact the academic via email and they will provide you with further information. That may happen through an individual, or group meeting, possibly at a specified time. Alternatively, staff may provide you with further information via email.

Talking to a potential supervisor is certainly not compulsory and to protect the integrity of the thesis project occurring within the academic year it is taken, academic staff cannot discuss specific research project ideas. If you are applying from overseas or interstate, you may have to correspond with academics by electronic communication only. Simply e-mail academics with your queries and interests.

Note that academics may be busy or have limited time to respond to you at certain periods during the year.

I have an offer to the program, how do I choose a supervisor?

Applicants who receive an offer into the School of Psychological Science honours program will complete an online supervisor preference form as part of accepting their offer. Since offers and acceptance deadlines fall outside of the traditional teaching periods, applicants may wish to consider their supervisor interests early, as described above, before accepting an offer to the program. Successful applicants must complete the online supervisor preference form for preferences to be considered in the supervisor allocation process.

If you plan to complete your thesis in the second year of part-time study you will not be required to select a supervisor at the time of accepting your offer. Instead you will be prompted to submit the online supervisor preference form in the following year's round of offers. Preferences will not 'carry over' to the subsequent round of supervisor allocations.

Assigning supervisors

The online preference form will ask you to express your preferences regarding supervision by each available academic in the School. You will be assigned to a supervisor on the basis of your preferences, weighted by your academic record where there are ties. This means that the better you perform, the more likely it is that you will be assigned the supervisor whom you most prefer. Note that competition for supervisors can be intense (depending on their research interests and capacity to take on applicants).

One to two weeks before semester commences, the School will inform you about who your supervisor is. Please note that this assignment will be final, and that no further changes of supervisor will occur once you have been assigned to an academic.
Recommended unit progression
Full-time enrolment (1 year)
Part-time enrolment (2 years)
1ST YEAR
SEM 1
PSYC4416 Psychological Research and Theory
PSYC4418 Advanced Quantitative Methods in Psychology
SEM 2
PSYC4413 Psychological Research and Practice
2ND YEAR
SEM 1
PSYC4421 Psychology Honours Research Project Part 1
SEM 2
PSYC4410 Psychological Research Communication Skills
PSYC4422 Psychology Honours Research Project Part 2
Time commitment:
Students are expected to commit ~150 hours of work per semester for a 6-point unit, and ~300 hours of work per semester for a 12-point unit. Many units and research projects have compulsory attendance requirements and you would need to be able to accommodate scheduled activities even if enrolling part-time.
Explore postgraduate courses and careers
Gain higher-level skills and knowledge with a UWA postgrad degree and become more attractive to employers. Find out where further study in psychology could take you.
Have a question? Get in touch with us
The University of Western Australia