Borrow resources from our collections
Students and staff are welcome to borrow books and other materials from the UWA libraries.
You will find information here on how to borrow, the High Demand collection, reciprocal borrowing from other university libraries, how to request resources, and how and when you should pay any fines you receive.
How to borrow
Take your Campus Card and the items you wish to borrow to the Information Desk or a self-check machine in any library. If an item you have on loan is requested by another patron, a new due date will be sent to your UWA email. Sign in to My Library Account to view your loans and due dates and to renew items. Loans can also be renewed at self-check machines or by contacting the Library.
UWA students with a mobile phone number registered in studentConnect will receive selected notices via SMS, in addition to email notices.
Items can be returned to any UWA library, either in person at the library or through the after-hours return chutes. If you have an overdue item, your account will be suspended from borrowing until the loan is returned or renewed.
Requesting items
Many library items can be requested for convenient access, including items on loan (which will be recalled from the current borrower), items held in offsite storage, and items on the shelf. All can be delivered to a preferred location on campus, including staff offices. Some book extracts and print-only journal articles can be requested for digitisation and delivery by email.

Sign in to OneSearch to search for items and see your request options. More information can be found on our Request and recommend page.
High Demand Collection
Each library has a High Demand Collection where you can find essential material for UWA units. These items can be borrowed for three hours and renewed for a maximum of six hours. You can borrow a maximum of two High Demand items at a time. High Demand items can be borrowed overnight after 4:30pm. Please check your receipt for due times. You cannot renew your High Demand loans after returning them the following morning.
High Demand items are not available for bookings or requests, and need to be returned to the High Demand area of the library from which they were borrowed, and checked in using the self-check machine. Do not return High Demand items via returns chutes when the library is open, as delays in processing could mean you accrue fines. Online resources for your units can be found in Unit Readings.
Ebooks
You can access the Library's ebook collection 24/7, from home, work or anywhere that you can access the Internet. Ebooks let you:
Read ebooks in your web browser


Download ebooks to your computer, tablet, or phone


Print selected pages from your browser
The best way to find ebooks is via OneSearch. You can also search for ebooks within ebook collections and databases which include ebooks. The Library provides ebook access from several publishers and you may find that printing, downloading and other services vary. For more details see the Ebook Guide below or contact us if you encounter any problems.
Resources in Albany
The Albany Library collection is housed on the UWA Albany Campus and items are listed in OneSearch. Search for your topic, and then use the filters to limit your results to the Albany Campus collection: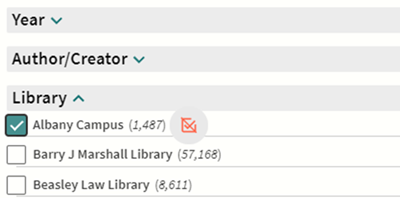 Regional and offshore students and staff can access the collection only.
For more information, see our 'Guide on Using the Library for Albany Students'.
Reciprocal borrowing
Students and staff from all universities in Australia and New Zealand can borrow resources from any university library under the University Libraries Australia and New Zealand (ULANZ) national borrowing scheme. University of Auckland does not participate in ULANZ.
Apply in person at the library you wish to borrow from by providing proof of current enrolment or employment and your home university identity card. Curtin, ECU, Murdoch or Notre Dame applicants can apply online below. Allow two working days for the library to process your registration. Note that membership is valid until the 28th February of the year following application.
Alumni, Visitors and Community
UWA alumni, official UWA visitors, former UWA staff and members of the public can join the University Library.
Loan periods and fines
| Member type | Loan period | Number of items | High demand items |
| --- | --- | --- | --- |
| UWA undergraduate students | Semester | Unlimited | 2 |
| UWA staff and postgraduates | Semester | Unlimited | 2 |
| Community and affiliate members | Semester | Unlimited | No |
| Reciprocal members | 6 weeks | 30 | No |
Fines accrue from year to year and need to be paid if you owe $24 or more. If you accumulate $24 or more in fines, your account will be suspended from borrowing until you pay the amount owing in full. If you are a UWA student, your debt will be recorded as an Administrative Encumbrance on your student record, which will prevent access to examination results, transcripts, graduation and re-enrolment. It can take 24 hours for the Administrative Encumbrance to be removed from your student record after payment is made.
Damaged items will be invoiced for costs of replacement. If you are certain you have returned or never borrowed an item that is still on loan under your name, contact the Library.
We will accept a replacement copy of the same edition of a billed or damaged item in lieu of payment - please contact the Library before obtaining a replacement, to verify that the replacement is suitable. If a lost item is paid for and subsequently returned, contact the Library to obtain a refund within 12 months of the payment.
loan type
fines

High Demand collection

$3 per item per hour overdue or part thereof to a maximum of $60 per item). For example, a High Demand item due at 2pm will be fined $3 if returned or renewed at 2.30pm.
(Excludes UWA Staff)

Items requested by another user

$3 per item per overdue day (to a maximum of $60 per item)
(Excludes UWA Staff)

All other books, audio-visual material and locker keys

$99 if overdue by 31 days - charge waived if item returned.
Paying fines
Following payment, your borrowing privileges will be restored immediately. There are several ways you can arrange payment.
payment type
details
Online

Available only to Pheme account holders who are paying with Visa or MasterCard.

Sign into My Library Account and select Fines + Fees.

Pay in person or by phone

You can pay in person by EFTPOS by visiting the following library up to 15 minutes before closing time or calling (+61 8) 6488 1255:

We accept debit cards, Visa, MasterCard and cheque but not cash.

By mail

Post your cheque made payable to 'The University of Western Australia' to:

Reid Library
M209
University of Western Australia
35 Stirling Highway
Perth WA 6009

Please indicate that the payment is for a library fine. A receipt will be sent to you.
Trouble paying a fine
If you are having trouble paying a fine or wish to dispute a fine, contact us via AskUWA. Provide full details of the reason(s) you believe you should not have to pay the fine.
Stay in touch
Contact us to receive help and support from our friendly, knowledgeable staff. You can also share your feedback or make a suggestion and follow the UWA Library on social media to receive helpful tips and up-to-date information about our services.
AskUWA
Find answers to library FAQs anytime
askUWA