Undergraduate
Bachelor of Philosophy (Honours)
The learning experience
Gaelen Perrone and Simon Thuijs discuss the advantages of a Bachelor of Philosophy (Honours) degree from UWA.
in the HTML view of the content editor, add your iframe embed code inside the class="flex-video widescreen" area
Fees and scholarships
Domestic Student Fees
There is no current fee information available for this course. Please visit the fee calculator to browse course fees from a previous year, or other courses.
Scholarships
Scholarships are available to students from a diverse range of backgrounds, including academic achievement, financial need, educational disadvantage, leadership and community service, artistic or sporting achievements, and being from a rural or remote area.
Careers and further study
Bachelor of Philosophy (honours)
Related careers
Bachelor of Philosophy (Honours)
Honours and beyond
Completing honours is an integral part of your Bachelor of Philosophy course. Honours students conduct their own research project, developing valuable skills in advanced problem-solving, critical thinking, independent learning and communication that are highly regarded by employers.

BPhil (Hons) graduates have a wealth of opportunities upon graduation. Graduates may choose further study as a postgraduate, either by coursework and/or research, including courses leading to professional qualifications, or may prefer to enter the workforce directly after completing their undergraduate degree.
Entry requirements
Entry pathways
Entry to the Bachelor of Philosophy (Honours) is available to school-leaver applicants with an Australian Tertiary Admission Rank (or equivalent) of 98 who have not achieved any results in a tertiary-level award course, and current UWA first-year students who have achieved strong results and wish to transfer to the BPhil (Hons).
Summer Residence
Attendance at the Summer Residence is a requirement for all commencing BPhil (Hons) students and will be held mid-February (prior to Orientation Week) at one of the colleges associated with UWA. Further details will be provided in the Letter of Offer for successful BPhil (Hons) applicants.
Admission requirements
To be considered for this course you must:
achieve the University's minimum entry score (ATAR of 98 or equivalent)
demonstrate English language competence
satisfy any prerequisites for your preferred majors (refer to individual major descriptions for prerequisite details)
You can view the prerequisites and recommended subjects for your chosen course here.
Go to admission requirements for more specific information, depending on your education history.
Assured Pathway information
If you have a professional career in mind, take advantage of one of our
Assured Pathways
. An Assured Pathway gives you an assured place in one of our postgraduate professional courses (such as Law or Medicine) from the start of your studies at UWA. The pathways combine a range of undergraduate and postgraduate courses, providing you with a clearer direction to your career of choice.
Transferring to the Bachelor of Philosophy (Honours)
To be eligible to be considered for an internal transfer to the BPhil (Hons) you need to:
be currently enrolled in a bachelor course at UWA

have passed all units in which you remain enrolled, and achieve a sufficient weighted average mark in units to the value of 48 points in your first academic year
I'm interested in transferring! How do I apply?
Eligible UWA students will be automatically contacted by email mid-December each year. If you are interested and would like to be considered for entry, follow the instructions in the email you receive and an outcome will be given to you early January.
If you have any questions about the course or the application process, you can email Admissions.
Please note that entry to the BPhil (Hons) is highly competitive, and satisfying the entry requirements does not guarantee an offer of a place.
If you intend to continue your studies at UWA next year, you are advised to re-enrol in your current course by the deadline advertised – don't wait for the outcome of your application to the BPhil (Hons) before doing this, as you may incur a fee for late re-enrolment.
About the Bachelor of Philosophy (Honours)
The Bachelor of Philosophy (Honours) is an inspiring, holistic four-year degree with integrated honours. The innovative curriculum provides an individually designed academic program, focusing on your chosen area of specialisation, coupled with unparalleled access to UWA's leading researchers and research facilities, international exchange programs, professional skills development workshops and a network of talented peers and alumni. Bachelor of Philosophy (Hons) students can study most undergraduate majors on offer at the University, as long as they have met prerequisite requirement for the major.
BACHELOR OF PHILOSOPHY (Honours)
Why study a Bachelor of Philosophy?
The research-intensive focus ensures you have the skills to identify and solve complex problems, independently manage and lead projects, and communicate incisively across a range of platforms.
During the course you will study abroad at one of UWA's international partner institutions, expanding your connections among the international community.
The cross-cultural learning this experience fosters is an invaluable asset in today's globalised workplace where intercultural knowledge is highly regarded.
Bachelor of Philosophy (honours)
Quick details
Degree specific majors
Minimum ATAR
Intake
Full time completion
Associated postgraduate courses
Cricos code
Bachelor of Philosophy (Honours)
Degree structure
UWA's four-year undergraduate Bachelor of Philosophy (Honours) degree comprises 32 units.
The units you study must include:
a degree-specific major

at least four units which satisfy the broadening requirements of your course (including GCRL1000 Global Challenges, Research and Leadership and a Language Other Than English [LOTE] unit)

an honours program the equivalent of eight Level 4 or 5 units (including a dissertation equal to four Level 4 units)
a research placement in your second or third year (GCRL2000)
an approved period of student exchange/study abroad
There are some limits to be aware of. You'll need to:
include no more than 12 units at Level 1

pass at least three units at Level 3
maintain a weighted average mark (WAM) of 75 or above
Beyond this, you can craft a degree that suits your personal interests and career goals.
ABOUT THE COURSE
Research placement
All BPhil students undertake a research placement (
GCRL2000
) with a leading researcher or research group for a semester (or equivalent) during second or third year. Start exploring
Faculty, School
and
Institute
pages to identify potential areas of interest. You'll also have the opportunity to attend talks by senior students presenting on the results of their placements. For more information on what's involved, placement forms or research ethics guides, visit the Bachelor of Philosophy (Honours) (BH005) Community on
Blackboard
.
ABOUT THE COURSE
Summer residence
Your BPhil experience starts with the essential Summer Residence, a live-in orientation program. You'll meet other members of your cohort, participate in orientation activities, hear from leading researchers and meet Faculty Deans and members of the University Executive. The Summer Residence takes place two weeks prior to the start of Semester 1.
The best experience was being able to meet and get to know my BPhil cohort. It made Orientation and the first few days of university a really pleasant experience, as there were many more familiar faces and friends around campus.
ALUMNI STORY 
Gaelen Perrone accepted into Harvard Law School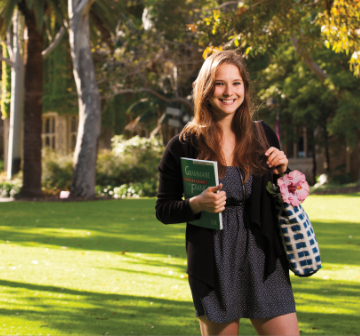 A key feature of the BPhil program is unparalleled access to UWA's leading researchers, international exchange programs and work placements, and a network of talented students and alumni. This sets the degree apart from others at UWA. It teaches you to identify and solve complex problems. You create new facts and evaluate new arguments by conducting empirical research under the guidance of an expert in your chosen field.
ALUMNI STORY
Tania Loke – 2017 Rhodes Scholar for Malaysia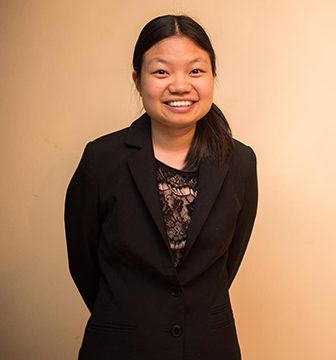 When browsing the UWA Handbook, I knew almost immediately that I'd apply for the Bachelor of Philosophy (Hons). Given that it provides distinctive opportunities to research and network in UWA and beyond, I had no reason not to. The BPhil's early exposure to research work prior to honours can open up further research opportunities.
ALUMNI STORY
Mark Shelton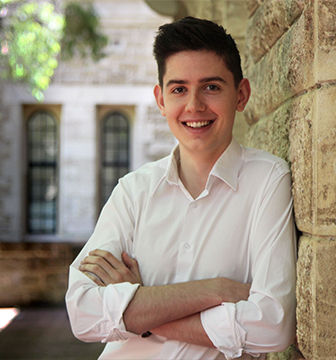 I was in the first cohort of the Bachelor of Philosophy (Honours) degree so, at the time I signed up, I knew little about the degree. All I really knew was UWA had created the degree to provide a course tailored for high-achieving high school graduates. I am so glad I took that opportunity because the degree has been critical to my experience studying at university. The key advantage of a Bachelor of Philosophy (Honours) degree is that it empowers you to chart your own path through university.
BACHELOR OF PHILOSOPHY
Clubs and societies
The BPhil Union represents and supports students in the Bachelor of Philosophy (Honours) program. It runs social and educational events for BPhil students and non-BPhil students, ranging from casual picnics to cocktail nights, and extravagant balls to workshops with corporate firms.
RELEVANT PRIZE
The Dr Vincent Harry Cooper Memorial Prize
The Dr Vincent Harry Cooper Memorial Prize is awarded annually to the BPhil (Hons) student who submits the most outstanding Honours dissertation. The Selection Committee chooses the prize winner with the highest mark achieved for their dissertation from each of the following areas of study:
Biological and Medical Sciences, and Biotechnology
Engineering, Mathematics and Informatics
Humanities and Creative Arts
Physics, Chemistry and Earth Sciences
Social, Behavioural and Economic Sciences
Dissertations are judged on novelty of idea or approach; creativity and clarity; and the impact in the relevant field. This prestigious prize was established by Mr Roderick Cooper in honour of his father, Dr Vincent Harry Cooper. Dr Vincent Harry Cooper was a foundation Board Member and Chairman of the Western Australian Faculty of the Royal College of General Practitioners.
CONTACT US
BPhil (Hons) Office
The BPhil (Hons) Office is the faculty office for all BPhil students, regardless of your chosen major. For information on the services offered in BPhil, relevant workshops, seminars and other events, email our office using the details below.
Telephone numbers
Academic Coordinator: 6488 1869
Deputy Academic Coordinator: 6488 6748
Course Adviser/Administrative Assistant: 6488 2069
Online enquiries: askUWA
Location: Rooms 1.14 and 1.15 Barry J Marshall Library, above the Catalyst Cafe
Bachelor of Philosophy (honours)
Popular majors available
The Bachelor of Philosophy (Hons) has a flexible structure that enables you to study most undergraduate majors on offer.
ADMISSION TO UWA
Admission entry pathways
UWA offers a number of admission entry pathways for domestic and international students to be able to study with us. If your results do not qualify you for standard entry into the University, check our Admission entry pathways for one that suits you.
The University of Western Australia