Undergraduate
Environmental Science and Ecology (Extended Major)
Apply your knowledge of environmental science, botany and animal science to secure a sustainable future for the planet.
Contact us
Address
Student Central, The University of Western Australia (M355), 35 Stirling Highway, Perth, Western Australia 6009
Hours
8.30am - 5pm AWST, Monday - Friday
Frequently asked questions
Careers and further study
This course opens up a world of future study pathways and career options.
This course could lead to these
Career Opportunities
Postgraduate study at UWA
Master of Environmental Science
Fees and scholarships
Learn more about the fees that apply to you for this course. For fee type definitions and further assistance, see the
Fee Calculator Help
page. You can also search our database for scholarships that are relevant to you or this course
Scholarships
Scholarships are available to students from a diverse range of backgrounds, including academic achievement, financial need, educational disadvantage, leadership and community service, artistic or sporting achievements, and being from a rural or remote area.
Cost of living
There are a few things to consider before applying to study at university. One could be your cost of living. This can depend on factors such as lifestyle, accommodation, tuition fees, medical insurance, textbooks and more. For an indication of expenses and average costs, see our
Cost of living
page.
Admission requirements
The University of Western Australia welcomes applications from international and domestic school-leavers, mature-age applicants and those with previous tertiary study. If you're interested in studying this major, find out the admission details below.
Minimum entry requirements
Below you'll find a list of admission equivalencies for this course's Australian Tertiary Admissions Rank (ATAR).
Admission requirements
For applicants with recent secondary education, information on admission criteria is available on our
entry standards
page.
Mathematics requirement
This major requires a certain level of Mathematics. If you do not meet this level, you may be able to take additional Mathematics units in your first year to satisfy this requirement.
WACE prerequisite: Mathematics Methods ATAR and Chemistry ATAR
ADMISSION REQUIREMENT
English competency
English is the language of instruction and assessment at UWA and you will need to meet the
English language requirements
of the University to be eligible for a place.
How to apply
Ready to apply for this course? Follow the steps and you'll be on your way to joining us at UWA.
Course details
Environmental Science assesses the impact of human activity on the global environment and develops scientific, risk-based solutions to help secure a sustainable future. Environmental scientists deal with issues such as climate change, rehabilitation and renaturation, habitat destruction or environmental impact assessment.
About the course
As a student of the Environmental Science and Ecology extended major, you will be trained to apply a combination of scientific knowledge from environmental science, botany and animal science to solve real-world problems. The acquired skills and knowledge are highly relevant to the work force in this field.
Environmental Science and Ecology Extended Major
Quick details
Level of study
Course Code
This course is not available to international student visa holders
You may also be interested in these courses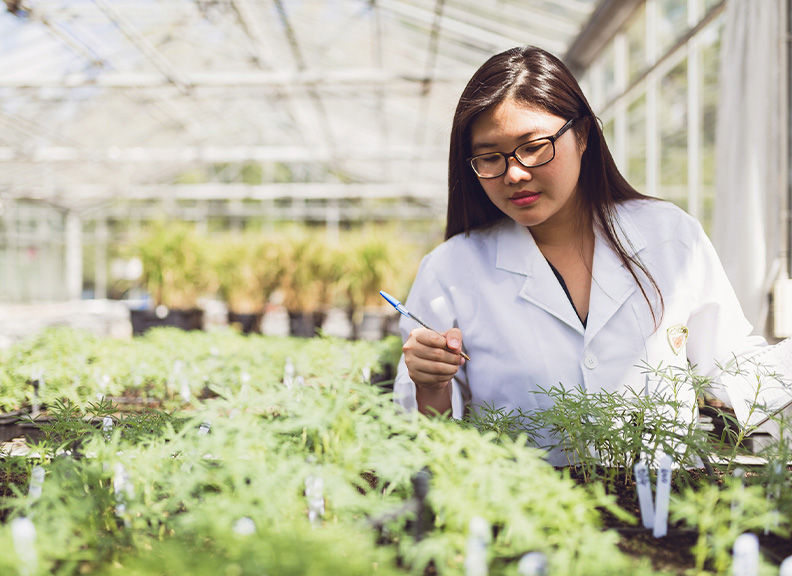 Environmental Science and Management (Extended Major)
Course structure
Extended majors enable you to dive deeper into a particular area of study and normally require 13 to 18 units studied over the course of your degree.
Why study this course?
By taking this extended major you'll gain specialised advanced training in the field of environmental science to set you on the path to your dream career
The specific skills and knowledge developed and demonstrated by graduates are exceedingly valued by employers and will make you highly competitive in the job market
We'll provide you the environment to build technical skills and valuable connections through hands-on learning, work integrated learning, in the lab and out in the field.
You'll learn to
Demonstrate broad and coherent theoretical knowledge and applied technical skills in the disciplines of Environmental Science and Ecology
Apply scientific principles as well as creative and communication skills in diverse contexts relevant for Environmental Science and Ecology
Exercise critical thinking and judgement in identifying and solving problems around climate change impacts, environmental assessments as well as ecological and environmental rehabilitation with intellectual independence
Demonstrate competency in laboratory practice, fieldwork study, report writing, oral presentation and team work skills suited to gain employment in the disciplines of Environmental Science and Ecology
Ranked 1st in Australia and 21st in the world for Environmental Science and Engineering (ARWU 2021)
Your degree options
This major is offered as a degree-specific major for these degrees.
The University of Western Australia