Undergraduate
Bachelor of Education (Primary) (Honours)
Make a real difference to young children's lives and equip them with the skills, knowledge and values needed to succeed in the world, now and in the future.
Majors available
Get in touch with us
If you want more information on this course our Future Students team is ready to answer all your questions.
askUWA
The learning experience
UWA facilities include lecture theatres, case study rooms and break-out areas for group work and individual study.
One of Australia's most picturesque campuses
Five residential colleges
Vibrant student experience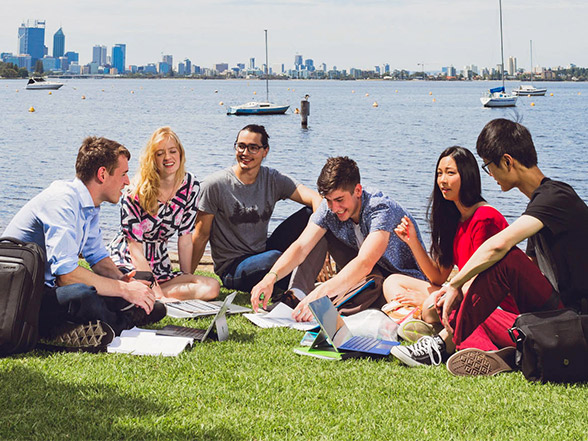 Vibrant student experience
Adjacent to the Swan River, our Perth campus is among the most picturesque in Australia with iconic sandstone buildings sitting among heritage-listed gardens. We're just 10 minutes from Perth's main shopping and business district and close to many of the city's stunning beaches.
On campus, you'll have an array of essential amenities to enjoy, including cafés, libraries, bookshops, a vibrant cultural precinct and tonnes of clubs and societies to join and experience student life to its fullest. Our supportive Student Guild means you can try your hand at volunteering, get independent advice on a range of matters or attend one of the many varied events on and off campus.
Fees and scholarships
Domestic Student Fees
There is no current fee information available for this course. Please visit the fee calculator to browse course fees from a previous year, or other courses.
Scholarships
Scholarships are available to students from a diverse range of backgrounds, including academic achievement, financial need, educational disadvantage, leadership and community service, artistic or sporting achievements, and being from a rural or remote area.
Scholarships
Scholarships for Indigenous Australians
There are numerous scholarships available to Indigenous Australians studying at The University of Western Australia whether you are a commencing student or currently enrolled in an undergraduate degree.
Careers and further study
Career opportunities
Teaching in government and non-government schools in WA and Australia.
It's a portable qualification that can be used for teaching positions overseas. Additional opportunities in a range of education-related industries.
Job titles
Primary school teacher
Educational administrator
Community educator
Education publications writer
Professional tutor
Further study opportunities
Further your professional development and learning with one of the following courses:
Graduate Diploma in Mental Health and Emotional Wellbeing
Master of Education (with specialisations in mental health and emotional wellbeing; educational leadership; learning and teaching)
Graduate Certificate in Educational Research
Doctor of Education (EdD) or PhD.
Entry requirements
Admission Requirements
To be considered for admission to this course an applicant must have—
(a) achieved an ATAR of at least 75, or equivalent as recognised by UWA; or
(b) an assured pathway offer; or
(c) a place in a relevant UWA access program.
ADMISSION REQUIREMENT
Online personal statement
About the Bachelor of Education (Primary) (Honours)
The Bachelor of Education (Primary) (Honours) will equip you with critical thinking, communication and problem-solving skills so you can develop best practices for your career. You'll learn about effective teaching approaches, how children learn and how to create safe, supportive and engaging learning environments.
About the course
Make a real difference to young children's lives and equip them with the skills, knowledge and values needed to succeed in the world, now and in the future. This distinctive undergraduate teacher education degree prepares you to be a teacher from Foundation to Year 6 and gives you the skills and knowledge to be profession-ready.
bachelor of education (primary) (honours)
Quick details
STATUS
MINIMUM ATAR
INTAKE
LOCATION
DURATION
4 years full time or part-time equivalent
COURSE CODES UWA/TISC
CRICOS
Course structure
In your first three years, you will complete units that familiarise you with all of the learning areas of the primary school curriculum, as well as developmental and learning theory that enables you to design effective learning programs.
Why study this course?
Learn from innovative and inspiring lecturers who are focused on your success.
Enhance your career-readiness through completing a research project or advanced professional project in your final semester.
You can undertake professional placements in regional and remote regions of WA. Scholarships available.
Close partnerships with primary schools that offer additional opportunities for volunteering, further learning and connections with practising teachers.
You'll learn to
Navigate a classroom with up to 100 days professional placement in schools
Design programs of learning for primary school children closely linked with the Australian curriculum
Utilise a range of educational technologies
The University of Western Australia