Undergraduate + Postgraduate
Bachelor of Sport and Exercise Sciences and Master of Clinical Exercise Physiology
Become an Exercise Physiologist to provide exercise interventions for people with chronic and complex medical conditions
Contact us
Address
Student Central
The University of Western Australia(M355) 35 Stirling Highway Perth Western Australia 6009
Hours
8.30am – 5pm AWST, Monday – Friday
Frequently asked questions
Careers and further study
This course opens up a world of future study pathways and career options.
Career Pathways
Accredited exercise physiologists specialise in clinical exercise interventions for people with a broad range of health issues. Those people may be at risk of developing, or have existing, medical conditions and injuries. The aims of exercise physiology interventions are to prevent or manage acute, sub- acute or chronic disease or injury, and assist in restoring one's optimal physical function, health or wellness. These interventions are exercise-based and include health and physical activity education, advice and support and lifestyle modification with a strong focus on achieving behavioural change.
Accredited exercise physiologists work across a range of health settings including:
Public and private hospitals
Private and multidisciplinary medical or allied health clinics
Government and not-for profit organisations
Workplace health and rehabilitation
Aged care facilities
Disability service providers
Fitness centres and gymnasiums
Sports organisations
Public health and health promotion organisations
This course could lead to these
Career Opportunities
Further Study
The Master of Exercise Physiology (Coursework + Dissertation) – additional Dissertation pathway
At the end of your first year in the Master of Clinical Exercise Physiology (MCEP), you can apply to undertake a 96-point MCEP program which includes 4 research units and the completion of a dissertation at the end of the degree (e.g. comparable to a Honours pathway). This pathway provides valuable additional skills, particularly if you are interested in going into government, hospital or research roles beyond study. Additionally, it is a pathway to PhD and eligibility for scholarship.
Postgraduate study at UWA
Master of Clinical Exercise Physiology
Fees and scholarships
Learn more about the fees that apply to you for this course. For fee type definitions and further assistance, see the
Fee Calculator Help
page. You can also search our database for scholarships that are relevant to you or this course
Scholarships
Scholarships are available to students from a diverse range of backgrounds, including academic achievement, financial need, educational disadvantage, leadership and community service, artistic or sporting achievements, and being from a rural or remote area.
Cost of living
There are a few things to consider before applying to study at university. One could be your cost of living. This can depend on factors such as lifestyle, accommodation, tuition fees, medical insurance, textbooks and more. For an indication of expenses and average costs, see our
Cost of living
page.
Admission requirements
The University of Western Australia welcomes applications from international and domestic school-leavers. If you're interested in studying this major, find out the admission details below.
Admission requirements
For applicants with recent secondary education, information on admission criteria is available on our
entry standards
page.
Minimum entry requirements
Below you'll find a list of admission equivalencies for this course's Australian Tertiary Admissions Rank (ATAR).
Western Australian Certificate of Education (WACE) 2016 onwards
ADMISSION REQUIREMENT
English competency
English is the language of instruction and assessment at UWA and you will need to meet the
English language requirements
of the University to be eligible for a place.
Mathematics requirement
This major requires a certain level of Mathematics. If you do not meet this level, you may be able to take additional Mathematics units in your first year to satisfy this requirement.
WACE prerequisite: Mathematics Applications ATAR
How to apply
Ready to apply for this course? Follow the steps and you'll be on your way to joining us at UWA.
Course details
This Combined Bachelor's and Master's (CBM) is a four-year accelerated program for those with an ATAR of 90 or above. Over the first three years you'll complete an extended major in Sport Science, Exercise and Health, and some units from the Master of Clinical Exercise Physiology. You can then choose to exit after three years with an Advanced Bachelor's Degree in Sport and Exercise Sciences, or continue with the Master of Clinical Exercise Physiology and be awarded a Bachelor of Sport and Exercise Sciences and a Master of Clinical Exercise Physiology at the end of the four years.
About the course
This Combined Bachelor's and Master's (CBM) course is designed to provide a holistic understanding of the use of exercise as a modality in the treatment of musculoskeletal, cardiovascular, metabolic and other chronic and complex conditions. Students may structure a course that is best tailored to their future requirements and area of specialisation.
Bachelor of Sport and Exercise Sciences and Master of Clinical Exercise Physiology
Quick details
Level of study
Undergraduate + Postgraduate
Course Code
This course is not available to international student visa holders
Why study this course?
This course will provide both BSc and Master's qualifications in a four-year program.
With full time study, you will achieve AEP accreditation in the shortest possible time, thereby enabling you to begin practice sooner than by other accredited programs with similar academic qualifications.
This major focuses on combining your academic studies with developing your applied skills in line with industry accreditation and subsequent employment or research.
What you'll learn
Foundation knowledge in the sub-disciplines of exercise physiology, biomechanics, motor control and learning, and sport psychology.
Relevant skills for assessing human capacity and using this information as the basis for exercise prescription.
Advanced knowledge and application of treatment modalities in the areas of cardiovascular, musculoskeletal, neuromuscular, and other chronic and complex medical conditions.
Work integrated learning opportunities to develop your specific understanding and skills in patient assessment and exercise prescription.
Your degree options
Bachelor of Sport and Exercise Sciences
Course Accreditation
The Sport Science Exercise and Health extended major and the Master of Clinical Exercise Physiology are National University Course Accreditation Program (NUCAP) accredited courses. Graduates may apply to Exercise and Sports Science Australia (ESSA) within two years of completing the course for credentialing as an Accredited Exercise Scientist (AES) and as an Accredited Exercise Physiologist.
Ranked 26th in the world for Anatomy and Physiology (QS 2021)
Ranked 28th in the world for Sports Related Subjects (QS 2021)
Centre
UWA Exercise and Performance Centre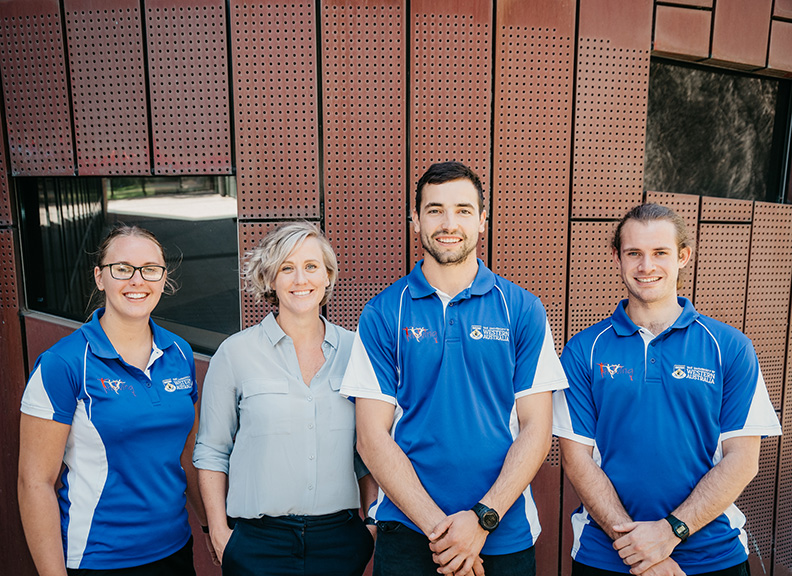 The UWA Exercise and Performance Centre (EPC) provides individual and group exercise services to improve health, function and physical performance.
The University of Western Australia