UWA Open Day in Singapore
Saturday 23 September
Raffles City Convention Centre, 80 Bras Basah Road, Singapore (Atrium Ballroom)
Event details
Location
Raffles City Convention Centre, 80 Bras Basah Road, Singapore (Atrium Ballroom)
Date and time
Date: Saturday 23 September 2023
Time: 1pm - 5pm
Event type
Audience
Event Fee
Registration
Join us at our exclusive UWA Open Day event in Singapore to discover how you can study at a world top 100 university in Perth, Western Australia (QS 2024).
Learn about UWA courses, entry requirements, scholarships and campus life, plus what it's like to live, work and study in the vibrant city of Perth.
What to expect at Open Day
Our Open Day in Singapore will provide you with everything you need to know about studying at UWA:
Hear from our award-winning academics and find out about the courses we offer
Learn about our entry requirements and pathway programs
Discover our range of scholarships and financial support options for international students
Speak to student accommodation representatives for options on and around the UWA campus
Find out more from our Careers Team about what makes UWA the #1 university for graduate employability in Western Australia (QS Graduate Employability Ranking 2022)
Chat to our alumni and current international students on their experiences at UWA
Plus, ask us anything about the unparalleled student experience and what it's like to live, work and study in the vibrant city of Perth!
Seminars for you to attend
We have an exciting line up of seminars taking place at UWA Open Day in Singapore. Attend all the sessions that interest you to help prepare for studying at UWA in Perth.
1.05 to 1.15pm – Living and studying in Perth, a city of opportunity
1.20 to 2.00pm – Seek Western Australia's leading Medicine, Dentistry & Biomedical Science programs
2.05 to 2.35pm – Imagine where a UWA degree in Psychology can lead you
2.40 to 3.10pm – Gain a head start with UWA's premier Business School
3.15 to 3.45pm – UWA Internships, Graduate Employability, & Support Services
3.50 to 4.20pm – Hear from our UWA alumni
4.25 to 4.40pm – University Hall on-campus accommodation presentation
4.45 to 5.00pm – Trinity on-campus accommodation presentation
Who you can meet at Open Day in Singapore
We will have academics from a range of areas, the UWA Careers and Employability Centre, current students and alumni, and more.
Professor Peter Robertson

Dean and Head of School, Business School

Professor Peter Robertson joined UWA in 2009 as a professor in economics and became Dean and Head of Business School in 2017.

His current research focuses on economic policy and the state of the world economy, and how this has implications for trade, wages, political conflict and economic growth.

Professor Robertson also serves as an expert consultant to the Productivity Commission and to the Department of Innovation, Industry, Science and Research and is a member of the Australian Research Council College of Experts.

Associate Professor Rachel Cardell-Oliver

Head of Department, Computer Science and Software Engineering

Associate Professor Rachel Cardell-Oliver studied her bachelor's and master's degrees at UWA, before completing her PhD at the University of Cambridge.

As an experienced researcher and dedicated computer scientist, her expertise lies in designing intelligent systems that integrate data measurement with wireless communication systems, using environmental sensors and data collection.

Associate Professor Cardell-Oliver is also an enthusiastic teacher and has led the development of exciting new courses in computing at UWA.

Associate Professor Serena Wee

Associate Professor, School of Psychological Sciences

Associate Professor Serena Wee completed her undergraduate psychology degree at the National University of Singapore, before undertaking her master's and PhD in Organisational Psychology at the University of Illinois.

She has worked as an Assistant Professor at Singapore Management University and now at UWA, Associate Professor Wee teaches into the Masters of Business Psychology and Masters of Industrial and Organisational Psychology programs and conducts research in what makes an effective team.

Dr Vanessa Vaughan

Global Medicine Sub-Dean, UWA Medical School

Dr Vanessa Vaughan is a Senior Lecturer in Global Medicine, supporting medical students to understand the impact that culture, society, and environment have on our health and wellbeing, and the ways clinicians can help patients and communities to live well.

As UWA Medical School's Global Medicine Sub-Dean, Dr Vaughan is also passionate about finding the next generation of medical doctors and is looking forward to speaking to prospective medical students at UWA Open Day.

Ryan Whiddett

Associate Director, Student Employability and Career Development

Ryan is a UWA alumnus and holds the role at UWA as Associate Director, Student Employability and Career Development.

Ryan has previously worked at UWA's Careers and Employability Centre for over 7 years. He later joined StudyPerth as their Student Success Manager, enhancing wellbeing support and careers services to ensure that all international students maximise their opportunities while in Perth.

Now back at UWA, he is looking forward UWA Open Day to assist prospective students in achieving their future career goals.

UWA College

At UWA College we know everyone's path is different, which is why we provide a range of options to help kick-start your studies at The University of Western Australia (UWA).

Located at the heart of UWA's Perth campus, UWA College pathway programs help students adjust to life in Perth and learn the necessary skills to succeed at UWA, and in your chosen career.

Canning College

Canning College, in Perth, Western Australia, has been helping international students achieve entry into leading Australian universities for 40 years, including UWA.

Canning College staff are experienced in providing care, support and academic guidance to students during their transition to university studies.

A student success rate of 96% in 2022 included more than 80% of students entering degree programs at Western Australian universities.

Trinity College

At Trinity Residential College we offer a one-of-a-kind tertiary student accommodation experience in Perth, Western Australia.

Our residents enjoy affordable all-inclusive fees, the convenience of living on campus at the University of Western Australia, as well as becoming part of diverse, fun and global student community.

University Hall

As UWA's most diverse residential community, University Hall offers a variety of academic, community and leadership activities for students to choose from.

With the most affordable student accommodation on campus, along with a variety of room types and meal plans, students can be assured that their experience will be both enriching and budget-friendly.
Why register for Open Day?
5-star rating for teaching quality (Good Universities Guide 2021)
UWA is in the same time zone as 60% of the world's population (+/- 2 hours)
in the world (QS World University Ranking 2023)
4,500+ industry partnerships offering you a head start in your career
Group of Eight member (Australia's best research-intensive universities)
Study in one of the world's most liveable cities (Economist Intelligence Unit)
9 subjects ranked in the world's top 50 (QS World University Rankings by Subject 2023)
Make connections with more than 160 clubs and societies
Explore our vibrant campus
Our vibrant Perth campus is located just minutes from Perth's city centre and on the picturesque banks of the Swan River. Take yourself on a 360-campus tour to explore aerial views of our expansive grounds, innovative facilities and top locations to visit.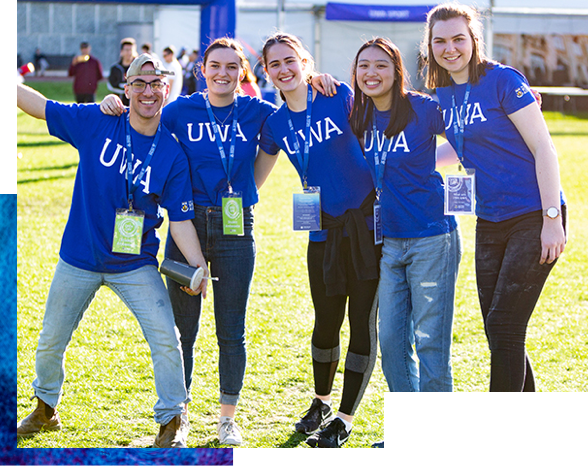 Have a question?
Get in touch with us
askUWA

Phone

+61 8 6488 1000
8.30am–5.00pm (AWST), Monday to Friday

Online consultation



The University of Western Australia