At UWA, you can study anywhere. anytime.
Learning online can be a great way of learning as you can work at your own pace, set your own schedule and work from any location. To keep you engaged, on track and improve how you learn online, we've created specific resources and services to help you achieve your goals.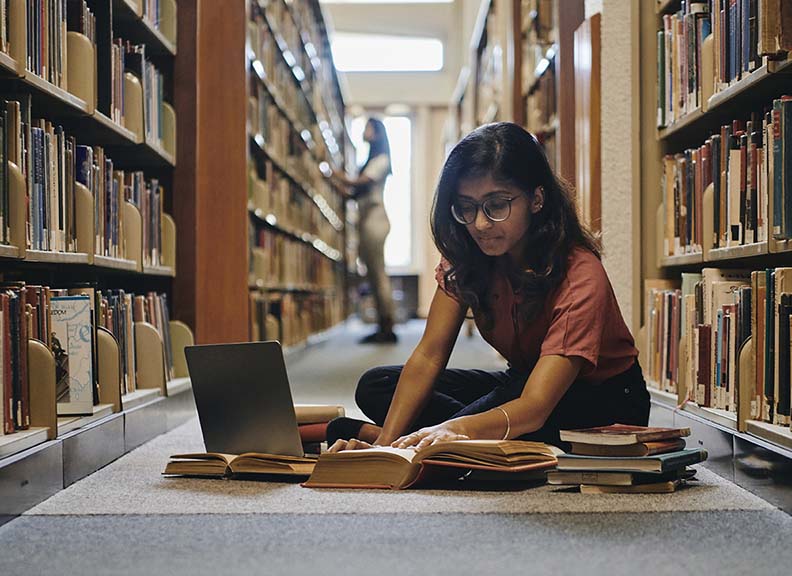 UWA is digitising your learning and teaching environments.
From Semester 1 2024, many of the computers in labs and libraries across our campuses will gradually be removed to allow for virtual access to UWA's systems and applications.
You'll be required to bring your own device to campus and access systems through a web-based portal.
Benefits
The virtual desktop can be accessed from anywhere, at any time, both on campus and off.
Greater flexibility and faster access to specialised software from your device.
Creates a better user experience with more reliable upgrades to UWA's systems.
Lab spaces can be scaled up for a wider range of teaching and learning experiences.
Support
To ensure equitable education, longer-term loan laptops are available for students who are in financial need and unable to access a device. If you require support, request a device by submitting an online form.
Frequently asked questions
What are the recommended laptop specifications?

The following laptop specifications are recommended:

Operating System: Windows 10 or higher (Windows 11 is recommended if available). macOS is also suitable if you have specific programs related to your studies.
Processor: A processor with four cores or higher. A multi-core processor will provide better performance for multitasking and running resource-intensive applications.
RAM: 8GB RAM or higher. More RAM allows for smoother multitasking and better performance with applications like data analysis software, virtual machines, or image/video editing tools.
Storage: 512GB Solid State Drive (SSD) or higher. An SSD provides faster data access and improves overall system responsiveness compared to traditional hard drives (HDDs).
USB-C Port: Ensure your laptop has a USB-C port that supports both USB-C charging and DisplayPort over USB-C.

Do these specifications apply to all fields of study?

These specifications are a general guideline that will meet most of your study needs. However, some specific programs or courses may have unique software or hardware requirements. Speak with your School for any course-specific laptop recommendations or additional requirements.

Can I use a Mac laptop instead of a Windows laptop?

Yes, macOS is a suitable operating system for your studies. However, please be aware that some software applications used in specific fields of study may have better compatibility with Windows. If you prefer macOS, ensure that it can run any required software for your course.

What other factors should I consider when choosing a laptop?

When selecting a laptop, consider factors such as battery life, portability, and your budget. Your laptop is an investment in your education and should also meet your personal computing needs beyond coursework.

How do I connect my device to Unifi and the virtual desktop?

Follow these get tech-ready to study steps or visit any Library Information Desk for help connecting to Unifi. Once connected, you will automatically have access to the virtual desktop and its applications.

What if I use a specific program to complete my studies that isn't available via the virtual desktop?

A limited number of computer labs will remain with specialised operating systems that can't be virtualised. This includes labs running macOS or high-end hardware.

What should I do if I don't have access to a device?

UWA's SOS IT Equipment Scheme provides help to students who are in financial need. The Scheme offers either a loan laptop, available for the duration of a teaching semester, or a limited number of laptops for permanent ownership. To request a loan or permanent device, submit an online application form.

I forgot to bring my device to campus, what should I do?

Laptops will be available for short term loan from the Reid and Barry J Marshall Libraries. You will be able to loan a laptop for the duration of the day (same day return) by swiping your Campus Card to check out and return the device.

Will I still have access to the MS Windows applications?

Yes, all UWA students will still have access to a Microsoft Office 365 subscription for your device.

Are there any deals on devices I can access?

UWA IT has negotiated some deals for better quality devices. Explore the options below.

Where can I go if I have further questions about a device or the virtual desktop?

You can contact UWA Library for support in connecting your device and accessing applications or bring your device in to any Library Information Desk.

For specific laptop recommendations, reach out to your school office for guideance.
It's easy to connect
UWA's online environment makes it easy for you to connect with learning resources, other students and staff. You can also use UWA's online platforms to revisit lessons, explore resources in depth and engage in deep learning.
Your key online learning platforms are:
Blackboard LMS
Blackboard LMS, or simply "LMS", is where you'll find all the content for your units along with any online learning activities. LMS is a fully-integrated digital learning environment, where you can:
Get unit information, resources and updates
Complete assessments, use Turnitin and get feedback
Communicate and collaborate with others
To access the LMS, we recommend using Google Chrome or Mozilla Firefox, or download and use the Blackboard App where you'll find some useful guides.
Blackboard Collaborate Ultra
Within your LMS, you'll find Blackboard Collaborate Ultra which has your links to access online lectures, tutorials and workshops. Collaborate Ultra guides provide helpful advice for participating in activities and downloading recordings. If you need to participate in audio and video activities, but don't have a webcam or camera and microphone enabled on your laptop or desktop computer, you can use an App which allows you to use your smartphone as a webcam.
Echo360
Recordings for your lectures can also be found in Echo360 (UWA's Lecture Capture System). If this is the case, you'll find links to view or download lecture recordings in your units' LMS content folders or left-hand navigation menu, or via the Tools link from your LMS landing page.
Echo360 has a useful feature to help you take notes while you are listening.
Microsoft Teams
Some of your units may use Teams to deliver online classes, and to allow for group discussion, file collaboration, and more. To ensure Teams runs smoothly for your UWA sessions, download the Teams App to your desktop, laptop or mobile device, and sign-in using your Uni-ID (your student email and Pheme password). If you can't download the Teams App, you can use the latest version of a browser such as Google Chrome or Microsoft Edge (Chromium), but interactivity tends to be limited in many other browsers. For more tips, see the quickstart guide.
Your online learning resources
IT support is here!
There are many ways to get IT and printing support, and you can contact the Library for technical assistance.
For remote access, the UniConnect VPN service will enable you to access systems restricted to the UWA network. The UniDesk service will allow you to remotely connect to laboratory and library computers from a personal device, so that you can access specialist software where licences permit.