UWA Motorsports are a group of students from UWA comprised of up-and-coming talented engineers, technicians and busines professionals, pushing the limits of engineering to produce world-class electric racecars.
We compete in the annual FSAE-Australasia, a student business and design competition where teams from universities around the world compete in the designing, manufacturing, testing and racing of small formula-style racecars.
UWA Motorsport has had success at many of these global events in our distinguished history, dating back to our founding in 2001. The team has recently focused on competing in the Australasian event hosted in Victoria, but we are optimistic for our ability to compete on a global scale through the events held in Europe and North America.
The UWA Motorsports Team has been operating since 2001 and has been building electric vehicles since 2017.

Why Join us?
Our participation in F-SAE events allows UWA students to develop the skills they learn in the classroom into practical engineering experiences.
The project requires a vast team to undertake the technical, operational and financial challenges that are inherent in a successful motorsport team. We provide an opportunity for sponsors to invest in the future of engineers and business professionals, through investing in students who will develop these technologies for the rest of their careers.
The team offers benefits for students from all areas of study. We don't just make the car, but source parts and sponsors, manage and plan events, create and distribute marketing material, and much more.
You could work on:
Vehicle Dynamics
Suspension
Steering
Wheels and Tyres
Chasis
Composites such as Carbon Fibre
Powertrain
Engine
Exhaust
Intake
Differential
Drivetrain
Electrical
MoTeC ECU and Loggers
Sensors and Telemetry
Ignition
Management
Project Management
Finance Management
Marketing and Media
Events & IT
Race
Race Engineer
Track Day Coordinator
Driver Training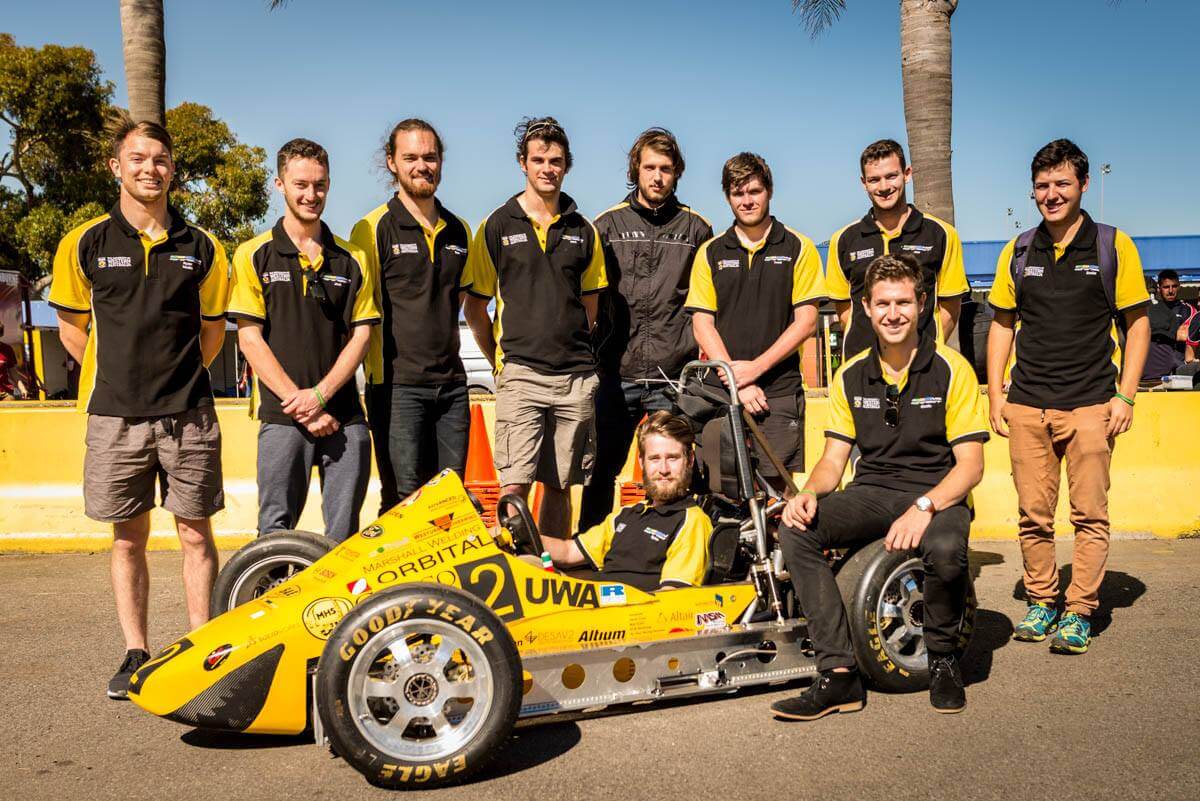 Get in touch
If you're looking to join us, are interested in becoming a sponsor, or make to any other enquires, please fill out the form below
Past Cars and Achievements
FSL-005 (2005)

Scoring a previously unheard of 952.8/1000 potential points at the 2005 FSAE-Australasia competition UWAM placed 1st in Engineering Design, Endurance, Presentation and Autocross events.

The team proudly took home its first ever 1st place overall FSAE-A trophy.

The team proudly achieved a strong 4th place in the Engineering design in FSAE Michigan 2006.

IHS-007 (2007)

The team proudly won the World Championship with IHS-007 achieving 1st place in both the 2007 FSAE-A Competition and FSAE Michigan 2008.

The IHS-007 is capable of 0-100Kmh in 3.2s, doing 0-75m in only 3.7s

The Honda CBR600RR engine with custom fuel injection and exhaust made 100hp and weighed a total of 195kg.

Phoenix-011 (2011)

In order to reduce costs and meet time restrictions the 2010 monocoque was regened with updated componentry for the 2011 FSAE-Australasia competition.

With a strong team, this car placed 2nd overall.

Achieving a 2nd place in Endurance and a phenomenal three 1st places, in Acceleration, Autocross & Fuel Economy.