UWA PLUS
Characterising Groundwater Resources
Groundwater is a vital resource in many regions of the world for sustaining populations and groundwater-dependent ecosystems. This micro-credential focuses on techniques for quantifying and utilizing groundwater resources.
The course is designed for people who have undergraduate-level scientific literacy and numeracy skills as well as some knowledge of groundwater systems.
Topics covered include conceptual model development, using flow equations in groundwater systems, an introduction to drilling technology, production wells and aquifer testing.
Upon successful completion, you'll receive:
Three PD Points, convertible to academic credit
A Certificate of Achievement
A UWA Plus Professional Development Transcript, listing all successfully completed micro-credentials
Delivery mode

Online

Start date

19 June 2023

Duration

6 weeks total

Effort

75 hours composed of readings and videos, learning activities and discussions during online workshops, completion of
assessment tasks.
2x 3hr online classes per week for 3 weeks.

Academic Leads

Dr Sarah Bourke

Cost

$990 inc. GST

Critical information summary

GEOSM402 – Critical information summary [PDF, 244KB]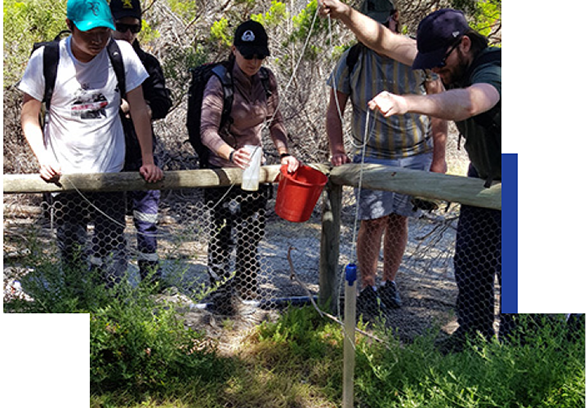 Demonstrate understanding of hydrogeological principles
Basic skills in the analysis and interpretation of hydrogeological information
How to explain and report on hydrogeological issues
Why study this course?
Improve your ability to quantify groundwater resources
Learn industry-standard approaches for utilising groundwater resources
Deepen your understanding of sustainable management of groundwater systems
Who should study this course?
This micro-credential is ideal for people who are working in groundwater-related roles, or who are considering a career in
groundwater and are seeking to advance their knowledge and understanding groundwater resource characterisation.
This micro-credential should follow GEOSM401 Introduction to Groundwater Systems.
Recommended prior knowledge
Students in this micro-credential should have:

An understanding of the key processes and properties of groundwater systems (e.g. recharge, hydraulic conductivity, transmissivity)
Undergraduate-level numeracy skills including unit conversions and rearranging equations
Proficiency in Microsoft Office suite, especially Excel for data analysis and data plotting and PowerPoint for
drawing simple schematic diagrams
Familiarity with applying differential equations to quantify natural systems is beneficial

What's next after this course?

Future study

This micro-credential is paired with GEOSM401. Completing this micro-credential can be used as academic credit towards
GEOS4401 Hydrogeological Systems on enrolment in the Master of Hydrogeology at UWA.
The University of Western Australia