Take your learning to the next level with UWA Starter
UWA Starter provides senior secondary school students with the unique opportunity to start their uni experience early by completing micro-credentials through UWA while still in school.
What are the benefits of UWA Starter?
Access university-level study in courses you're passionate about
Learn from UWA academics, who are experts in their field.
Try different course areas to help you decide what you want to study at uni
Gain credit towards selected UWA bachelor degrees by completing 3 micro-credentials
Gain access to university resources (library, online resources and other campus facilities)
Receive a UWA Professional Development Transcript at the end of your studies, listing all completed UWA micro-credentials – great for uni entry and your resume!
Successfully completed UWA Starter micro-credentials can also contribute towards admission to UWA via Experience-based entry.

Selected UWA Starter micro-credentials are SCSA endorsed and count towards the achievement of WACE.


We've designed UWA Starter micro-credentials specifically for secondary school students
UWA Starter micro-credentials will be offered during Terms 2, 3 and 4.
Each is delivered either fully online or online with on-campus learning activities scheduled outside school hours or during school holidays – allowing you to study around your school, social and family commitments.
Details about the UWA Starter micro-credentials to be offered in 2023 will be available soon.
UWA Starter fees for 2023 –
$250 (inc GST) per micro-credential for students from participating partner schools
$55 (inc GST) per micro-credential for students from participating UWA Broadway Schools
SCSA endorsement
Selected micro-credentials within the UWA Starter program have been endorsed by SCSA effective 4 July 2023 – 31 December 2024. Completion of a SCSA endorsed micro-credential can provide one unit equivalent towards the achievement of the Western Australian Certificate of Education (WACE).
Currently endorsed UWA Starter micro-credentials are:
AGRIM101 Agriculture, Economics and Nature: Towards 2050

PHCYM002 Community Pharmacy Fundamentals

MKTGM100 Social Media Marketing
Courses by study area
UWA Academic Skills Centre

Write Ahead: Academic Writing and Study Skills

Write Ahead: Academic writing and study skills will unlock the academic skills you need to succeed at uni. Get a head start on your understanding of uni culture, academic writing, time management, memorisation, study practice, reading scholarly papers, and critical thinking.

Course dates 21 August 2023 - 22 September 2023

Delivery mode Online

Business School

Social Media Marketing

You will learn how to use the social media we all use every day for a different purpose; to market products, brands, ideas, and people. Social media have transformed how businesses and all types of organisations, like Governments, schools and political parties, operate. To do social media marketing successfully, you need to know about two things; digital transformation and content marketing. You will learn about these at UWA through working on real-world marketing challenges.

---

Introduction to Entrepreneurship

This micro credential unit introduces students to the entrepreneurial process and to those aspects of management of particular importance to the entrepreneur and corporate innovators. Lectures cover a small part of the flexible business model canvas (FBMC) and a general appreciation of what innovation processes look like. Students complete a small group project which provides an opportunity to understand how to recognize market opportunities as well as how to position your business idea within the opportunities found in the external environment. Overall, it provides unique introductory insight into how entrepreneurial processes unfold and what the roles of start-up and corporate entrepreneurs look like.

Course dates 2 October 2023 - 3 November 2023

Delivery mode Online with required on-campus activity





Law School

Does law interest you? Do you use emojis? Do you follow any influencers (or are you an influencer yourself)? Do you like fashion? Do you enjoy learning about interesting advances in technology? Does popular culture take up some of your spare time?

If you answered yes to one or more of these questions, then this is the micro-credential for you!

In this module you will learn about the law concerning emojis, influencers and fashion. You will also learn about some of the cutting-edge research and ethical questions concerning using technology in law.

Finally, you will learn about how popular culture portrays lawyers and the law and discuss how accurate (or not) it is. Taking this module will also teach you useful skills to begin to critically analyse whether existing law is sufficient to apply to critical new technological advances.

Course dates 17 July 2023 - 18 August 2023

Delivery mode Online

---

Creative Contracting with Pictures

Contracts don't have to be boring, but can communicate expectations and legal relationships using drawings. Come learn how to make contracts more fun, and be part of our important work on children and comic contracts. We will think about what contracts are, showcase comic and creative contracts in the world today, and run a comic and creative contracting jam where you get to think outside the box and create your own unusual contracts.

Course dates 5 June 2023 - 30 June 2023

Delivery mode Online with required on-campus activities

---

Preventing Crime

Students will undertake a practical crime prevention course. Building on evidence and best-practice, students will be given the opportunity to develop a targeted crime prevention strategy for a problem that interests them. This course will involve crime prevention guest speakers and the opportunity to 'shark tank' their final prevention strategies to a panel of experts.

School of Agriculture and Environment

Agriculture, Economics and Nature: Towards 2050

This is a multi-disciplinary course that addresses a wide range of issues confronting the agricultural sector, including rural communities, rural infrastructure, and biodiversity conservation through agriculture. By completing this course you will understand that the challenge of feeding and clothing the planet in an environmentally sustainable way requires a multi-disciplinary approach. Topics are wide ranging and include the importance of soil and water and its careful management though to the conservation of biodiversity in agriculture, and life in rural communities.

The overarching framework used to explain decisions, including environmental management decisions, is economics. Farmers depend on good economic decision making to survive. Governments depend on economic information to make good policy decisions on behalf of the community.

You can use this course to improve your skills and knowledge and to assess whether Agricultural Science and Agricultural Economics are subjects that you'd like to study further. The course includes high-quality video lectures, interviews with experts, demonstrations of how to build models in spreadsheets, practice quizzes, and a range of recommended readings and optional readings. The key agricultural sustainability and economic principles that you will learn can help us understand changes that have occurred in agriculture, and support improved decision making about things like agricultural production methods, agricultural input levels, resource conservation, and the balance between agricultural production and its environmental impacts. There are literally thousands of agricultural scientists and agricultural economists around the world who work on these issues, so there is a wealth of knowledge to draw on for the course.

Assessment is via a series of online quizzes throughout the course, and it is possible to attempt each quiz more than once.

School of Allied Health

The Origins of Pharmacy: The Hunt for New Drugs

The shelves of modern pharmacies contain hundreds of medicines that bring relief to millions of Australians, but have you ever wondered where these powerful substances come from? This fascinating online unit takes an introductory look at six classic ways that medicines have been discovered for use in treating common diseases. The course also considers how new drugs are tested for safety and effectiveness before they are widely used in humans. This micro-course is perfect for any Yr 11-12 student with a general interest in medicines as well as students considering careers in pharmacy, nursing, medicine, dentistry, chemistry, biotechnology or allied health fields such as podiatry, occupational health and optometry.

Course dates 17 July 2023 - 24 September 2023

Delivery mode Online

---

Community Pharmacy Fundamentals

The Community Pharmacy Fundamentals course will provide you with a comprehensive introduction to the world of Pharmacy. Pharmacies are the most accessed health provider with over 5,700 community pharmacies across Australia. This course offers an overview of medications, dosage forms and other essential concepts that are a solid foundation for a career in pharmacy, medicine, dentistry, or other allied health fields. The micro credential involves online and simulated learning, assessments, and an optional on-campus workshop at UWA or at selected rural locations. You'll gain an understanding of the role of community pharmacy in a healthcare sector that is exponentially growing.

Course dates 17 July 2023 - 22 September 2023

Delivery mode Online with optional on-campus activity

---

School of Molecular Sciences

From forensics to the environment, to new materials for a sustainable future, we need to know how "things" are made and work. This micro credential will provide you with the fundamental skills and knowledge to think and solve problems like a chemist. This micro credential supports Unit 1 and 2 of the ATAR Year 11 curriculum and will prepare you for success in Year 12. This micro credential will involve online material and assessments as well as a hands-on laboratory experience involving cutting-edge techniques used in chemistry laboratories worldwide.

Course dates 5 June 2023 - 30 June 2023 - This micro-credential has reached capacity - no new enrolments will be taken for this round

Delivery mode Online with required on-campus activity

School of Population and Global Health

Are you interested in learning more about detecting and tracking health problems? In this module you will explore current public health challenges including drug and alcohol use; smoking and vaping; and sexual health, with a focus on disease transmission, causes, and risk factors. You will also learn about how diseases and health related issues can be prevented. By completing this course, you will gain an understanding of public health and whether this might be a career choice for you!

Course dates 19 June 2023 - 28 July 2023

Delivery mode Online with optional on-campus activity

School of Physics Maths and Computing

Computer Science without Computers

What do computer scientists do? What challenges do they solve? This micro-credential will answer those questions for you, giving you examples and hands-on exercises to do, all without computers!

Course dates 16 October 2023 - 10 November 2023

Delivery mode Online with required on-campus activity
Registrations open for UWA Starter in February 2023
To be eligible to participate in the pilot of UWA Starter in 2023 you must:
Be a Year 11 or 12 student completing WACE
Attend one of the following Western Australian partner schools:
All Saints' College
Aquinas College

Bob Hawke College

Bunbury Cathedral Grammar School
Corpus Christi College
Great Southern Grammar School

Irene McCormack Catholic College

Newman College
Penrhos College
Perth Modern School
Presbyterian Ladies College
Rossmoyne Senior High School
Sacred Heart College
Shenton College
St George's Anglican Grammar School
St Hilda's Anglican Girl School
St Mark's Anglican Community College
Trinity College
Wesley College
Is your school interested in joining UWA Starter? Express your interest today to find out more about joining the UWA Starter program in 2024 and we'll be in touch.

Discount for staff of Partner schools
Do you work for a primary or secondary school in WA?
Does your school partner with UWA to deliver UWA Starter, Aspire UWA, or Children's University WA Partnership?
If your answer is YES to both questions, UWA would like to offer you a 10% discount when you enrol in one or more of the UWA Plus micro-credentials listed here.
Key dates
Enrolments - Term 1
Orientation - Friday 14 April
Micro-credentials commence - Term 2 (exact dates depend on micro-credential)
Frequently asked questions
What are micro-credentials?

Micro-credentials are short courses. Successfully completing a micro-credential showcases mastery of specific skills, knowledge and/or experience in a given subject area or capability. Designed to meet secondary students' flexibility requirements, UWA Starter micro-credentials focus on providing secondary students with the opportunity to study subjects they are passionate about or to try different subjects they may be considering studying at university. UWA Plus micro-credentials are delivered by UWA.

Are UWA Starter micro-credentials right for me?

If you're a Year 11 or 12 student interested in learning more about a specific subject or you want to explore a variety of different study areas to see what you might want to study at university, UWA Starter micro-credentials may be right for you. Check the specific micro-credential listing for details.

How are UWA Starter micro-credentials different from other types of study?

UWA Starter micro-credentials are short, specific courses designed to be stackable. They give you the flexibility to pick and choose what works for you, so you can complete a one-off micro-credential or stack multiple micro-credentials to convert to academic credit towards an undergraduate course.

What are 'stackable' micro-credentials?

Micro-credentials are 'stackable' because you can combine multiple micro-credentials that may be converted to academic credit towards an undergraduate course. Completing three UWA starter micro-credentials can be converted to credit for one unit when commencing selected UWA bachelor degrees.

Why are UWA Starter micro-credentials valuable?

Successfully completing a micro-credential showcases mastery of specific skills or knowledge in a subject area. Micro-credentials contribute to your skillset and create pathways for continued learning. It also enables you to get started on your university journey earlier in a way that can be recognised within your UWA bachelor's degree.

Do I need to be an ATAR student to take UWA Starter micro-credentials?

UWA Starter is open to students undertaking ATAR as well as to students that are undertaking general or alternate pathway courses such as University Enabling programs.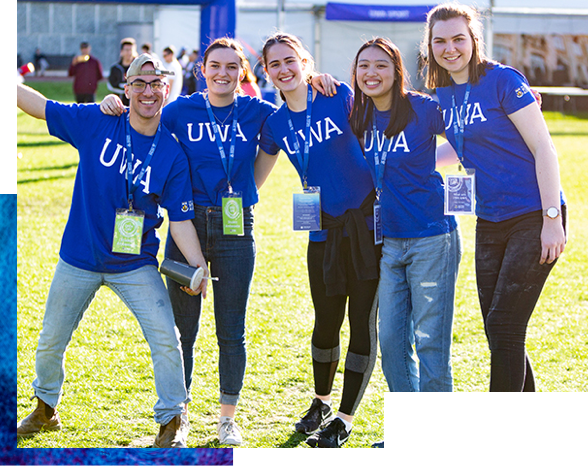 Have a question?
Get in touch with us
askUWA

Phone

131 UWA (131 892)
8.30am–5.00pm (AWST), Monday to Friday

Live chat

Click the Live Chat button on the right to start a session


Our chat hours are:

Monday – Friday 2 – 4pm AWST




Location

Visit us in person at Student Central, UWA from Monday to Friday, 8.30am – 5pm
The University of Western Australia