Postgraduate
Master of Business Analytics
The recent explosion of available data, together with advances in technology, makes data leverage critical for better business decisions. Lead the way with a Master of Business Analytics at UWA.
Careers and further study
Take your studies to a new level with a postgraduate degree and discover what career opportunities lie ahead.
Career Pathways
Graduates may be employed in a range of industry globally. Outcomes include:
Data analyst
Business analyst
Market economist/analyst
Financial analyst
Human resource analyst
Business intelligence analyst
Insights analyst
Data consultant
Senior business analyst
Further Study
After three years' relevant work experience, students may choose to pursue a Master of Business Administration (MBA).
This course could lead to these
Career Opportunities
$82K
Average Graduate Starting Salary
Postgraduate study at UWA
Graduate Certificate in Business Analytics
Fees and scholarships
Learn more about the fees that apply to you for this course. For fee type definitions and further assistance, see the Fee Calculator Help page. You can also search our database for scholarships that are relevant to you or this course.
Scholarships
Scholarships are available to students from a diverse range of backgrounds, including academic achievement, financial need, educational disadvantage, leadership and community service, artistic or sporting achievements, and being from a rural or remote area.
Cost of living
There are a few things to consider before applying to study at university. One could be your cost of living. This can depend on factors such as lifestyle, accommodation, tuition fees, medical insurance, textbooks and more. For an indication of expenses and average costs, see our
Cost of living
page.
Admission requirements
If you're interested in furthering your career by studying this postgraduate degree, find out the admission details below.
Admission requirements
(1) To be considered for admission to this course an applicant must have—a bachelor's degree, which includes the completion of a statistics unit or equivalent; and either:
(a) the equivalent of a UWA weighted average mark of at least 60 per cent; or
(b) a valid Graduate Management Admission Test (GMAT) score of at least 550; or
(c) at least five years of relevant, documented professional experience considered by UWA to be sufficient to permit satisfactory completion of the course; or
(2) Completion of the Graduate Certificate in Business Analytics with a WAM of 60%.
English competency
English is the language of instruction and assessment at UWA and you will need to meet the
English language requirements
of the University to be eligible for a place.
How to apply
Ready to apply for this postgraduate course? Follow the steps and you'll be on your way to joining us at UWA.
Course details
Today's businesses have an increasing need to make sense of the large quantities of structured and unstructured data that are generated. Understanding how to integrate large and complex data sets, and transform data into meaningful insights and actions, is vital for business success.
MASTER OF BUSINESS ANALYTICS
Get practical
This course includes a Business Analytics Industry Project unit which is a project-based unit used to enhance and demonstrate your cognitive skills surrounding the application and interpretation of data analytics in a business context, and to develop communication skills to transfer knowledge clearly, effectively and appropriately in relation to data analytics issues.
MASTER OF BUSINESS ANALYTICS
Who should do this course?
This course is ideal for:
Senior management or professionals who wish to upskill in a growing area allowing you to make stronger and more informed business decisions.
Recent Master of Business Administration (MBA) graduates seeking more intensive study in business analytics.
Recent Business or Commerce graduates who have specialised in management or accounting and who desire additional capabilities in information and logistics management.
Recent Engineering or Science graduates who have specialised in computer science or data science wanting to apply their knowledge to a business and management context.
STUDY YOUR WAY
Flexibility
We understand that life is busy. That's why our postgraduate courses are designed so you can balance your work and studies. Our flexible postgraduate experience includes the opportunity to study part time, a range of units that are taught after hours, and the option to learn via intensive units. Ask our Student Central team for advice on choosing the right postgraduate route for you. Find out more here.
INDUSTRY
Why study business or data analytics
"The volume of information available to organisations is growing exponentially and, in parallel, so is demand for professionals skilled in data systems and analytics. But with the supply of data professionals lagging, those with verifiable skills and reliable credentials are commanding exceptional salaries." – The Australian, 2019
Earn more
Average annual salary for data scientists – AU$111,846 (Indeed, 2019)
Average annual salary for business analyst – AU$81,401 (PayScale, 2019)
MASTER OF BUSINESS ANALYTICS
Graduate outcomes
Students of the Master of Business Analytics will graduate with a range of skills, including:
The ability to understand the theoretical background of data analytics and data processing of unstructured data
Specialised technical skills to understand, apply and interpret the various approaches to data analysis, be able to adapt strategies to a specific situation and understand the limitations of data
Be able to understand the ethical issues related to protecting the rights of individuals and the integrity of data collected and analysed
Communication skills to transfer knowledge clearly, effectively and appropriately in relation to data analytics issues
The ability to identify and implement the use of data analytics tools and techniques in a variety of business disciplines
Business School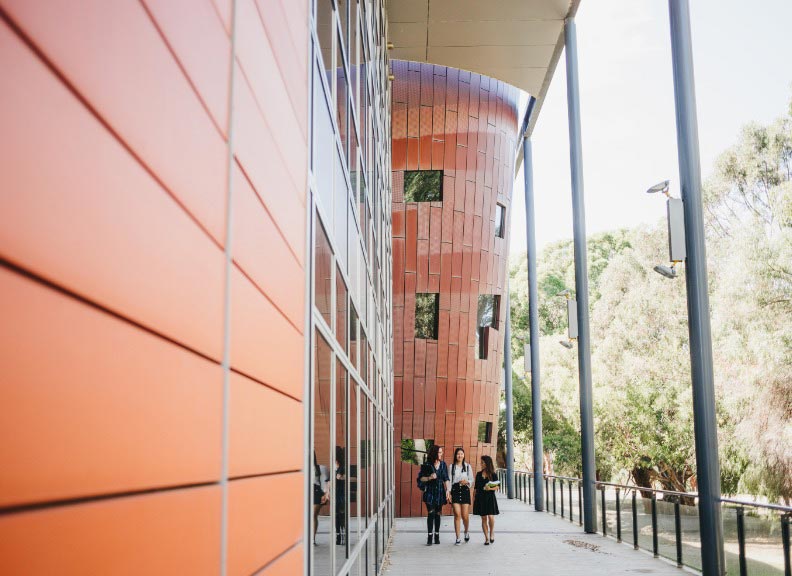 UWA's Business School offers a range of undergraduate and postgraduate courses aimed at inspiring students to become the innovative world leaders of tomorrow.
The University of Western Australia