Postgraduate
Graduate Certificate in Business Analytics
Enhance your analytical skills in one of the fastest growing fields around the globe. Analysis of 'Big Data' is the future. Be a part of it.
Contact us
Address
The University of Western Australia(M355) 35 Stirling Highway Perth Western Australia 6009
Frequently asked questions
Careers and further study
Take your studies to a new level with a postgraduate degree and discover what career opportunities lie ahead.
Career Pathways
Graduates may find employment from any profit or non-profit organisation who wishes to use data to enhance decision-making or any large organisation now employing data, business or market analysts. There is also a high demand for recent business or commerce graduates who have specialised in management or accounting who have additional capabilities in information and logistics management.
This course could lead to these
Career Opportunities
Fees and scholarships
Learn more about the fees that apply to you for this course. For fee type definitions and further assistance, see the Fee Calculator Help page. You can also search our database for scholarships that are relevant to you or this course.
Industry partner discount
This course is eligible for an
industry partner discount
, giving industry professionals a 10% tuition fee discount to support postgraduate study at UWA.
Scholarships
Scholarships are available to students from a diverse range of backgrounds, including academic achievement, financial need, educational disadvantage, leadership and community service, artistic or sporting achievements, and being from a rural or remote area.
Cost of living
There are a few things to consider before applying to study at university. One could be your cost of living. This can depend on factors such as lifestyle, accommodation, tuition fees, medical insurance, textbooks and more. For an indication of expenses and average costs, see our
Cost of living
page.
Admission requirements
If you're interested in furthering your career by studying this postgraduate degree, find out the admission details below.
Admission Requirements
(1) To be considered for admission to this course an applicant must have—
(1)(a) a Bachelor's degree, or an equivalent qualification incorporating at least one unit of statistics, as recognised by UWA;
and
(b) the equivalent of a UWA weighted average mark of at least 50 per cent;
or
(c) at least two years professional experience in a relevant occupation; or
(2) Significant work experience including at least 5 years with a material level of responsibility.

Ranking and Selection Process
Where relevant, admission will be awarded to the highest ranked applicants or applicants selected based on the relevant requirements.

English competency
English is the language of instruction and assessment at UWA and you will need to meet the
English language requirements
of the University to be eligible for a place.
How to apply
Ready to apply for this postgraduate course? Follow the steps and you'll be on your way to joining us at UWA.
Course details
The Graduate Certificate in Business Analytics enables students to develop analytical and technical skills and apply these skills to business contexts. This course enables graduates to draw insights from data to make better business decisions.
About the course
Graduates of the course apply their knowledge in analysing, modelling and evaluating business and organisational data; and evaluating appropriate software and techniques to apply to a range of business data problems.
You'll learn to
understand the theoretical background of data analytics and data processing of unstructured data
understand the various approaches to data analysis, appreciate strategies for adapting them to a specific situation and understand the limitations of data
understand the ethical issues related to protecting the rights of individuals and the integrity of data collected and analysed
transfer knowledge clearly, effectively and appropriately in relation to data analytics issues
identify the use of data analytics tools and techniques in a variety of business disciplines
Who should do this course?
Senior management or professionals who wish to up-skill in a growing area allowing you to make stronger and more informed business decisions.
Recent Business or Commerce graduates who have specialised in management or accounting and who desire additional capabilities in information and logistics management.
Those interested in Business Analytics or Data Analytics who may be looking to take a first step towards a master's degree.
Graduate Certificate in Business Analytics
Quick details
Weekly contact time
12 hours per unit per week (comprising 3 hours contact time and 9 hours of individual study time)
Level of study
Course Code
This course is not available to international student visa holders
Course Structure
Postgraduate coursework degrees and combined (coursework and research) degrees comprise a number of units. Refer to the course structure for more information.
Graduate Certificate in Business Analytics
Application deadlines
For Semester 2 2020 entry, applications close 26 July 2020.
INDUSTRY
Why study business or data analytics
"The volume of information available to organisations is growing exponentially and, in parallel, so is demand for professionals skilled in data systems and analytics. But with the supply of data professionals lagging, those with verifiable skills and reliable credentials are commanding exceptional salaries." – The Australian, 2019
Earn more
Average annual salary for data scientists – AU$111,846 (Indeed, 2019)
Average annual salary for business analyst – AU$81,401 (PayScale, 2019)
STUDY YOUR WAY
Flexibility
We understand that life is busy. That's why our postgraduate courses are designed so you can balance your work and studies. Our flexible postgraduate experience includes the opportunity to study part time, a range of units that are taught after hours, and the option to learn via intensive units. Ask our Student Central team for advice on choosing the right postgraduate route for you. Find out more here.
Industry partner discount
This course is eligible for an
industry partner discount
, giving industry professionals a 10% tuition fee discount to support postgraduate study at UWA.
Accreditation
The UWA Business School is accredited through both EQUIS, the European Quality Improvement System, and AACSB, the Association to Advance Collegiate Schools of Business. These are the leading business school accreditations in Europe and North America respectively, meaning that your business degree will be recognised by employers around the world.
Business School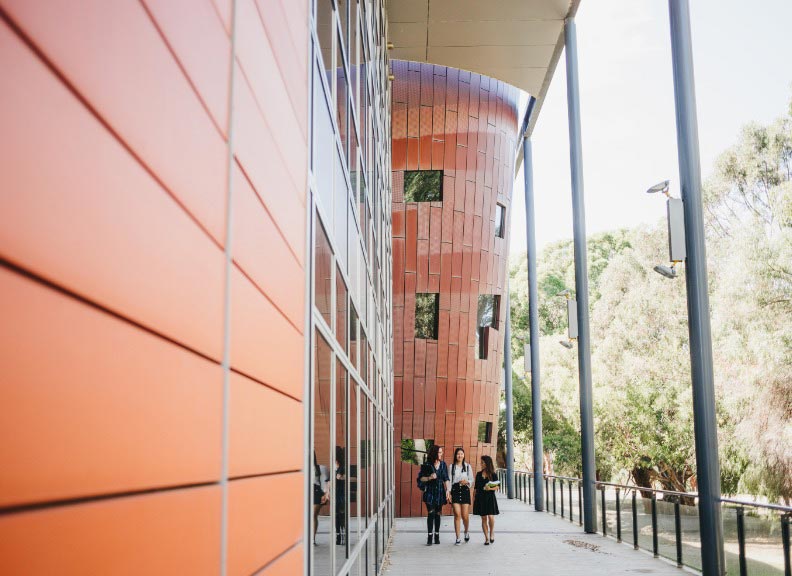 UWA's Business School offers a range of undergraduate and postgraduate courses aimed at inspiring students to become the innovative world leaders of tomorrow.
The University of Western Australia