Undergraduate
Environmental Geography and Planning
Ensuring the sustainable use of natural resources and planned urban development is crucial to human society.
Contact us
Address
Student Central
The University of Western Australia(M355) 35 Stirling Highway Perth Western Australia 6009
Hours
8.30am – 5pm AWST, Monday – Friday
Frequently asked questions
Careers and further study
This major opens up a world of future study pathways and career options.
Career opportunities
Graduates will be well positioned to pursue exciting careers both domestically and internationally in a range of expanding fields. These include urban planners, environmental research and consultancy, conservationists and policy advisers.
Employers include local and national governments, planning agencies, primary industries, environmental consultancies and non-governmental organisations.
Further study
Environmental Geography and Planning graduates may choose to pursue postgraduate studies in:
This course could lead to these
Career Opportunities
Postgraduate study at UWA
Master of Urban Design
Fees and scholarships
Fees for this course are currently being finalised, refer back to this page in the coming weeks as more information will be made available then.
For fee type definitions and further assistance, see the
Fee Calculator Help
page.
You can also search our database for scholarships that are relevant to you or your desired course.
Admission requirements
The University of Western Australia welcomes applications from international and domestic school-leavers, mature-age applicants and those with previous tertiary study. If you're interested in studying this major, find out the admission details below.
Minimum entry requirements
Below you'll find a list of admission equivalencies for this course's Australian Tertiary Admissions Rank (ATAR).
Western Australian Certificate of Education (WACE) 2016 onwards
How to apply
Ready to apply for this major? Follow the steps and you'll be on your way to joining us at UWA.
Course details
Ensuring the sustainable use of natural resources and planned urban development is crucial to human society. This major explores how we plan and manage resources in the natural and built environment, encompassing theoretical aspects, practical techniques and work placements in these fields. Graduates will be able to apply this knowledge to develop their careers in planning, conservation and development.
About the course
This major focuses on the ways that people inhabit, use and alter environments across different geographical contexts.
Environmental Geography and Planning
Quick details
Level of study
Course Code
Full time/part time duration
3 years (BEnvDes), 4 years (BPhil[Hons])
Why study this course
You'll be taught by experts across a range of disciplines from urban planning to natural resource management
You'll gain practical skills through fieldwork, data analysis and a work placement, which will advance your career in a wide range of areas
The broad range of disciplines and transferrable skills you'll learn will give you the tools to adapt to the variety of issues affecting industry and society, and will make you more valuable to employers
You'll learn to
develop skills in data collection, analysis and interpretation, using data from both the human and natural environment
apply your knowledge of policy to identify solutions that ensure sustainable usage of natural resources and urban development
develop workplace-relevant skills including adaptability, teamwork, oral presentations and report writing
use advanced technology such as GIS and remote sensing to explore data and present commanding data visualisations
Your degree options
Understand the histories and theories of environmental, urban, architectural and landscape design, planning and policy.

Bachelor of Environmental Design
Practical learning
Some units include field visits to a range of sites within Perth to observe and critique aspects of urban design practice.
You can participate in a one week field-trip in regional Western Australia that will introduce you to aspects of landscape assessment and environmental planning practice. You can also participate in a one week residential field school where you'll undertake consultancy type research on environmental planning topics.
You'll do studio work and design simulations in a range of landscape settings within Western Australia and conduct consultancy style reporting and verbal presentations on a research project.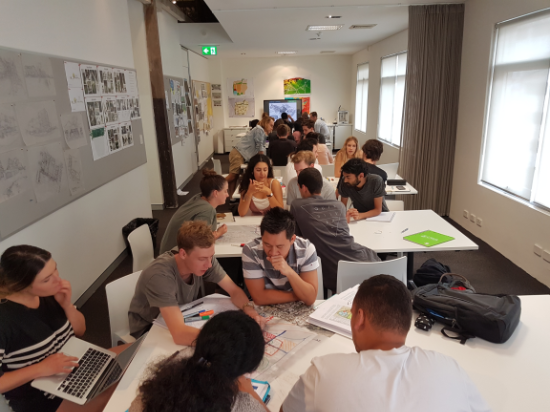 The University of Western Australia