Discover a world of opportunities
Whether you're an undergraduate, honours or postgraduate coursework student, you can study, live and travel abroad while gaining credit towards your degree. Studying abroad enhances your skills and employment prospects by showing you can adapt to different environments and that you're a flexible self-starter.
Academic benefits
Enhance the value of your degree
Learn a new language or improve your language skills
Connect with leading universities worldwide
Employment benefits
Gain networking opportunities and a competitive edge
Take on a unique subject at another university
Enhance your cross-cultural and communication skills
Personal benefits
See the world and foster relationships overseas
Learn more about yourself and another culture
Gain independence and confidence
Chinese life is completely different to not only Australian life, but other walks of Asia. The megacities here are nothing short of incredible food, nightlife and people. I experienced a month of utter euphoria living in such an amazing city.
My time in Shanghai will not only be fun stories and incredible travel, but also personal growth and resilience. I'd fully encourage anyone who is thinking of applying for the Westpac Asian Exchange Scholarship or an Asian exchange itself.
Ailish Dey
Which program is right for me?
Student Exchange
This is a short-term or semester-long program where you'll study at one of our partner universities and pay your tuition fees to UWA while remaining enrolled with us. We recommend planning your exchange during your first year to ensure you're fully prepared to undertake it in year two or three of your degree.
Study Abroad
If you've dreamt of going overseas but your chosen university isn't on our partner list, you can still study abroad by arranging it with your Student Advising Office. There's no formal exchange agreement in place though, so if you're worried about funding your own trip, you can apply for the UWA Overseas Study Grant provided your study is for credit towards your degree.
Short term
Want to get a taste of a country's culture before deciding if you'd like to study there? Our short-term programs mean you can enjoy some time overseas while earning credit towards your degree. These programs are also often cheaper than full semester programs, which can suit you if you're on a tight budget.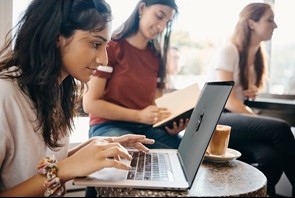 Online programs
Enhance your digital literacy, network globally and improve your CV through an online program. These study opportunities are a fantastic way to experience different teaching styles and improve your cross-cultural communication skills from the comfort of your home. Visit Global Studio for current programs.
Am I eligible?
Be on track to complete 18 points (example three 6-credit points) at UWA by the end of the current semester (36 by the time you go on exchange).
Have a status of 'Good Standing' (pass at least half of enrolled units). You can check this in StudentConnect.
Have sufficient points remaining in your course to allow for full-time enrolment during exchange (24 points if applying for one semester, 48 points if applying for two semesters) Completion of 18 points in your final semester may be approved.
You'll be allocated to an exchange university based on your weighted average mark (WAM) of your current degree and the viability of your proposed study plan. If you're applying for postgraduate exchange in the last year of your undergraduate degree, we'll assess your application using your undergraduate WAM.
Some exchange institutions may have specific WAM or points completed requirements. If you have a WAM above 65 and more than 18 points completed, you don't need to filter exchange institutions for academic requirements. Check our website for details and view the list of programs that consider students with a WAM under 65. You can also view the list of programs that consider students with 18 points completed (36 points by the time you go on exchange).
The Student Exchange program has two application deadlines per year:
1 July for study in Semester 1 the following year
1 December for study in Semester 2 the following year
Some universities have only one application per year so be sure to begin your research early.
Attend an information session.
Discuss the structure of your study plan with your Student Advising Office and find out the units you'll need to take during your exchange. At this stage of the application, your study plan will not be pre-approved. Unit approvals happen once your application has been submitted.
Use our Student Exchange database to check academic restrictions and access host universities' handbooks to view units.
Start an application. And don't worry, your application doesn't need to be lodged in one go. You can save your progress and come back to it.
You'll be notified about your application outcome for the Student Exchange program in February for applications submitted in December, and in August for applications submitted in July.
Once accepted, we'll prompt you to seek approval from your Student Advising Office for all units to be undertaken overseas. If units selected in your original study plan change, are no longer available or are no longer suitable for your course, you'll need to gain approval from your Student Advising Office.
Requirements
While on exchange, you need to enrol in the recommended full load required at the host university, which is equivalent to a full-time load at UWA. Study load varies depending on the contact hours, assessment method and workload required at each individual university.
Consult the Accepted Full Load Equivalents document below.
Specific exchange conditions
Your faculty or school may have certain exchange conditions you'll be required to meet regarding when you can go on exchange or the units you undertake. For more information, enquire with your Student Advising Office via askUWA.
Am I eligible?
Before applying to study abroad, you may need to consider the following:
Students who study abroad independently will not be enrolled at UWA during that period, so it's important to understand the implications on your HECS/HELP liability or tuition fees
Students who are not enrolled at UWA may not be eligible for Centrelink
In some cases, students are required to apply for approved leave
Investigate your finance options
Submit an application for an Overseas Study Grant by the deadline – you can apply for this before being host accepted by your host institution
To start with, conduct some research to find a program you're interested in and check the application deadlines of the host university.
To see the programs we have partnerships with, visit our website and click Short term programs, then advanced search, then select 'yes' under short term independent study abroad.
Applications run on a rolling basis.
Take your preferred program to your Student Advising Office, discuss your plans and seek academic approval.
Select your units and gain faculty approval via askUWA.
Apply to host university.
Can't commit to a full semester overseas? Not enough room in your degree? Not all overseas programs are for a semester or year. You can choose from a number of short-term options:
UWA overseas units are UWA taught units that either have a component of overseas study, or are taught entirely overseas. These are usually run in semester breaks.
Short-term exchange programs are run by the Global Learning Office through overseas universities that have an exchange agreement with UWA. These programs have tuition fees waived but can include other fees.
Short-term study abroad programs are administered by the host university and require tuition fees to be paid to the overseas institution.
Short-term program applications run on a rolling basis so application deadlines will vary.
How do I apply?
1. Take your preferred program to your Student Advising Office and discuss your plans and seek academic approval
2. Select your units and gain faculty approval via askUWA
3. Apply to host university
On your return
For Student Exchange programs
Once we receive your transcript from the host institution, your faculty will add the credit to your record. You'll receive either an ungraded pass or ungraded fail for your exchange units.
For Study Abroad programs
Complete an application for advanced standing and submit it to your Student Advising Office with the original transcript from your host institution.
If an Overseas Study Grant was received, submit a copy of your transcript to the Global Learning Office for verification of successful completion of your studies.
Costs of studying overseas
Although costs can vary greatly depending on location and lifestyle, most returned exchange students indicate a semester of exchange costs about AUD$15,000. When you study overseas, you'll pay for your:

accommodation and daily living expenses
travel expenses
passport and visa costs
any other incidental costs

Our Corporate Travel Insurance Policy covers all UWA students who are approved for overseas study prior to departing for their program.

For students going on exchange, this policy may not be accepted by some overseas exchange partners and you may need to take out additional health cover at your host institution.

Also be sure to arrange additional travel and health insurance for travel occurring outside your formal exchange study period.

Loans, GRANTS AND SCHOLARSHIPS

Heading overseas doesn't need to break the bank. You could be eligible for a loan, grant or scholarship to help you get there. Just one example is the UWA Overseas Study Grant, which is available every year and can fund more than 600 students.

This grant can be applied for if you're undertaking overseas study, practicum, internships or research that counts towards your current UWA course requirements.

OS-HELP loans are available to Commonwealth-supported students who want to undertake faculty-approved study overseas.

If you're currently receiving Centrelink subsidies, you may continue to receive these while on exchange. After you've been accepted into your exchange university, you can request a letter to notify Centrelink of your exchange.

You may have limited opportunities for casual work during your time overseas, so don't rely on this to support yourself. Your student visa may also not allow you to undertake any work.
You may also be interested in...
Contact Global Learning Office