FACILITY
Eileen Joyce Studio
Intimate recital space housing a unique historical instrument collection
The Eileen Joyce Studio (EJS) is a multifunctional teaching, seminar and performance space, built through the generosity of world-renowned Australian concert pianist Dr Eileen Joyce. Officially opened in 1981, the space seats up to 70 and includes views of the picturesque Somerville Auditorium.
The studio houses the Conservatorium of Music's early keyboard collection, a range of instruments spanning the history of keyboard music. The collection includes pipe, reed and chamber organs, clavichords, a celeste, and a variety of harpsichords and pianofortes. It also features a modern Shigeru grand piano and a Kawai upright piano.
Ideal for intimate chamber music performances as well as practical teaching, the studio has fixed lighting and a flatscreen TV with audiovisual inputs. The room can be set up with different seating configurations and is available for private hire with staffing provided.
Access to the EJS is available to UWA students and staff on request. It is also available for private hire. Get in touch through the contact details below for more information.
Hosts free community concerts
Flatscreen TV with audiovisual inputs
Dr Eileen Joyce
Dr Joyce donated a sum of money for the studio in late 1979, after being awarded an honorary doctorate from the University. She also donated her Goff clavichord and a portrait of herself by Augustus John – both of which are still housed in the studio.
While Dr Joyce did not study at UWA, she lived in Western Australia for most of her early life where, despite her family's poverty, her parents encouraged her musical development. Her express wishes on establishing the studio were to honour her late parents, Alice and Joseph Joyce, and to strengthen the study and enjoyment of keyboard music in WA.
The studio was designed by architect Anthony Brand, in coordination with University Architect Arthur Bunbury. Dr Joyce attended the opening of the studio in 1981 and passed away a decade later in 1991.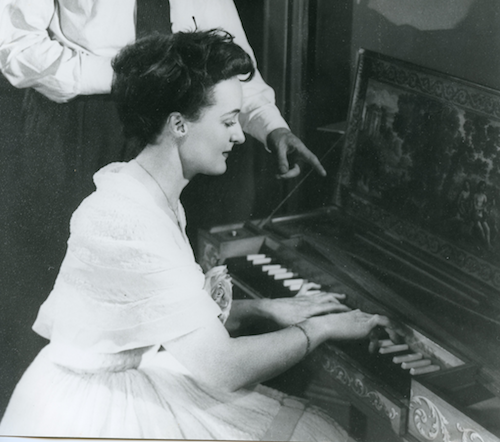 Contact the Eileen Joyce Studio
Location
Find us on campus
Map