Undergraduate
Professional Economics
Professional Economics provides you with a concentrated program of study in economics and is ideal for anyone planning a career as an economic analyst or forecaster.
Contact us
Address
Student Central
The University of Western Australia(M355) 35 Stirling Highway Perth Western Australia 6009
Hours
8.30am – 5pm AWST, Monday – Friday
Frequently asked questions
Careers and further study
This major opens up a world of future study pathways and career options.
Career Pathways
Employment prospects for economists are strong, and graduates can pursue careers as specialist economists in government and business, or as economic consultants, economic analysts and policy advisers. Graduates have found employment in the Australian and State Treasuries, the Australian Reserve Bank, as well as in economic consultancies and major companies.
Further Study
Students can pursue further studies at honours level or undertake a specialist master's degree such as the Master of Economics. They can also choose to complete a generalist master's degree such as the Master of Commerce or (after appropriate work experience) the Master of Business Administration.
This course could lead to these
Career Opportunities
Postgraduate study at UWA
Master of Economics
Fees and scholarships
Fees for this course are currently being finalised, refer back to this page in the coming weeks as more information will be made available then.
For fee type definitions and further assistance, see the Fee Calculator Help page.
You can also search our database for scholarships that are relevant to you or your desired course.
Scholarships
Scholarships are available to students from a diverse range of backgrounds, including academic achievement, financial need, educational disadvantage, leadership and community service, artistic or sporting achievements, and being from a rural or remote area.
Cost of living
There are a few things to consider before applying to study at university. One could be your cost of living. This can depend on factors such as lifestyle, accommodation, tuition fees, medical insurance, textbooks and more. For an indication of expenses and average costs, see our
Cost of living
page.
Admission requirements
The University of Western Australia welcomes applications from international and domestic school-leavers, mature-age applicants and those with previous tertiary study. If you're interested in studying this major, find out the admission details below.
Minimum entry requirements
Below you'll find a list of admission equivalencies for this course's Australian Tertiary Admissions Rank (ATAR).
International Baccalaureate
Singapore-Cambridge A-Levels
UWA Foundation Programme (UWAFP)
Western Australian Universities Foundation Program (WAUFP)
Monash University Foundation Year (MUFY)
Trinity College Foundation Program
Western Australian Certificate of Education (WACE) 2016 onwards
Korean College Scholastic Ability Test (CSAT)
Admission requirements
For applicants with recent secondary education, information on admission criteria is available on our
entry standards
page.
Bachelor of Commerce
Maths requirement
Prerequisite subjects: Mathematics Applications ATAR with a Mathematics unit completed in your first year.
Recommended subjects: Mathematics Methods ATAR.
English competency
English is the language of instruction and assessment at UWA and you will need to meet the
English language requirements
of the University to be eligible for a place.
How to apply
Ready to apply for this major? Follow the steps and you'll be on your way to joining us at UWA.
Course details
Economics is at the forefront of public policy and issues such as economic growth, the stability of the economy, regulating financial institutions, resource taxation, financing education and income planning. Through this major you'll learn how complex economic developments can be understood in terms of a set of simple but fundamental principles.
Course Structure
Our undergraduate degrees offer you a broad range of options allowing you to combine subjects in a way that matches your career goals and personal interests.
Put theory into practice
Current UWA students are eligible to take one of our professional experience units. These units bridge the gap between university and the workplace by providing opportunities to gain hands-on, practical experience. You can master new skills, make connections and network, get a taste of the opportunities in the workforce and add experience to your resume, all before graduating.
Find out more about Work Integrated Learning.
PROFESSIONAL ECONOMICS
Outcomes
Students will learn to:
Employ the framework of micro and macro economics to rationally analyse general economic problems and arrive at analytically sound conclusions
Interpret and undertake quantitative economic research
Identify and critically reflect on landmark events in Australia's economic history and in the rise of the global economy
Undertake specific economic research that critically evaluates theoretical and/or applied issues in the area of economics
Communicate the results of economic research to fellow economists as well as to a range of potential stakeholders including other business professionals, policymakers in government and the public at large
Achieve the preceding objectives irrespective of whether they are working as an individual analyst or as a member of a team of professionals
Demonstrate an awareness of, and sensitivity to, the personal, social, ethnic and/or international backgrounds of other team members as well as stakeholders
Your degree options
This major is only available within the Bachelor of Commerce or Bachelor of Philosophy (Honours) degrees. This major is a double major which means you undertake more units in this area. You are not able to pair this major with any other major.

Bachelor of Philosophy (Honours)
Business School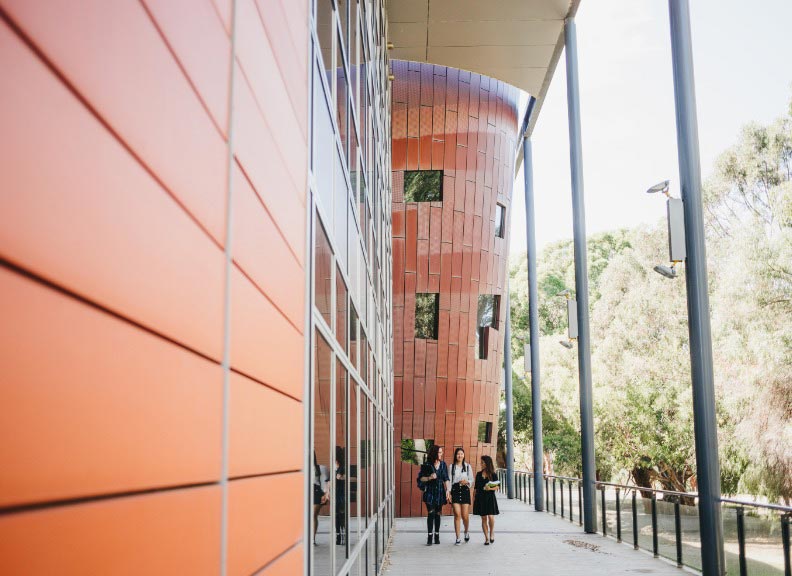 UWA's Business School offers a range of undergraduate and postgraduate courses aimed at inspiring students to become the innovative world leaders of tomorrow.
Accreditation
The UWA Business School is accredited through both EQUIS, the European Quality Improvement System, and AACSB, the Association to Advance Collegiate Schools of Business. These are the leading business school accreditations in Europe and North America respectively, meaning that your business degree will be recognised by employers around the world.
The University of Western Australia