Postgraduate
Master of Business Administration (MBA) Intensive
Our MBA Intensive gives you the opportunity to enhance your career prospects through more direct contact with business leaders and a personalised leadership development program.
Careers and further study
The UWA MBA Careers and Employability Centre provides extensive information, resources and advice to build your resilience and versatility to ensure you are competitive to meet current and future challenges in the changing business landscape.
We provide our MBA students with customised career solutions to help you build your individual professional footprint, accelerate and achieve your career goals. Networking events, bespoke mentoring programs and industry presentations give you an extensive array of opportunities to enhance your personal development and career prospects through exclusive interaction with senior business executives.

We look forward to assisting you to develop your unique potential and reaching your career goals.


MBA career services
Individualised career coaching
It's not about finding a job, it's about realizing your potential. We'll work closely with you as you build the skills you need to reach your goals.
Work with MBA Career Services Managers and other career education professionals to create a customized career plan, develop your personal and professional skills, make strategic decisions, and achieve your goals. We help by providing relevant connections, educational resources, and e individual support to plan and manage your career through individual, structured career consultations with our MBA Careers Services Managers who have a wealth of experience across government, corporate, not-for-profit and educational sectors.
You will have dedicated assistance with every step of your career trajectory, from initial self-assessment and skill development, through to job search, job application, interview stage and beyond. Our MBA Career Services Managers are passionate in assisting you to achieve transformational career changes and personal development growth.

Access MBA resources through our career management platform
The UWA CareerHub online Jobs Board also enables MBA students to book career consultations, register for events, and access self-help resources to support your career development.
Attend careers and employability workshops
Our suite of MBA career development workshops delivered throughout the year will support you to apply the fundamentals that facilitate career advancement to assist you with:
clarifying career goals

strategies for effective job search

developing and reviewing resume

developing and reviewing cover letter

addressing selection criteria

strategies for networking (including social media strategies)

LinkedIn profile review

practising your pitch

improving job interview technique

considering job offers and negotiating salary

managing work and transitions

learn how to get noticed and match your ambitions to the right job opportunities.
UWA MBA Career Mentor Program: A personalised mentoring to connect MBA Intensive students to business and industry
Embrace the unique opportunity to be part of the UWA MBA specifically designed one-to-one mentoring program linking you directly with senior business executives and experienced business leaders. This bespoke program assists MBA students to build stronger networks through the sharing of your mentor's knowledge, experiences and development of your career plans.
This 6-month program comprises a series of one-on-one meetings between a student and a dedicated industry mentor such as a senior executive of a medium to large organisation. Some of our current mentors are CEOs and senior business leaders from a wide range of industries, including:
Industry presentations and networking opportunities on campus
Industry presentations provide a direct line of contact to some of Western Australia's most prominent and successful industry leaders. Gain up to date information and resources from leading companies who profile their business and provide valuable updates on market conditions and roles in MBA-relevant sectors.
MBA Careers Month
You will have the opportunity to explore and examine different sectors, companies and roles through meeting professionals and executive recruitment managers to explore employment opportunities post-MBA.


Resources
Our MBA resources online resources which are available 24/7, anytime and anywhere for interview preparation and resume checks, Profiling for Success, are designed to help you stand out in an increasingly competitive, global employability market.

Career Pathways
MBA graduates are highly sought after, progressing on to a range of senior management positions in fields such as business development, strategy, marketing and customer service.
These roles fall into a diverse range of public, private and not-for-profit sectors including government departments, resources, consulting and financial services.
This course could lead to these
Career Opportunities
MBA Lifelong Learning
The new UWA MBA Alumni Lifelong Learning Program will deliver you the opportunity to continue learning, networking and developing long after graduation.
MBA Refresher Program
All UWA MBA alumni will have the opportunity to return to class after graduation. Returning to class will expose you to the latest theories and concepts in the subjects that you completed within your MBA, or study MBA elective units that you have not studied previously. The choice is yours.
There are no additional costs associated with returning to class. Just let us know which of our classes you would like to attend. For more information, please contact mba-business@uwa.edu.au
MBA Strategy & Leadership Forum
As a UWA MBA student or alumni, you will receive invitations each year through the Graduate Management Association (GMA) to attend our annual Strategy & Leadership Forum, which features presentations from some of Australia's most senior business leaders and also from our prominent UWA MBA alumni. In recent years, speakers have included Mark Barnaba, Diane Smith-Gander AO, Michael Chaney AO, Richard Goyder AO, Zoe Yujnovich, Meg O'Neil, John Van Der Wielen and Jimmy Wilson.
Masterclasses
As soon as you enrol in one our MBA programs, join the GMA to receive regular invitations to our Masterclass series. Numerous masterclasses are run each year by senior industry leaders, which will help you stay up-to-date with the latest developments in industry and government.
Workshops by faculty
Each year, our faculty run workshops on a variety of topics of direct interest to MBA students and alumni. This is a great way of MBA students and alumni engaging with faculty on an ongoing basis.
Social events
The GMA at UWA runs various social events each year. The highlight of the MBA social calendar is the GMA student ball, which is held towards the end of each year. Details will be sent to you about all of the GMA social events once you have joined the GMA.
Further Study
Graduates may choose to diversify by studying in areas such as international law or public policy.
Postgraduate study at UWA
Master of Business Administration Intensive
Fees and scholarships
Learn more about the fees that apply to you for this course. For fee type definitions and further assistance, see the Fee Calculator Help page. You can also search our database for scholarships that are relevant to you or this course.
Domestic Fees
Postgraduate - fee paying students
The Annual Fee is an estimate only based on a standard annual study load of 48 points.
For Commonwealth Supported Places, student contribution amounts are charged by unit. For an accurate fee estimate, go to the Fee Calculator and select "I want to price my units".
For Full Fee Paying places, students are charged an annual course fee. Visit the Fee Calculator and select your course to see the annual and total course fees.
Course Credit Points
72
Total Course Fee - 2021
$59,700.00
Course fee
The 2020 MBA Intensive course fee is $59,700. Many
scholarships
are also available, for which MBA Intensive applicants will be automatically considered.
Industry partner discount
This course is eligible for an
industry partner discount
, giving industry professionals a 10% tuition fee discount to support postgraduate study at UWA.
Cost of living
There are a few things to consider before applying to study at university. One could be your cost of living. This can depend on factors such as lifestyle, accommodation, tuition fees, medical insurance, textbooks and more. For an indication of expenses and average costs, see our
Cost of living
page.
Scholarships
Scholarships are available to students from a diverse range of backgrounds, including academic achievement, financial need, educational disadvantage, leadership and community service, artistic or sporting achievements, and being from a rural or remote area.
Domestic scholarships
Domestic applicants accepted into the MBA Intensive are automatically considered for the scholarships listed below for MBA Intensive only. Scholarships open to both MBA Intensive and MBA Flexible candidates will go through a competitive process:
For conditions and to search other opportunities, visit our Scholarships website.
International Fees
Postgraduate – onshore students
Annual course fees are calculated based on a standard annual study load of 48 credit points.
Course Credit Points
72
Total Course Fee - 2020
$59,700.00
Total Course Fee - 2021
$62,100.00
Cost of living
There are a few things to consider before applying to study at university. One could be your cost of living. This can depend on factors such as lifestyle, accommodation, tuition fees, medical insurance, textbooks and more. For an indication of expenses and average costs, see our
Cost of living
page.
Scholarships
Scholarships are available to students from a diverse range of backgrounds, including academic achievement, financial need, educational disadvantage, leadership and community service, artistic or sporting achievements, and being from a rural or remote area.
Scholarships
International
International candidates will be considered for the following scholarships:
UWA also provides 10 MBA (Intensive) International Prestige Scholarships per year to encourage eligible high achieving international students to undertake the MBA Intensive Program offered through the UWA Business School.
Value: 100% of the tuition fee for the year of award for the Master of Business Administration (by coursework and dissertation) for international students.
Duration: A maximum of one calendar year (three trimesters).
To be considered for this scholarship, a candidate must:
(a) be an international student;
(b) have applied for a place in the MBA (by coursework and dissertation) at the University;*
(c) not be fully funded or sponsored to undertake the MBA (by coursework and dissertation);
(d) have achieved a Graduate Management Admission Test (GMAT) score of 650 or higher.
* Course code 43520.
Full funding or sponsorship is defined as being in receipt of funding equivalent to the eligible course fees in the year the scholarship is offered, for the purpose of undertaking the MBA (by coursework and dissertation), whether or not the funding is paid directly to the recipient.
Visit the MBA Intensive International Prestige Scholarship page for additional details and conditions.
Admission requirements
If you're interested in furthering your career by studying this postgraduate degree, find out the admission details below.
Admission Requirements
(1) To be considered for admission to this course an applicant must have—
(a) a Bachelor's degree, or an equivalent qualification, as recognised by UWA;
and
(b) the equivalent of a UWA weighted average mark of at least 50 per cent;
and
(c) at least two years professional experience in a relevant occupation; and
(2)(a) a valid Graduate Management Admission Test (GMAT)* score, and at least three years of relevant, documented professional experience;
or
(b) a valid GMAT* score of at least 650, and at least two years of relevant, documented professional experience.
* GMAT scores are valid for five years.

Ranking and Selection Process
Where relevant, admission will be awarded to the highest ranked applicants or applicants selected based on—
(a) a satisfactory personal statement, as recognised by UWA;
and
(b) two satisfactory references, as recognised by UWA;
and
(c) an interview in which eligible applicants will be assessed based on demonstrated leadership potential, with invitation to attend the interview based on—
(i) a ranking of GMAT scores; and
(ii) the proportion of candidates to be interviewed, determined by UWA, depending on the number of eligible applicants.

English competency
English is the language of instruction and assessment at UWA and you will need to meet the
English language requirements
of the University to be eligible for a place.
MBA INTENSIVE
Application requirements
Applicants should submit their application online with the following documentation:
a personal statement of 1000 words detailing why you wish to undertake this course and drawing attention to the relevant aspects of your current and prospective employment which would benefit from completing the course.
a current curriculum vitae (CV)
evidence of academic English language skills
a valid GMAT test score report
two referee reports

original versions of academic transcripts (unless previously from UWA)
It is strongly advised that you sit a mock GMAT, prior to sitting the actual GMAT, and consult Dr Paul Crompton for a review and discussion of your mock test score.
Note: Hard-copy original transcripts and degree certificates from previous studies may be requested at any time as part of the process of verifying the authenticity of any documents provided with an application. Read more here about uploading scanned documents.
How to apply
Ready to apply for this postgraduate course? Follow the steps and you'll be on your way to joining us at UWA.
Course details
In this accelerated program, our cohort-based MBA Intensive offers an accelerated course of study that will enhance your career prospects anywhere in the world. The strong leadership focus is tailor-made for the next generation of leaders and influencers.
About the course
If you are seeking career progression, then an MBA from UWA will provide you with the technical expertise, interpersonal skills, agility and confidence required to transform your future.
As Western Australia's leading MBA program, and one of the highest-ranked MBA programs in Australia, you will be challenged to expand your business knowledge, sharpen your critical thinking and decision-making skills and boost your leadership potential.
UWA attracts brilliant people, so there is no better place to learn, explore, network and pursue your goals in a highly collaborative and innovative environment.
Master of Business Administration (MBA) Intensive
Quick details
Level of study
Course Code
CRICOS code
#1 in Oceania for Alumni Outcomes
UWA's MBA program is ranked number one in the Oceania region for Entrepreneurship and Alumni Outcomes (QS World University Rankings 2021 Global MBA Rankings).
Natalie Sim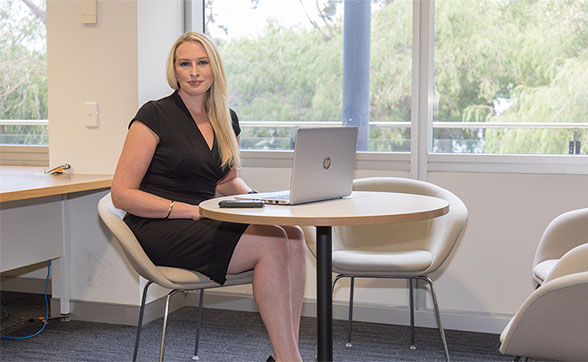 International Study Tours
MBA students visit LinkedIn office at San Francisco, United States
UWA MBA students have the opportunity to undertake an international study tour. During a tour of the LinkedIn office at San Francisco, students were exposed to the latest developments in advanced data analytics and changes to the future of work. They also visited on-demand streaming video platform Kanopy, automotive and energy company Tesla, network startup accelerator and corporate innovation platform Plug and Play, and the Knight Management Center at Stanford University, among other businesses.
Keystone unit
Authentic Leadership Program
Associate Lecturer Jenny Hoffman is a highly experienced leadership consultant and coach who coordinates the unique Authentic Leadership Program, a keystone of the UWA MBA Intensive:
"My aim is to provide a transformational space where participants can go on a journey within, unlocking leadership 'mindtraps' and transforming self-limiting beliefs. To discover their Aspirational Purpose and Values and to start to let go of the expert's mindset and become more curious. This willingness to dwell in the unknown creates the opportunity to lean into the emerging future while staying present, curious, compassionate, and courageous."
Course structure
Postgraduate coursework degrees and combined (coursework and research) degrees comprise a number of units. Refer to the course structure for more information.
UWA MBA graduates earn  highest salaries nationally
Graduates of the UWA MBA program earn the highest salaries in Australia, almost $200,000 per annum after completing their course, at an average age of 34 (QS Top Universities Global MBA Rankings for 2021).
Course Accreditation
UWA Business School has been awarded EFMD Quality Improvement System (EQUIS) accreditation for excellence in business and economics education. This is the leading business school accreditation in Europe and is highly valued by employers.

Industry partner discount
This course is eligible for an
industry partner discount
, giving industry professionals a 10% tuition fee discount to support postgraduate study at UWA.
Study options
MBA Intensive
Various study modes are available. Below are example study plans for the 12, 15 and 18-month study modes: these all commence with the same dedicated orientation session in January, where the incoming cohort will meet and begin preparing for the program together.
To talk through your preferred study modes and length of program that suits your career, please speak to our Professional Programs Adviser: future-mba-business@uwa.edu.au.
Meet the faculty
Dee Roche
"My role is to prepare students for the relentless and ever-accelerating rate of change."
--Dee Roche
Dee specialises in leadership, strategic change and transformation. She has won multiple teaching awards and coordinates the popular MBA Organisational Change and Transformation unit.
STUDY OPTIONS
MBA Flexible
MBA news
Upcoming Masterclasses
March 16: Meg O'Neill (Executive Vice President Development and Marketing, Woodside) "TBC"
April 26: Mathias Cormann (Australian Candidate for the Secretary General of the OECD) "Global economic trends post-COVID-19"
June 2: Nathan Roost (Partner, EY) "TBC"
June 9: Michael Chaney (Chairman, Wesfarmers) "Reflections on some current issues facing corporate Australia"
June 30: Stephen Choo (Managing Director, DSR Insight) "TBC"
MBA (Oil and Gas)
Our new MBA specialisation in Oil and Gas, which is taught face-to-face on our Crawley campus, is the only program of its kind in Australia. These courses are taught by our world-class faculty and expert practitioners, and will be of interest to those currently working in the industry and seeking to develop industry-relevant commercial skills or those considering a future career in the oil and gas industry.
These courses can be supplemented by our regular masterclass series. Recent industry speakers have included Richard Goyder (Chairman, Woodside), Zoe Yujnovich (Executive Vice President, Shell Australia) and Meg O'Neill (Executive Vice President Development and Marketing, Woodside). Upcoming speakers include Al Williams (Managing Director, Chevron Australia).
The following elective units are available:
ECON5504 Global Energy and Mineral Markets

MGMT5239 Oil and Gas Sector Management

MGMT5240 Project Management in Oil & Gas

FINA5601 Valuation and Risk Analysis for Resource Companies

MGMT5524 Strategic Management of Resource Companies

LAWS5589 Australian Oil and Gas Law

LAWS5532 Oil and Gas Agreements

LAWS5111 Corporate Governance for Resources Companies

LAWS5521 Climate Change Law and Emissions Trading

GENG4410 Fossil to Future – The Transition

OCEN4003 Strategic Leadership for the Blue Economy
These units are available in both the MBA Intensive and MBA Flexible programs.
What to look for when choosing an MBA program
If you're considering undertaking an MBA or MBA pathway graduate certificate, it's important to weigh up your options carefully before deciding which program to join.
Ranked Top 100 in consulting specialisation
UWA has been ranked in the top 100 universities globally for its MBA program consulting career placements for graduates (QS Career Specialisation Rankings for 2021).
The MBA career specialisation rankings collect data from more than 37,000 global employers as well as from millions of research publications and seeks to analyse career placements of MBA graduates globally.
In the QS Career Specialisation Rankings, UWA performed strongly in the QS assessment of research strength, combining full-time MBA research and MBA specialisation research. The MBA program also performed strongly in career placements, which combines insights from graduates entering industry, functions and starting their own businesses.
Business School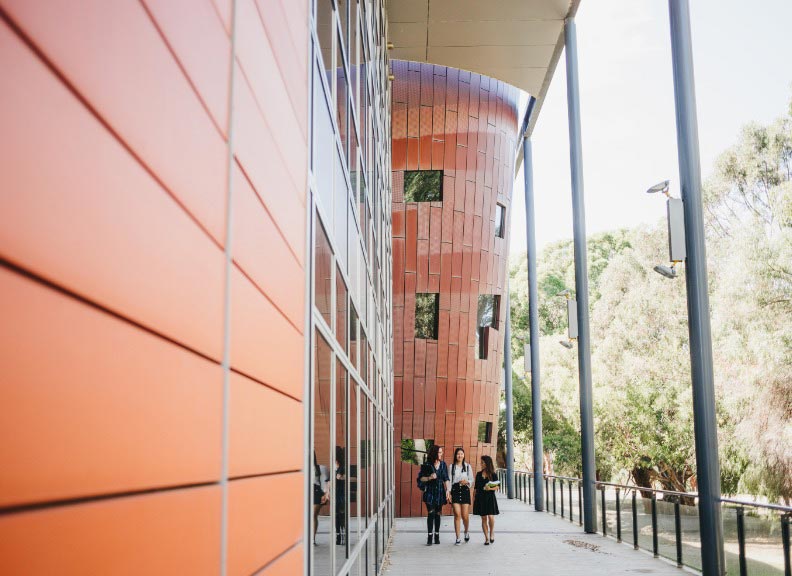 UWA's Business School offers a range of undergraduate and postgraduate courses aimed at inspiring students to become the innovative world leaders of tomorrow.
The University of Western Australia