Undergraduate
Bachelor of Mathematics
Unlock the power of problem-solving and analytical reasoning with WA's only Bachelor of Mathematics.
Majors available
Mathematics (Extended Major)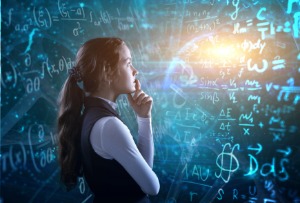 The extended major in Mathematics provides you with a comprehensive understanding of the fundamental concepts and theories of mathematics. It has been designed to help you develop critical thinking, problem-solving, and analytical skills that are highly sought after in a variety of fields.
Mathematics (Extended Major) can be taken as a degree-specific major in the:
Bachelor of Mathematics
Bachelor of Philosophy (Honours)
The learning experience
Five reasons to study at UWA
Find out what inspires people to pursue their goals with us.
Vibrant student experience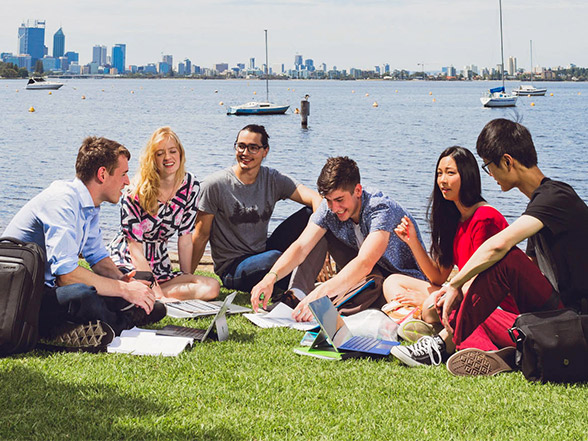 Vibrant student experience
Adjacent to the Swan River, our Perth campus is among the most picturesque in Australia with iconic sandstone buildings sitting among heritage-listed gardens. We're just 10 minutes from Perth's main shopping and business district and close to many of the city's stunning beaches.
On campus, you'll have an array of essential amenities to enjoy, including cafés, libraries, bookshops, a vibrant cultural precinct and tonnes of clubs and societies to join and experience student life to its fullest. Our supportive Student Guild means you can try your hand at volunteering, get independent advice on a range of matters or attend one of the many varied events on and off campus.
Innovative course structure
Innovative course structure
Whatever goals you may have, a UWA degree creates a world of possibilities. About 40 per cent of today's jobs won't exist in 20 years' time (CEDA, 2015), so we believe in better preparation for the careers of the future.
Our innovative course structure is the only one of its kind in WA and is based on a global model. It means you can pursue your interests and maximise your career opportunities at the same time. This flexibility sets you apart from the crowd and is key to future-proofing your career.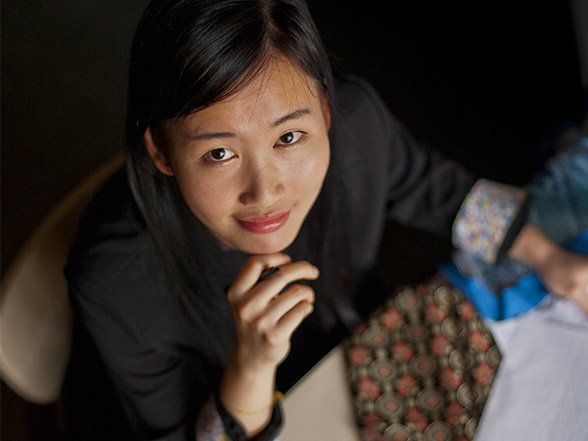 Rankings and ratings
We received five-star rankings in student demand and student:staff ratio in the Good Universities Guide 2018. UWA ranks first in Western Australia and is recognised internationally as a Top 100 university. Seven of our subject areas are ranked in the world's Top 50, according to the QS World University Rankings by Subject 2018.
Agriculture and Forestry
Anatomy and Physiology (13th)
Civil and Structural Engineering
Earth and Marine Sciences
Mineral and Mining Engineering (11th)
Performing Arts
Sports-Related Subjects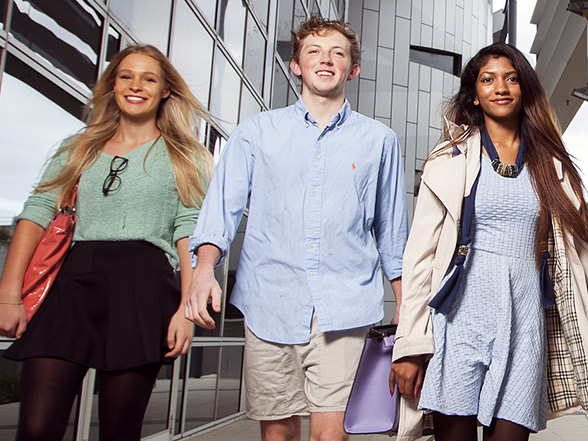 Graduate outcomes
Your UWA degree is an investment in your future. Our graduates consistently exceed the national average starting salaries and State graduate employment rates. We celebrate strong industry partnerships, offering you practical, real-world experiences in addition to valuable professional networking opportunities. This hands-on learning approach is highly valued by employers and ensures you're career-ready. Our alumni continue to inspire and bring about positive impact on society.
Changing the world through research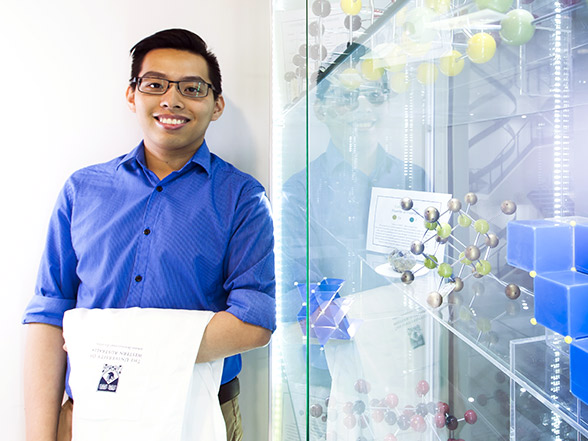 Changing the world through research
As a research-intensive university, we're part of the Group of Eight (a coalition of top research universities in the country) and one of only two Australian members of the Worldwide Universities Network. We're also a foundation member of the Matariki Network of high-quality, research-intensive universities with a particular focus on student experience.
Over the years, we've continued to attract high-calibre, globally recognised staff, researchers and students, including our Nobel Laureate Professor Barry Marshall, and we receive about 80 per cent of all research funding to WA universities annually.
Fees and scholarships
Domestic Student Fees
Indicative annual course fee
2023
Commonwealth Supported Place $9,133.65
Scholarships
Scholarships are available to students from a diverse range of backgrounds, including academic achievement, financial need, educational disadvantage, leadership and community service, artistic or sporting achievements, and being from a rural or remote area.
Careers and further study
Career Pathways
With a Bachelor of Mathematics, you'll have a diverse range of career paths and industries available to you. Some of the industries where you can pursue their careers include:
Finance
Technology
Education
Government
Research
Consulting
Science
Further Study
Further study will allow you to gain a Doctor of Philosophy (PhD). It will open up opportunities in academia and research to help you pursue your goals in a wide range of careers, depending on your area of research.
You may also be interested in:
Entry requirements
Admission requirements
To be considered for this course you need to:
achieve a minimum ATAR of 90
demonstrate English language competence - applicants presenting with IELTS Academic require an overall score of at least 6.5 and no band less than 6.0
satisfy any prerequisites for your preferred majors (refer to individual major descriptions for prerequisite details)
You can view the prerequisites and recommended subjects for your chosen course here.
View our admission requirements for specific information, depending on your education history.
Mathematics requirement
ATAR Mathematics Specialist or ATAR Mathematics Methods. If you don't meet this level, you may be able to take additional Mathematics units in your first year to satisfy this requirement.
Assured Pathway information
If you have a professional career in mind, take advantage of one of our Assured Pathways. An Assured Pathway gives you an assured place in one of our postgraduate professional courses (such as Law, Engineering or Medicine) from the start of your studies with us. The pathways combine a range of undergraduate and postgraduate courses, providing you with a clearer direction to your career of choice.
Admission entry to UWA
We offer a number of other pathways for you to gain entry into our undergraduate degrees if you do not meet the standard admission requirements. Learn more about our admission entry pathways.
About the Bachelor of Mathematics
The Bachelor of Mathematics is designed to provide high-achieving students with a solid foundation in the fundamental concepts and theories of mathematics. It covers core subjects like calculus, linear algebra and statistics, while exploring more advanced topics in complex systems, networks, abstract algebra, analysis, topology, probability theory, numerical methods and more.
You'll develop problem-solving skills and analytical reasoning, preparing you for a wide range of future careers as mathematicians, data scientists, statisticians and analysts.
The degree will help fill the strong demand for highly skilled graduates who are able to apply mathematical theories and techniques to solve real-world problems in a wide variety of industries such as finance, business, technology, mining, education and health.
Bachelor of Mathematics
Quick details
Minimum ATAR
Intake months
FULL TIME COMPLETION
Why study Mathematics at UWA?
UWA is one of the leading universities in Australia, and its Bachelor of Mathematics program is recognised for its high-quality education. The program is designed to help you develop strong mathematical skills and problem-solving abilities, which are highly valued in a variety of industries.
Graduates of the Bachelor of Mathematics program at UWA are well-equipped to pursue a wide range of career opportunities. The degree provides you with a solid foundation in mathematical principles, as well as the ability to apply these principles in real-world contexts making you highly valuable to employers in fields such as finance, technology, research, education, and more.
UWA is home to world-class researchers in mathematics and you'll have the opportunity to work alongside these researchers on cutting-edge projects. You'll gain valuable research experience, as well as the opportunity to develop strong relationships with academics who can serve as mentors and references in the future.
You'll learn to
explain mathematical concepts and principles that underpin a wide range of applications
investigate physical, numerical and theoretical problems using appropriate mathematical techniques
demonstrate an understanding of axiomatic systems and the fundamentals of mathematics by applying abstract reasoning, rigour and logical deduction
apply the power of mathematics to model and understand the real world
ADMISSION TO UWA
Admission entry pathways
UWA offers a number of admission entry pathways for domestic and international students to be able to study with us. If your results do not qualify you for standard entry into the University, check our Admission entry pathways for one that suits you.
Mathematics (Extended Major)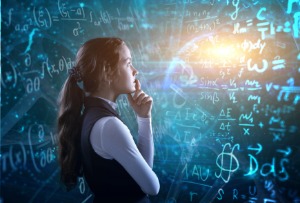 The extended major in Mathematics provides you with a comprehensive understanding of the fundamental concepts and theories of mathematics. It has been designed to help you develop critical thinking, problem-solving, and analytical skills that are highly sought after in a variety of fields.
Mathematics (Extended Major) can be taken as a degree-specific major in the:
Bachelor of Mathematics
Bachelor of Philosophy (Honours)
The University of Western Australia