Undergraduate
Bachelor of Chemistry
Understand the structure, properties and transformations of matter with a quality education in chemistry from UWA.
Careers and further study
Career Opportunities
Graduates will thrive in:
Fertiliser industry
Health and Medical Areas
Food and Drink industry
Mining
Nanotechnology
Environmental agencies
Petrochemical, Paper, Education, Organic chemicals, Pharmaceuticals, Polymers, Computing, Petrochemical Companies, Mineral Refining, Energy sector, Battery and Manufacturing industries
Solar cells Electric vehicles
Graduates may work as:
Synthetic Chemist specialising in pharmaceuticals or fine chemical production
Chemist specialising in polymer production
Chemist specialising in Nanotechnology
Analytical Chemist
Environmental Chemist
Physical Chemist in the mining or engineering sector
Bachelor of Chemistry
Further study
Employer Information
Chemistry at UWA produces highly employable graduates for jobs in Western Australia, nationally and internationally. UWA is Western Australia's top ranked University, and a member of Australia's Group of Eight Universities. This means UWA Bachelor of Science graduates with a Chemistry major are widely recognised, and our graduates are highly sought-after by employers including:
Salary Information
As a chemist, you can expect an annual salary of $108,000 (+ bonus) as the average across all industries and experience levels, with a salary growth of 2.1% per year. The average entry level salary of scientists commences at $75,000 and ranges up to $130,000 for experienced workers.
Entry requirements
Admission requirements
To be considered for this course you need to:
achieve the University's minimum entry score
demonstrate English language competence
satisfy any prerequisites for your preferred majors (refer to individual major descriptions for prerequisite details)
View our admission requirements for specific information, depending on your education history.
Assured Pathway information
If you have a professional career in mind, take advantage of one of our
Assured Pathways
. An Assured Pathway gives you an assured place in one of our postgraduate professional courses (such as Law, Engineering or Medicine) from the start of your studies with us. The pathways combine a range of undergraduate and postgraduate courses, providing you with a clearer direction to your career of choice.
Admission entry to UWA
We offer a number of other pathways for you to gain entry into our undergraduate degrees if you do not meet the standard admission requirements. Learn more about our admission entry pathways.
About the Bachelor of Chemistry
This degree is for students who are passionate about chemistry and would like to focus on this area of science. Students will learn the theory behind, and the laboratory skills in, all disciplines of chemistry, enabling future study and employment possibilities in any of the of synthetic, physical and/or analytical chemistry disciplines.
Bachelor of Chemistry
QUICK DETAILS
STATUS
MINIMUM ATAR
COURSE INTAKE
FULL TIME COMPLETION
COURSE CODE
CRICOS CODE
DEGREE TYPE
Specialised Bachelor's Degree
CAMPUS LOCATION
Bachelor of Chemistry
About the course
The focus of the Bachelor of Chemistry is understanding and describing the structure, properties and transformations of matter. Chemistry is often called the central science because it is used by many scientists as part of their vocation. Chemistry is embedded in virtually all areas of modern science and technology, especially multi-disciplinary areas such as molecular genetics, molecular biology, geology, mineral chemistry, biochemistry, nanotechnology, medicinal chemistry, drug design and development, as well as green chemistry and analytical chemistry.
A quality education in Chemistry from UWA will equip you with attributes that are highly valued and sought after by a diverse range of employers around the globe.
Why study Bachelor of Chemistry at UWA?
A quality education in Chemistry from UWA will equip you with attributes that are highly valued and sought after by a diverse range of employers around the globe
A Chemistry Extended Major will also prepare you for honours and postgraduate studies in Chemistry
Students, through extensive laboratory practice, will develop experimental skills for working with chemicals, safely
Learn from leaders in the field
Work alongside world-leading academics who are passionate and engaged. Our academics are at the cutting-edge of knowledge, meaning you'll be across live research projects and will uncover new discoveries in your field of interest before others.
Work Integrated Learning
You'll be taught by lecturers from industry (e.g. CSIRO, Alcoa, Epichem) allowing you to connect with professionals in the field and gain industry connections even before you graduate
Gain real-world, practical experience through site visits to industry
Hands on practical experience and opportunities are available for projects in labs embedded in Level 3 units
Student story
Travis Holden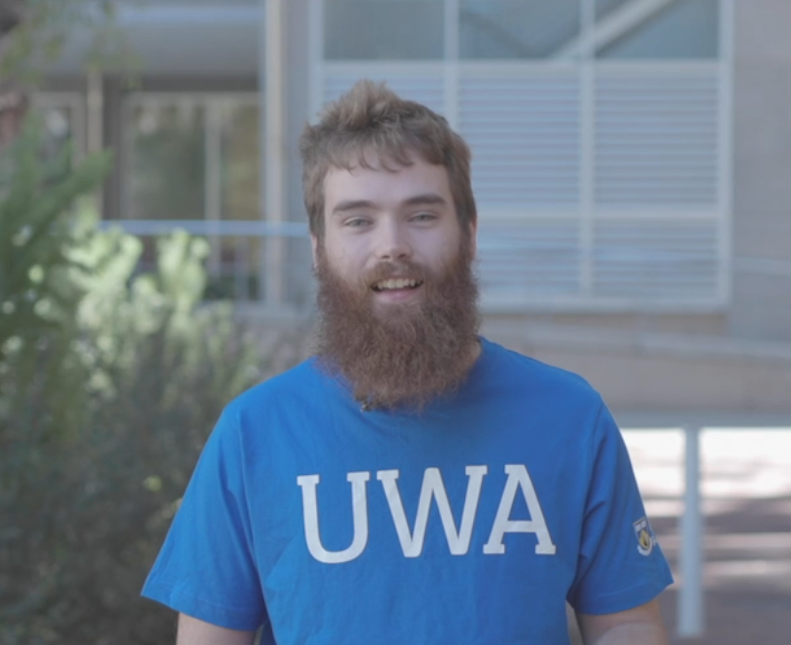 Bachelor of Chemistry
Accreditation
Royal Australian Chemical Institute
The RACI works in partnership with higher education institutions to ensure their chemical science programs are of a professional and high-quality standard. This partnership aims to ensure their students are equipped with the skills and knowledge to be a practising chemist.
The RACI accreditation process is based upon the threshold learning and teaching outcomes standards statements for chemistry. The standards are based upon the Australian Learning & Teaching Council published Learning & Teaching Academic Standards Statement for Science.
The University of Western Australia