Postgraduate
Graduate Certificate in Marketing
Completing postgraduate studies in Marketing will place you at the interface between an organisation and its customers.
Contact us
Address
Student Central
The University of Western Australia(M355) 35 Stirling Highway Perth Western Australia 6009
Frequently asked questions
Careers and further study
Take your studies to a new level with a postgraduate degree and discover what career opportunities lie ahead.
Career Pathways
Graduates can choose to work in a variety of areas, including advertising, marketing research and analysis, public relations, and marketing and communications. Opportunities are available in agencies, as well as in the public, private and not-for-profit sectors.
This course could lead to these
Career Opportunities
Further Study
Students who complete the Graduate Certificate in Marketing with a weighted average of at least 65% may choose to progress into the Master of Marketing or Master of Commerce, with full credit for completed units.
Fees and scholarships
Learn more about the fees that apply to you for this course. For fee type definitions and further assistance, see the Fee Calculator Help page. You can also search our database for scholarships that are relevant to you or this course.
Domestic Fees
Postgraduate - fee paying students
Annual course fees are calculated based on a standard annual study load of 48 credit points.
Course Credit Points
24
Total Course Fee - 2020
$16,050.00
Scholarships
Scholarships are available to students from a diverse range of backgrounds, including academic achievement, financial need, educational disadvantage, leadership and community service, artistic or sporting achievements, and being from a rural or remote area.
Cost of living
There are a few things to consider before applying to study at university. One could be your cost of living. This can depend on factors such as lifestyle, accommodation, tuition fees, medical insurance, textbooks and more. For an indication of expenses and average costs, see our
Cost of living
page.
Admission requirements
If you're interested in furthering your career by studying this postgraduate degree, find out the admission details below.
Admission Requirements
To be considered for admission to this course an applicant must have—a bachelor's degree, or an equivalent qualification, as recognised by UWA; and either:
(a) the equivalent of a UWA weighted average mark of at least 60 per cent;
or
(b) a valid Graduate Management Admission Test (GMAT) score of at least 5501; or
(c) at least five years of relevant, documented professional experience considered by UWA (following an interview and assessment process) to be sufficient to permit satisfactory completion of the course.
1 GMAT is valid for 5 years.

Ranking and Selection Process
Where relevant, admission will be awarded to the highest ranked applicants or applicants selected based on the relevant requirements.

English competency
English is the language of instruction and assessment at UWA and you will need to meet the
English language requirements
of the University to be eligible for a place.
How to apply
Ready to apply for this postgraduate course? Follow the steps and you'll be on your way to joining us at UWA.
Course details
The Graduate Certificate in Marketing will equip you with core knowledge in the field. The course can serve as a standalone qualification, or as an entry pathway into the Master of Marketing.
About The Course
Marketing focuses on making and keeping customers by finding, communicating and sustaining the competitive advantage that makes a company truly successful. Topics covered in Marketing include advertising, company strategy, competitive analysis, and value creation.
Graduate Certificate in Marketing
Quick Details
Weekly contact time
12 hours per unit per week (comprising 3 hours of contact time and 9 hours of individual study time)
Level of study
Course Code
This course is not available to international student visa holders
Course Structure
Postgraduate coursework degrees and combined (coursework and research) degrees comprise a number of units. Refer to the course structure for more information.
STUDY YOUR WAY
Flexibility
We understand that life is busy. That's why our postgraduate courses are designed so you can balance your work and studies. Our flexible postgraduate experience includes the opportunity to study part time, a range of units that are taught after hours, and the option to learn via intensive units. Ask our Student Central team for advice on choosing the right postgraduate route for you. Find out more here.
Course Accreditation
UWA Business School has been awarded EFMD Quality Improvement System (EQUIS) accreditation for excellence in business and economics education. This is the leading business school accreditation in Europe and is highly valued by employers.

RANKINGS
Our postgraduates earn more
No. 1 in WA for median starting salary in Business and Management (QUILT 2018)
Business School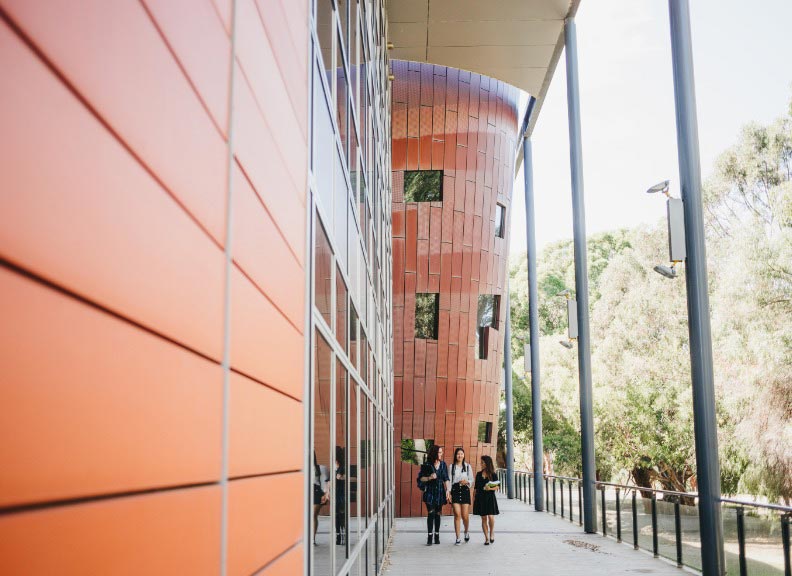 UWA's Business School offers a range of undergraduate and postgraduate courses aimed at inspiring students to become the innovative world leaders of tomorrow.
The University of Western Australia