sing Sitecore.Mvc
Professional
Law Pathways
UWA's Juris Doctor (JD) provides a challenging, intellectually engaging and focused environment for the study of law.
A TRADITION OF EXCELLENCE SPANNING 90 YEARS
How to Apply
Ready for the next step?
Find out how to apply through our simple online application process.
We'll guide you through our entry requirements, admission pathways available to you and application deadlines for your chosen course.
We can't wait for you to join us!
Pathway details
The Juris Doctor (JD) is an internationally recognised, three-year postgraduate qualification that opens up a world of possibilities. Following completion of an undergraduate degree, the JD leads you to a career in legal practice. You can pursue a JD at UWA after completing a bachelor's degree in any discipline. UWA's Law School is the fifth oldest in Australia and ranks in the top 75 law schools of the world, according to the 2019 Times Higher Education World Subject Rankings 2019.
Juris Doctor fee categories explained
A number of different fee categories exist for the Juris Doctor. The new UWA Juris Doctor Bursary is also available for eligible fee-paying students. Find out more about your fee category eligibility.
About this course
By choosing to pursue a career in law through the UWA JD, you will:
benefit from the Law School's longstanding and deep links with the legal profession which contribute to consistently high rates of employment for our graduates

learn from the very best of the legal profession and academic staff recognised nationally for excellence in teaching and research
join the ranks of nationally and internationally renowned alumni including Queen's Counsel and Senior Counsel barristers, solicitors, academic lawyers and Rhodes and Fulbright Scholars. Six of Australia's High Court judges graduated from the University
have the opportunity to participate in practical skill-building programs, such as the Philip C. Jessup International Law Moot Court Competition, the world's largest of its kind.
Domestic Fees
Postgraduate - fee paying students from 2022
Juris Doctor graduate attributes
UWA JD graduates are:
Problem solvers who have a deep practical and theoretical mastery of subject matter; are critical and creative thinkers; and understand the ways in which local, national and global contexts influence and shape the law.
Culturally competent legal professionals who have engaged throughout their degree with Indigenous knowledges, cultures and perspectives and are well equipped to work respectfully across cultural contexts.
Relationship builders who listen with empathy; communicate effectively; and create constructive and collaborative connections with colleagues, clients and communities.
Resilient and reflective learners who are adaptable thinkers; have developed skills for critical self-reflection and lifelong learning; and understand the importance of, and have developed practical tools for, managing their well-being and supporting the well-being of others.
Global citizens who understand the importance of the ethical and professional practice of law; are outward-looking in the search for solutions; and able to engage on national, transnational and international levels.
JD student becomes 2020 Guild President
Meet Bre Shanahan, current JD student and the new 2020 Guild President: "I have absolutely loved my time in the Law School because I've been really inspired by the intelligent and strong women in that space. The teaching staff really care about us and put in a lot of effort to ensure we're prepared heading into the JD and beyond."
CERTIFICATION
The UWA Law School is certified by the Australian Law School Standards.
International recognition
The UWA Juris Doctor degree is recognised in China, Malaysia and Singapore.
Graduates include six High Court judges
Law
Pathways for mature-age students
If you will be aged 20 years or older on 1 March (for Semester 1 entry) or 1 August (for Semester 2 entry) you qualify for our mature-age-entry pathways.
Meet the UWA Law School
Course coordinator Rebecca Faugno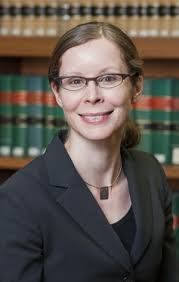 Rebecca Faugno is Director of the Juris Doctor and teaches Corporations Law (LAWS5104) and Professional Practice (LAWS5108).
Her research interests are in the areas of Corporate Governance, Regulation of Multinational Corporations, Corporations and Human Rights and Corporate Social Responsibility.
You may also be interested in these undergraduate courses
You may also be interested in these postgraduate courses
Law
Standard entry
You can study law (via the Juris Doctor) by completing a bachelor's degree after high school. You also need to complete your studies with the equivalent of a Grade Point Average (GPA) of at least 5.5 (out of 7.0), across all completed tertiary studies. Applications will be ranked based upon the GPA score, weighted equally. Admission will be awarded to the highest ranked applicants who fall within the intake quota for that year.
Law
Assured Pathways for high school leavers
TISC Codes
UL001 (Arts)
UL002 (Commerce)
UL004 (Science)
UL005 (Philosophy [Honours] Assured Pathway)
UL012 (Philosophy, Politics and Economics)

Qualifications
BA + JD
BCom + JD
BSc + JD
BPhil (Hons) + JD
BPPE + JD
Duration
Limited places for JD
100 (Assured Pathway)
250 (Standard pathway)
Selection criteria
Undergraduate major
Conditions for progress to Postgraduate Study
Completion of a UWA bachelor's degree with a minimum GPA of 5.5.
---
[1] This pathway is also available through the Bachelor of Philosophy (Honours). Students taking this pathway require an ATAR of 98.00.
[2] Bachelor of Philosophy students will take an additional year to complete this pathway.
JD study plan
The JD curriculum has been purposefully designed to scaffold sequential knowledge and skills progression, and may be completed in three years full-time or on a part-time basis (up to nine years). Students with external commitments (including but not limited to work, travel, clerkships and sporting commitments) are expected to plan these commitments around their studies. External commitments are not regarded as valid reasons for timetable changes, swapping tutorials, the waiving of pre-requisites or variation from the prescribed course structure*.
In making a decision as to whether to complete the JD on a full or part-time basis, students should be aware that the estimated time commitment for a full-time (4 units) enrolment is approximately 46 hours per week excluding examinations. Some units are also offered as intensives, either in semester breaks or between semesters. Although the contact hours for these units are compressed into a shorter period of time, the time commitment of the unit remains the same.
* Students who undertake exchange, or other commitments which involve official representation of the Law School or the University, or which are recognised under University Policy, may seek approval from the Deputy Head of School (Students) for a variation in the prescribed course structure.
Full time course structure
Year 1
Foundations of Law and Lawyering# (Sem 1)

Criminal Law (Sem 1)

Contract (Sem 1)

Property (Sem 1)

Foundations of Public Law (Sem 2)
Torts (Sem 2)
Interpretation (Sem 2)
Land Law (Sem 2)
Year 2
Dispute Resolution# (Sem 1)
Constitutional Law (Sem 1)
Equity and Trusts (Sem 1)
Option 1 (Sem 1)
Corporations Law (Sem 2)
Remedies (Sem 2)
Administrative Law (Sem 2)
Option 2 (Sem 2)
Year 3
Professional and Ethical Practice# (Sem 1)
Evidence (Sem 1)
Option 3 (Sem 1)
Option 4 (Sem 1)

Procedure (Sem 2)

Option 5 (Sem 2)

Option 6 (Sem 2)

Option 7 (Sem 2)
# These units are taught intensively over a two-week period immediately preceding the start of Semester 1.
The University of Western Australia