Undergraduate
Bachelor of Biomedical Science
The Bachelor of Biomedical Science is a flexible, practical degree which equips students who wish to make a positive impact on health and wellbeing of their communities with the essential knowledge and skills for a career in the health sciences.
88%
Student resources satisfaction
87%
Student teaching satisfaction
Careers and further study
Bachelor of Biomedical Science
Related careers
Entry requirements
Admission requirements
To be considered for this course you need to:
achieve the University's minimum entry score
demonstrate English language competence
satisfy any prerequisites for your preferred majors (refer to individual major descriptions for prerequisite details)
You can view the prerequisites and recommended subjects for your chosen course here.
View our admission requirements for specific information, depending on your education history.
Assured Pathway information
If you have a professional career in mind, take advantage of one of our
Assured Pathways
. An Assured Pathway gives you an assured place in one of our postgraduate professional courses (such as Law, Engineering or Medicine) from the start of your studies with us. The pathways combine a range of undergraduate and postgraduate courses, providing you with a clearer direction to your career of choice.
Admission entry to UWA
We offer a number of other pathways for you to gain entry into our undergraduate degrees if you do not meet the standard admission requirements. Learn more about our admission entry pathways.
About the Bachelor of Biomedical Science
The Bachelor of Biomedical Science is an exciting comprehensive undergraduate degree designed to meet growing global demand for graduates with expertise in a range of health science disciplines. Specialise in one or two of the 14 majors available, or combine a Biomedical Science major with another from Arts, Commerce or Science, to match your interests and tailor your studies with your career goals.
Bachelor of Biomedical Science
Why study Biomedical Science?
Are you interested in pursuing a career in a health science-related field? The Bachelor of Biomedical Science is a practical, flexible degree which offers students the opportunity to study a range of health-focussed subjects ranging from biochemistry to pathology, infectious diseases to exercise science, genetics to anatomy and physiology, and neuroscience to indigenous public health.

BACHELOR OF BIOMEDICAL SCIENCE
Quick details
DEGREE SPECIFIC MAJORS
MINIMUM ATAR
80 (75 for Broadway schools)
INTAKE MONTHS
FULL TIME COMPLETION
ASSOCIATED POSTGRADUATE COURSES
CRICOS CODE
STUDENT STORY
Sally Tan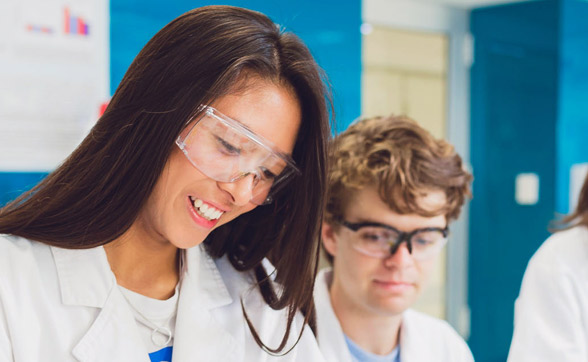 I'm majoring in Pharmacology and Finance. Before I chose them I'd heard positive feedback from friends and family. Being in my third year now, I can definitely understand where they were coming from.
BACHELOR OF BIOMEDICAL SCIENCE
UWA is 24th in the world for Anatomy and Physiology (QS 2022)
STUDENT STORY
Nicola Principe
student story
Rebecca Kaard
Microbiology and Immunology, and Pathology and Laboratory Medicine student
I was in hospital for most of high school with kidney disease caused by an unusual bacterium and that really sparked my interest in the field and the impact these microscopic organisms can have on people's lives.
UWA has been an integral part of my family for decades. My dad studied medicine here 40 years ago and has been taking me and my siblings to open days since we were able to walk.
The lab work is by far the most interesting part of my course. It's great to be able to put into practice all the things you are learning and get a taste of the work you'll do in labs once you graduate.
Studying postgraduate medicine and specialising in immunology or going into research would be my ideal career path – and maybe a Nobel Prize for Medicine if I can fit it in.
BACHELOR OF BIOMEDICAL SCIENCE
UWA is 37th in the world for Human Biological Sciences (ARWU 2022)
ADMISSION TO UWA
Admission entry pathways
UWA offers a number of admission entry pathways for domestic and international students to be able to study with us. If your results do not qualify you for standard entry into the University, check our Admission entry pathways for one that suits you.
The University of Western Australia