Paper Cut
Part 1: 27 February – 10 April | Part 2: 17 April – 5 June 2021


Paper Cut is an exhibition of works on paper from UWA's Cruthers Collection of Women's Art. The 'cut' of the title refers both to technique and to the incisive cut of much of the subject-matter. It is a mass showing that reveals the strength of particular areas of the collection, and the remarkable breadth of content. Paper Cut includes many works on public display for the first time, with groupings of art extending up the walls of the Lawrence Wilson Art Gallery.
Many of the framed works reflect the legacy of the Cruthers family, remaining as they were hung and appreciated within the homes of Lady Sheila and Sir James Cruthers. True to the original intent of the political posters, whereby they were produced to be plastered across public spaces and in the streets, many of the works are displayed without frames. This allows visitors to see the richness of many of the surfaces and closely observe the quality of the materials. Multiples of prints and prints in various states are also exhibited to reveal the process by which artists develop the work to the final state.
TextaQueen, Nobody knows what it really looks like (Raquel), 2001, fibre tipped pen on cotton paper, 75 x 109 cm, Cruthers Collection of Women's Art, The University of Western Australia. The collection includes work by women and non-binary artists. Courtesy of the artist.
Artists
Part 1: 27 February–10 April
Ann Newmarch, Barbara Brash, Barbara Hanrahan, Bea Maddock, Edith Trethowan, Eveline Syme, Helen Eager, Joy Hester, Jude Adams, Julia Church (Another Planet), Margaret Preston, Mary Macqueen, Mary Moore, Memnuna Vila-Bogdanich, Miriam Stannage, Nancy Grant, Nola Farman, Pamela Brañas (Redletter Press), Pamela Harris, Rhonda Dick, Rina Franz, Ruth Tuck, Susan Norrie, TextaQueen, Toni Robertson, Vicki Varvaressos, Vivienne Shark LeWitt, Vivonne Thwaites, Women's Domestic Needlework Group, Yoshiko Tsushima
Part 2: 17 April–5 June
Alison Alder, Ann Newmarch, Barbara Brash, Barbara Haddy, Beatrice Darbyshire, Carol Porter (Red Planet), Dora Chapman, Dorrit Black, Edith Trethowan, Elizabeth Cummings, Emma Minnie Boyd, Erin Coates, Eveline Kotai, Eveline Syme, Fiona MacDonald, Helen Grace, Isabel McWhannell, Janet Dawson, Julia Church (Another Planet), Julie Dixon, Julie Gough, Kylie Wilkinson, Lesbia Thorpe, Lyn Finch, Maria Kozic, Margaret Preston, Marian Ellis Rowan, Mary Macqueen, Mary Moore, Michele Elliot, Micky Allan, Mini Graff, Miriam Stannage, Mutsuko Bonnardeaux, Nat Thomas, Pam Debenham, Rima Zabaneh, Rose Walker, Rosella Namok, Sally Robinson, Shirley Purdie, Susanna Castleden, Teelah George, Toni Robertson, Una Foster, Wendy Black (Redletter Press)
Curator
Lee Kinsella, Curator, Cruthers Collection of Women's Art
Content Advisory
Paper Cut contains images of deceased Aboriginal and Torres Strait Islander people.
Some works in the exhibition refer to adult themes.
Publication
Media Release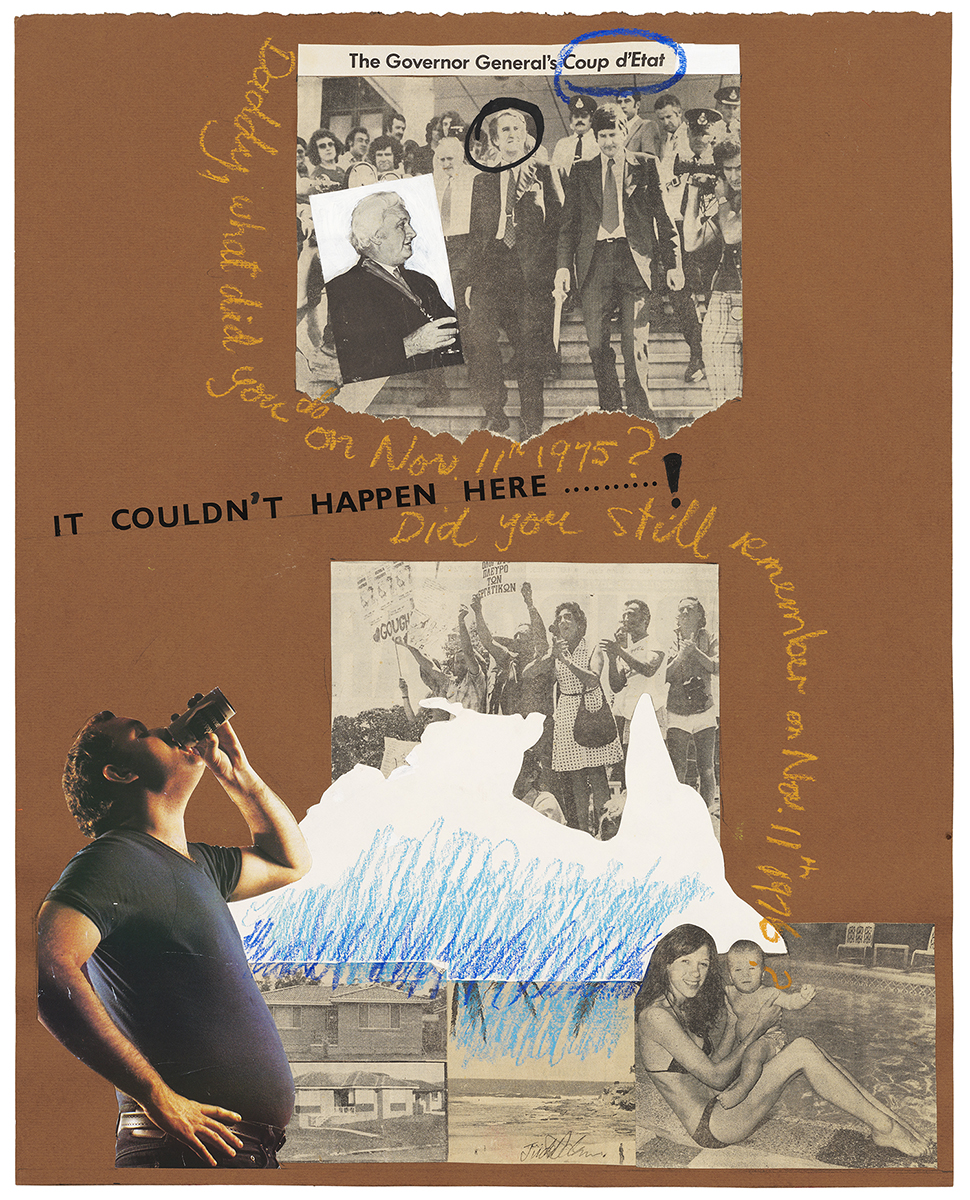 Jude Adams, [It couldn't happen here], c 1975, collage on brown card, 57.8 x 46.2 cm, Cruthers Collection of Women's Art, The University of Western Australia. Copyright and courtesy of the artist.
The Lady Sheila Cruthers Gallery as Residency Space
For the duration of the exhibition, the Lady Sheila Cruthers Gallery will be a space for groups to engage with the techniques, themes and strategies represented in the collection works on display in the exhibition
Students in Residence
27 February – 20 March 2021
Recent UWA graduates and current students present their art practice.
Fold, Stitch & Staple
23 March – 17 April 2021
An exhibition library of DIY publications produced by Australian makers.
Haus of Memories
20 April – 8 May 2021
Studio Kiin explores how we archive and draw upon memory with contributions from local Oceanic communities and friends.
Then Now Next
11 May – 5 June 2021
RTRFM presents posters and music ephemera from Western Australian musicians.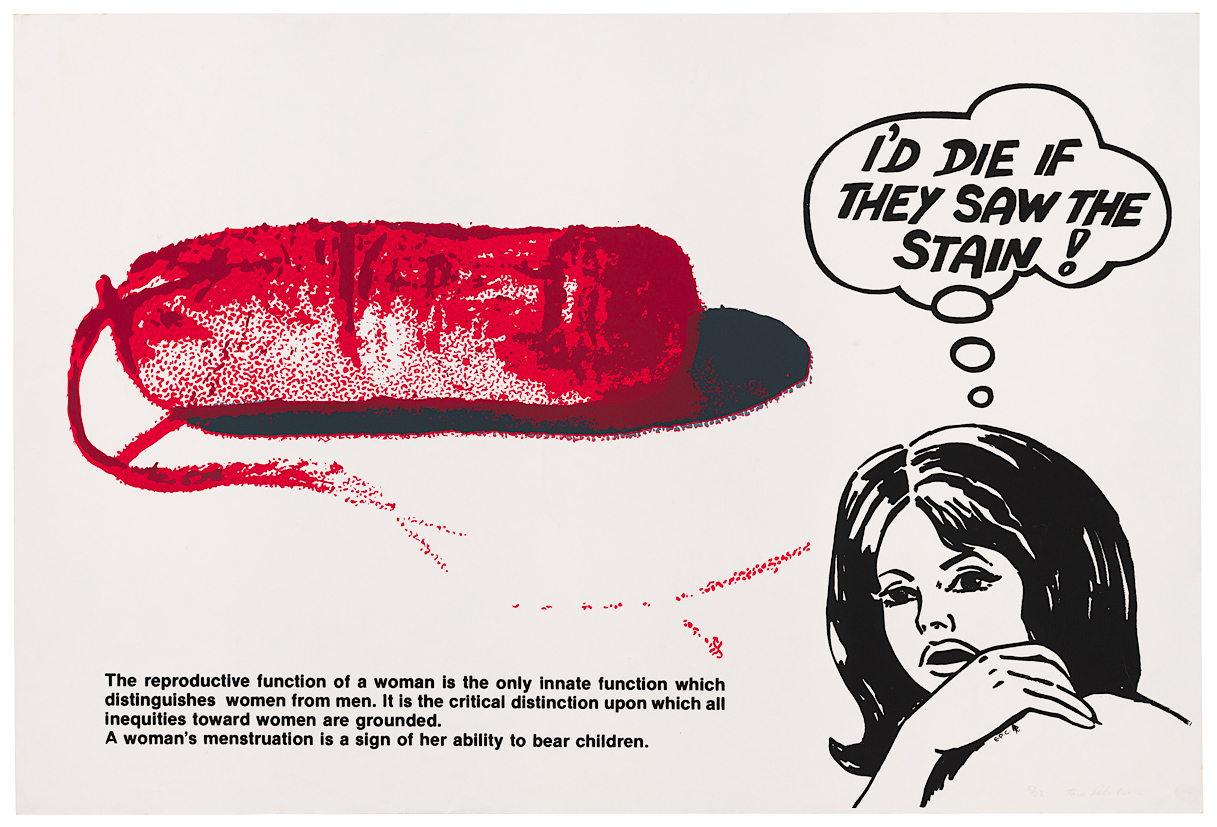 Toni Robertson, I'd die if they saw the stain, 1979, screenprint, 51.1 x 76.1 cm, Cruthers Collection of Women's Art, The University of Western Australia. © the artist.
Header image: Paper Cut design by Julie Ziegenhardt.