Explore our programs from home.
Exhibitions
Visit our online exhibition Expressions of India
Portrait of a King Riding a Composite Horse late 18th century. Jaipur, Rajasthan, India. Opaque watercolour and gold on paper, 38.2 x 30.5 cm. Bequest of RM & CH Berndt, Berndt Museum of Anthropology [1994/0904].
Expressions of India
From the Ronald M. and Catherine H. Berndt Collection
This online exhibition brings together a collection of Indian paintings from the Ronald and Catherine Berndt Bequest Collection. This selection of works cuts across social circumstance, place and time to provide a glimpse into pockets of everyday life from across India and from varying contexts.
Curated by Michael Houston and Sofie Nielsen and presented by the Berndt Museum of Anthropology.
Collections
Explore the full catalogue of artworks in the CCWA
The Cruthers Collection of Women's Art (CCWA) is Australia's largest public collection of women's art.
Comprised of over 700 works of art, this significant collection is now accessible online.
Browse the full catalogue of artworks, select images and more.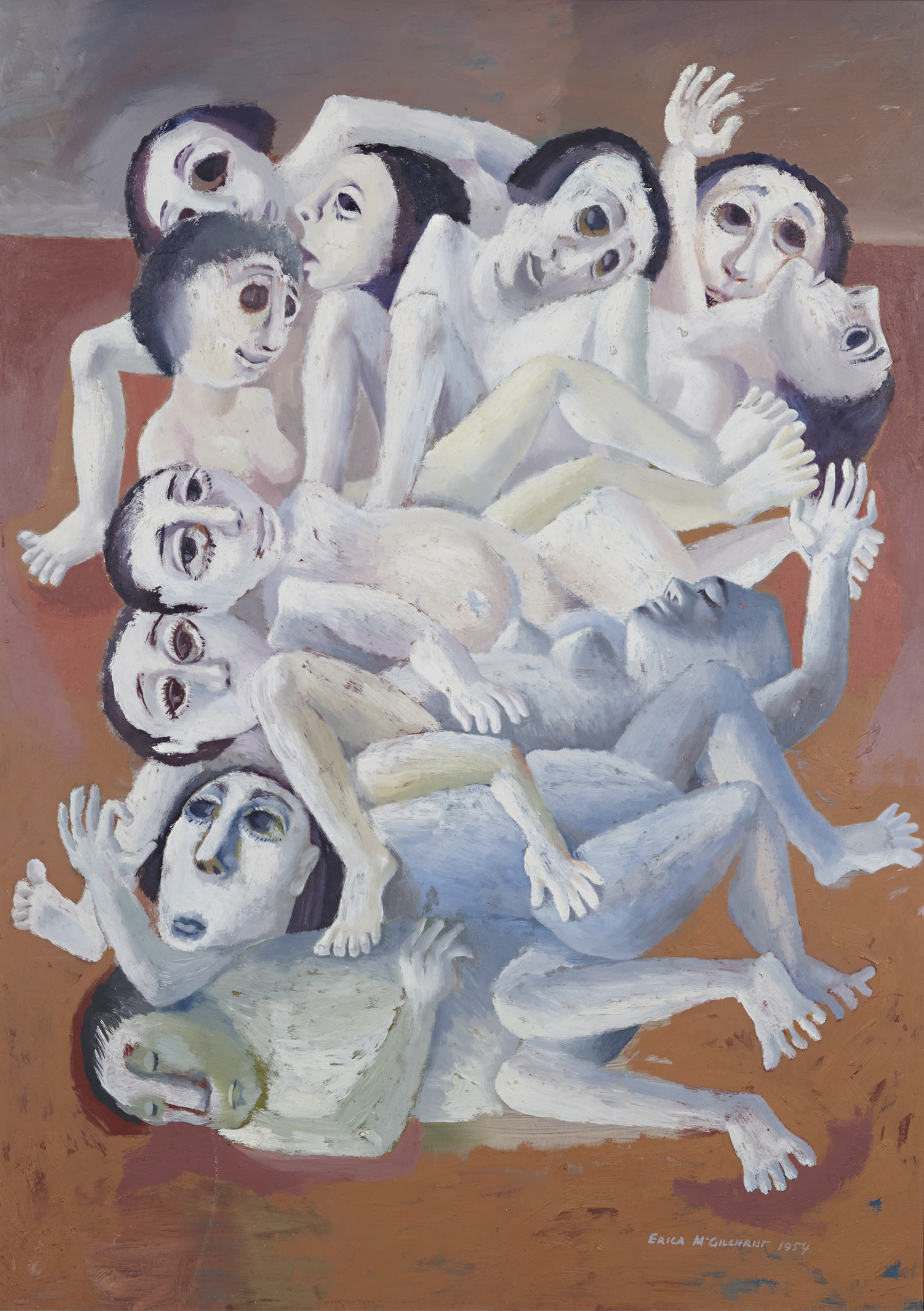 Erica McGilchrist, The Abandoned (Kew Mental Hospital), 1954, oil on board, 92 x 69 cm, CCWA 974. Cruthers Collection of Women's Art, The University of Western Australia. Donated through the Australian Government's Cultural Gifts Program by Phillip Boulten. © courtesy the artist's estate.
Publications
Browse our digital publication archive and download your own free copy
Browse all publications
Virtual Tours
Explore a selection of our exhibitions digitally in-depth
LWAGTalks Podcast
Hear from artists, curators, writers and more on our podcast
Ep 15: Behind-the-Scenes with Ted Snell and LSAC
Published on 21 August 2020
Discover more about the recent history and future programs at Lawrence Wilson Art Gallery, as well as Director Ted Snell's own career path in this intimate conversation between Snell and members of the LWAG Student Advisory Committee (LSAC) Victor Arul, Brendan John Harry Dias and Zahraa Al Taey.
This is the second episode in a series of LWAGTalks conversations developed by the LWAG Student Advisory Committee. Initiated in March 2020, the LWAG Student Advisory Committee consists of 16 UWA students who work with Gallery staff to develop new initiatives and programs to connect LWAG with University students.
Download a full transcript
LWAGTalksEp15 Transcript [DOC]
Browse all podcasts
Video
Get behind-the-scenes insights on our YouTube channel
On 18 July 1990, Lawrence Wilson Art Gallery officially opened its doors to the public. Learn more about the history of Australia's first purpose-built university art museum.
Browse our YouTube channel