Event details
Location
Lawrence Wilson Art Gallery
Date and time
Sat 6 March, 10.00am-3.30pm
Event type
Audience
Event Fee
Registration
Stories & Solidarity: International Women's Day Symposium
Saturday 6 March, 10.00am-3.30pm
What does International Women's Day mean today? What can it encompass and what does it exclude?
In recognition of this day, the Lawrence Wilson Art Gallery at the University of Western Australia and the Asian Art Museum in San Francisco present a two-part event celebrating the work of women and non-binary creatives.
Drawing upon the strengths of the organisations' collections, the symposium brings together practitioners from across the following exhibitions: After Hope: Videos of Resistance at the Asian Art Museum and, at the Lawrence Wilson Art Gallery, Paper Cut, featuring artworks from the UWA Cruthers Collection of Women's Art, Creatures: Ochred, Pokered, Carved and Twined, presented by the Berndt Museum of Anthropology, and Olga Cironis: Dislocation, presented in association with Perth Festival.
Part one of the symposium, at the University of Western Australia, brings together Australian and international artists to explore contemporary art, activism and the power of stories.
Part two at the Asian Art Museum is a virtual panel featuring curator Ashley Yihsin Chang and artist Jane Jin Kaisen on displacement and diaspora. This is one of several collaborative programs organised by the Asian Art Museum through their Global Dialogues initiative. More details about these programs will be announced shortly.
The two events were recorded and are presented online below:
Part ONE: Program
Woolnough Lecture Theatre, UWA | $10 tickets, book here
10.00am-10.30am: Registration at Woolnough Lecture Theatre
10.30am-10:40am: Introductions from Abby Chen, Thuy Tran and Lee Kinsella
10.40am-12.00pm: Opening Keynote: Objects, Stories and Legacies from Janine McAullay Bott and Jude Adams
12.00pm-1.00pm: Lunch break
1:00pm-2.15pm: Panel 1: Power of Storytelling with moderator Linda Iriza and panelists Emele Ugavule, Shaghayegh Cyrous and Teelah George
2.30pm-3.30pm: Drinks and closing at Lawrence Wilson Art Gallery
About the Speakers
Abby Chen
Abby Chen is Senior Associate Curator and Head of Contemporary Art at the Asian Art Museum of San Francisco. Chen's curatorial practice, she says, is centered on artists and their process—the thinking behind contemporary art, and not just the finished product. Abby maintains strong ties with experimental artist communities locally and internationally, which has contributed to her wide record of publications and presentations on the intersectionalities of race, sexuality, gender, nation, migration, and technology in both the United States and Asia.
Leading the newly-established Contemporary Art department, Chen will open the 2021 museum transformation with a new emphasis on contemporary art and dedication to digital enhancement. Over the past 18 months, Chen has overseen nearly a dozen exhibitions and installations at the museum, including Jas Charanjiva's Don't Mess With Me, Chanel Miller's mural, I was, I am, I will be, and Jenifer K Wofford's mural, Pattern Recognition, among others.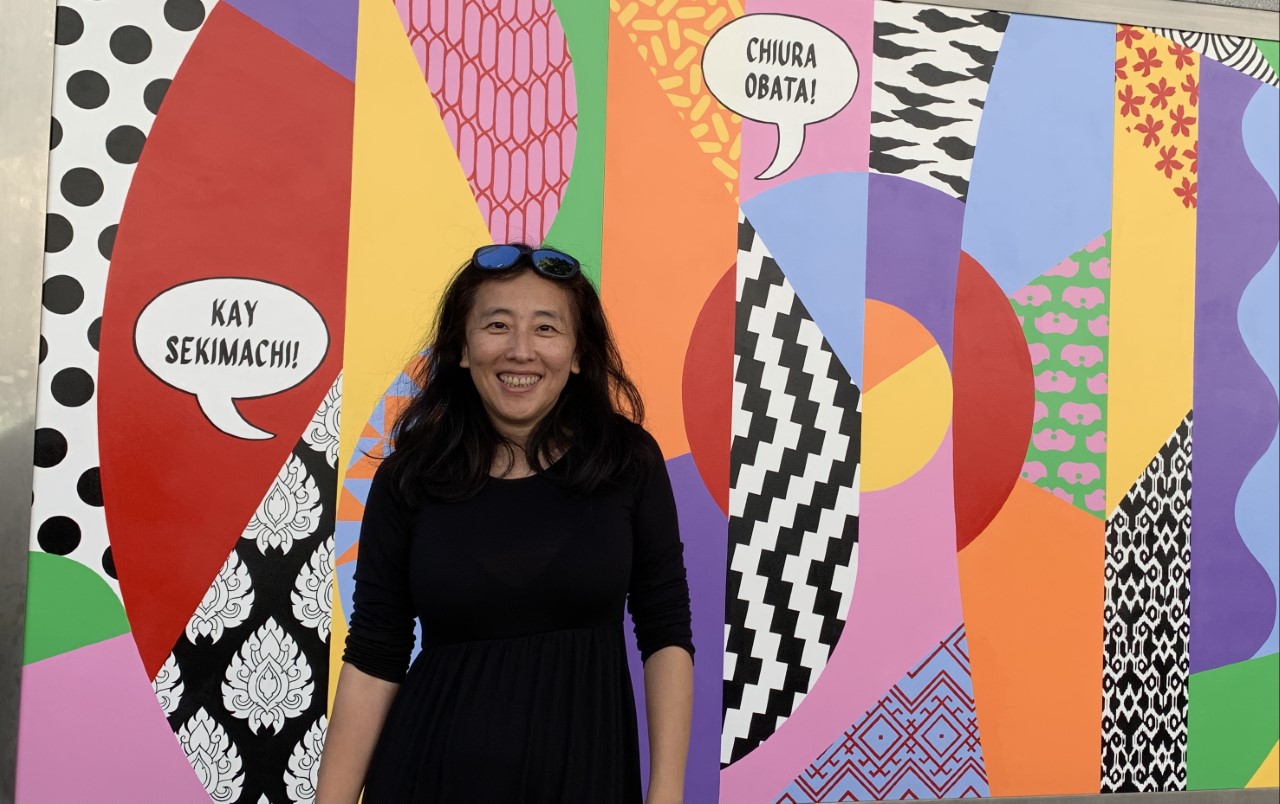 Emele Ugavule
Emele is of Tokelauan and Fijian descent. She is a multidisciplinary storyteller. Emele works across live performance, film, tv & digital media as a writer, director, producer, performer, educator and mentor. Her work explores creative processes and outcomes grounded in Indigenous ways of knowing, and nurturing the vā where embodiment, cultural expression, digitisation and neuroscience intersect.
She is the Creative Director of Talanoa, founder of Studio Kiin, Co-host of Solwata Kin podcast and a sessional lecturer at the Western Australian Academy of Performing Arts.
Janine McAullay Bott
My weaves are culturally significant, ever-evolving, and my way of visualising my people; their culture, the unique sense of humour they possess. My ambition through my art and my heart is to convey to the public the beauty of the Noongar peoples of the southwest of Western Australia: my mother's people, my ancestors.
When looking into the weave you can see the spirits of the native animals and the Noongars they represent, depending on what is in your heart. I believe I inherited a gift from the old people, which could be taken away at any moment. The weaves must be represented in the right way, always dignified like the beautiful spirits they represent.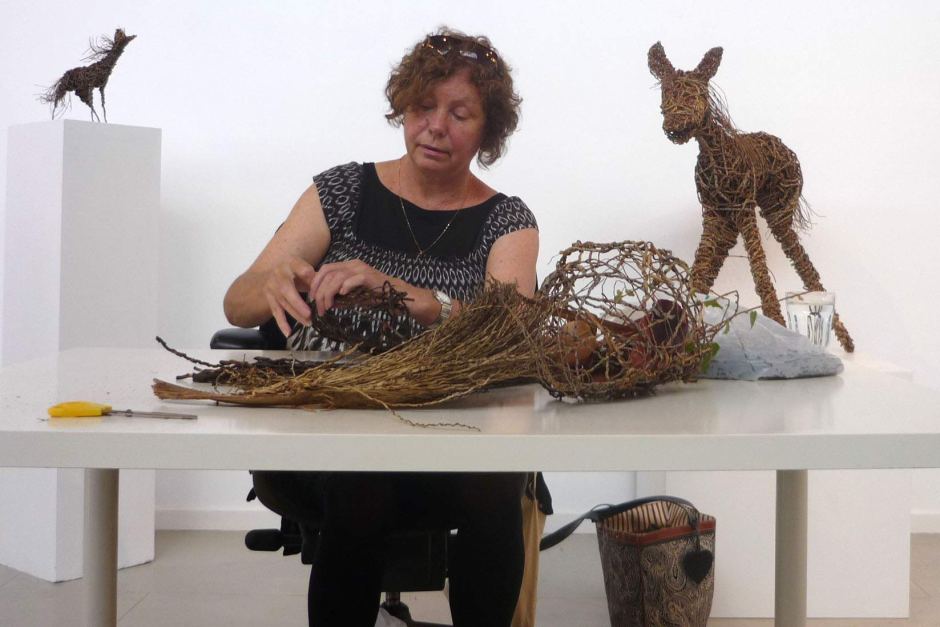 Jude Adams
Jude Adams has a decades-spanning career in the visual arts covering a range of practices and disciplines. The thread linking her work, whether visual, text-based or performative, is a commitment to feminist strategies and the significance of women's material practice.
In the 1970s Adams became an active member of the Women's Art Movement (Sydney 1974-76) (Adelaide 1978-85) and coordinated the Lovely Motherhood Show (1981), a collective-based exhibition that, like other 'memory cycle' projects, sought to give voice to women's experience.
More recently, Adams has participated in the resurgence of women-only collectives, such as Feminist Renewal Art Network (FRAN) (2015) and co-coordination of FRANFEST (2017), a month-long, multi-venue event that included exhibitions, talks and symposia.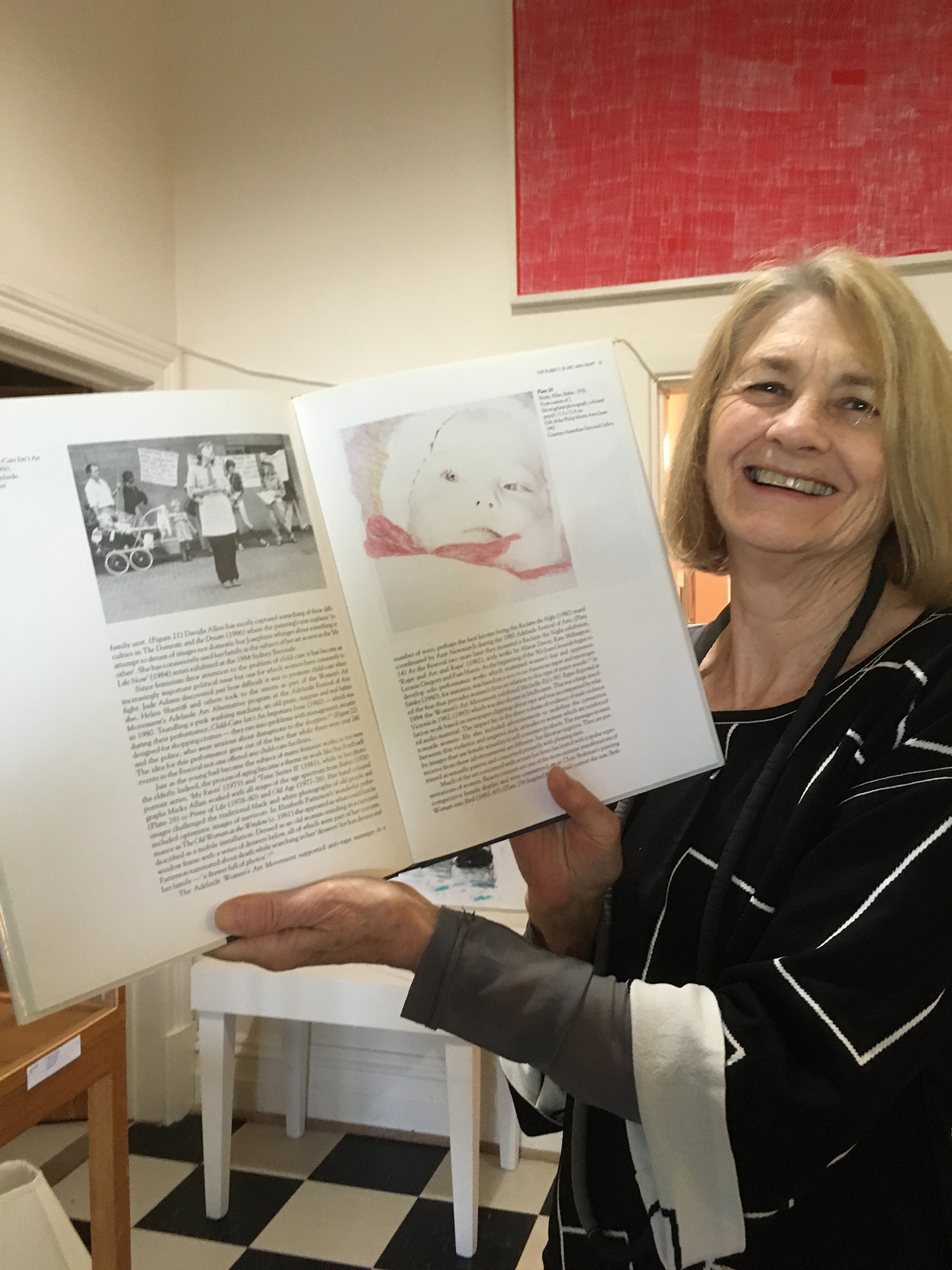 Lee Kinsella
Lee Kinsella is a writer and visual arts curator. Born in the wheat-belt town of Gillingarra in Western Australia, she is currently curator of the Cruthers Collection of Women's Art at the Lawrence Wilson Art Gallery, The University of Western Australia. She has curated and managed exhibitions at Australian state and national public institutions, including the Art Gallery of Western Australia, The Australian War Memorial and The National Film and Sound Archive (formerly ScreenSound Australia). She has written catalogue essays, articles and contributed to several books on Australia art. In 2016, she has curated a survey exhibition of the work of contemporary Western Australian artist, Miriam Stannage. The exhibition was launched at the Lawrence Wilson Art Gallery in conjunction with a monograph on the artist edited by Kinsella.
Lee was selected to participate in a curatorial exchange to Taipei in 2017, hosted by the Taipei National University of the Arts. She travelled to institutions across Taiwan and met gallery directors, curators, and artists, including curator Abby Chen. This symposium is the result of a friendship that began when Lee and Abby viewed land art installations on Keelung Peninsular before sharing food at the night market and eventually finding our way back to Taipei.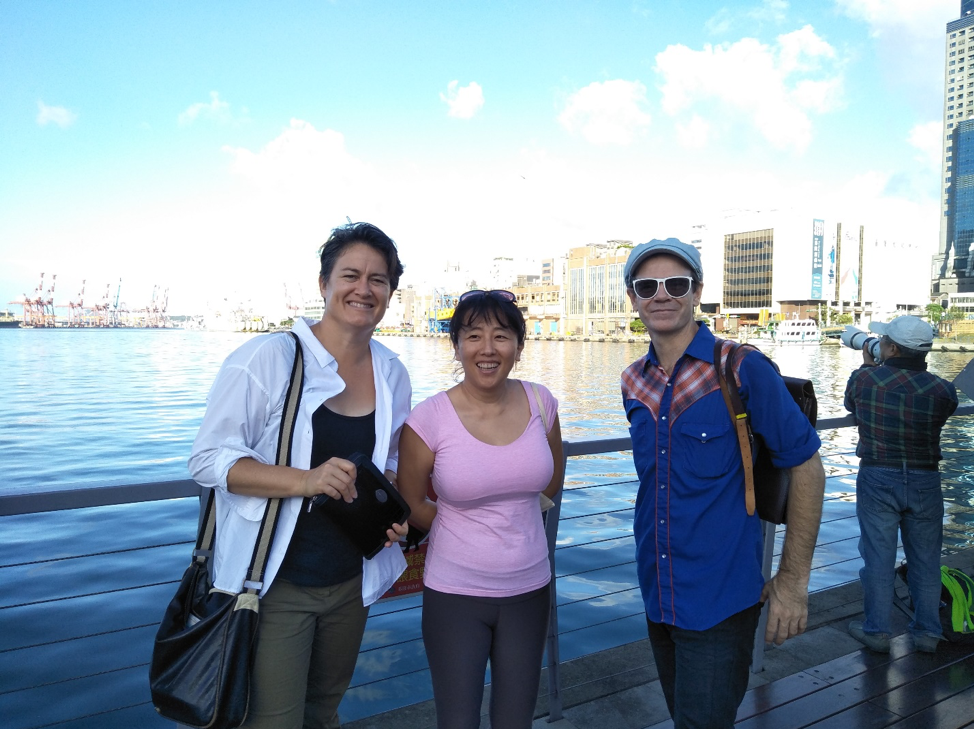 Lee Kinsella (left) with curator Abby Chen and artist James Geurtes at the port city of Keelung, Taiwan, 2017.
Linda Iriza
Linda Iriza is a Rwandan currently based in Boorloo (Perth). Her work centres African youth and continues to create community projects that bring them together physically and digitally. She does this through collectives like Soul Alphabet; where they support young bla(c)k and brown creatives through events, art exhibitions, workshops and various other projects. Linda is also a youth organiser at Boorloo Justice, a community led grass-root organisation. In recent years, she has also grown an interest in honouring her ancestors by digging deeper into Rwandan historical archives. In 2020, she launched a project called Amateka Series which aims at curating experiences that nurture a culture of collective learning. The project has bi-monthly virtual history programs that are done through live conferences and workshops that bring together Rwandans across the world and in the past they've had up to 190 attendees streaming from so called Australia, Aotearoa, Rwanda, South Africa, UK, Canada and more.
This drive for archival work and ancestral ways of knowing has connected her to Studio Kiin where she is a people weaver. Studio Kiin is an Indigenous led creative studio founded by Emele Ugavule. Her passion for creating spaces for young Africans goes beyond borders; as she founded Nuru Tours which is an ethical travel project that works to connect the African diaspora to Africa. Linda is interested in learning more about the art of storytelling, Afropresentism and intersectional feminist work.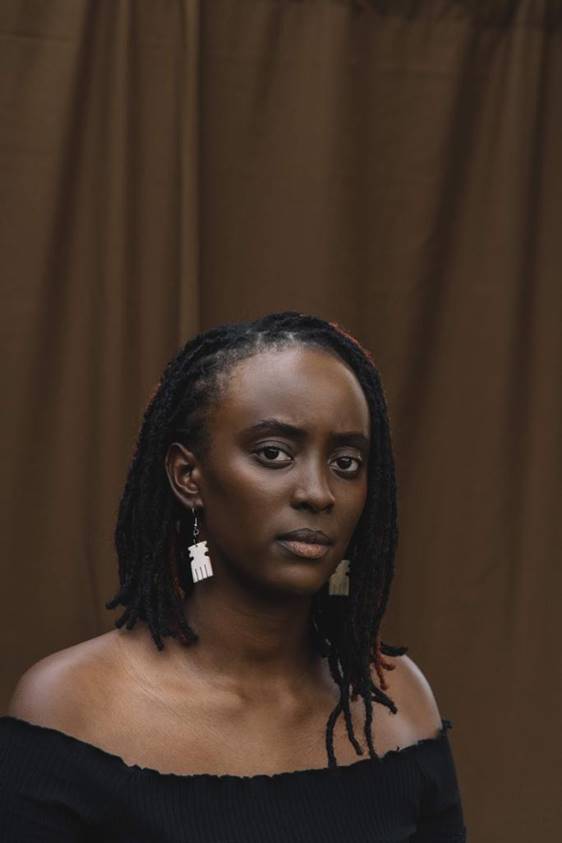 Shaghayegh Cyrous
Shaghayegh Cyrous is an Iranian-American interdisciplinary artist and curator based in Oakland. She creates poetic multimedia installations, videos, interactive performances, and photos focusing on cross-cultural communication and translation strategies, addressing predicaments of estrangement and distance caused by political and cultural power dynamics.
Cyrous received her BA in Visual Art from Science and Culture University in Tehran and her MFA in Social Practice from California College of the Arts in San Francisco. She has exhibited and performed internationally at notable museums and galleries.
Teelah George
Teelah George is a Perth-based artist working primarily in embroidery and painting. She employs archives and collections as a point of departure and questioning within her practice, drawing on the parallel ambiguities between historical record and visual art.
Recent exhibitions include No Second Thoughts at Lawrence Wilson Gallery WA, World of Wounds, Artbank, Sydney, NSW, Primavera 2017: Young Australian Artists, Museum of Contemporary Art (MCA) NSW and A Soft Gap at Gallery 9 NSW. Teelah has been a finalist in the 2017 Ramsay Art Prize and winner of the 2016 Fremantle Print Award.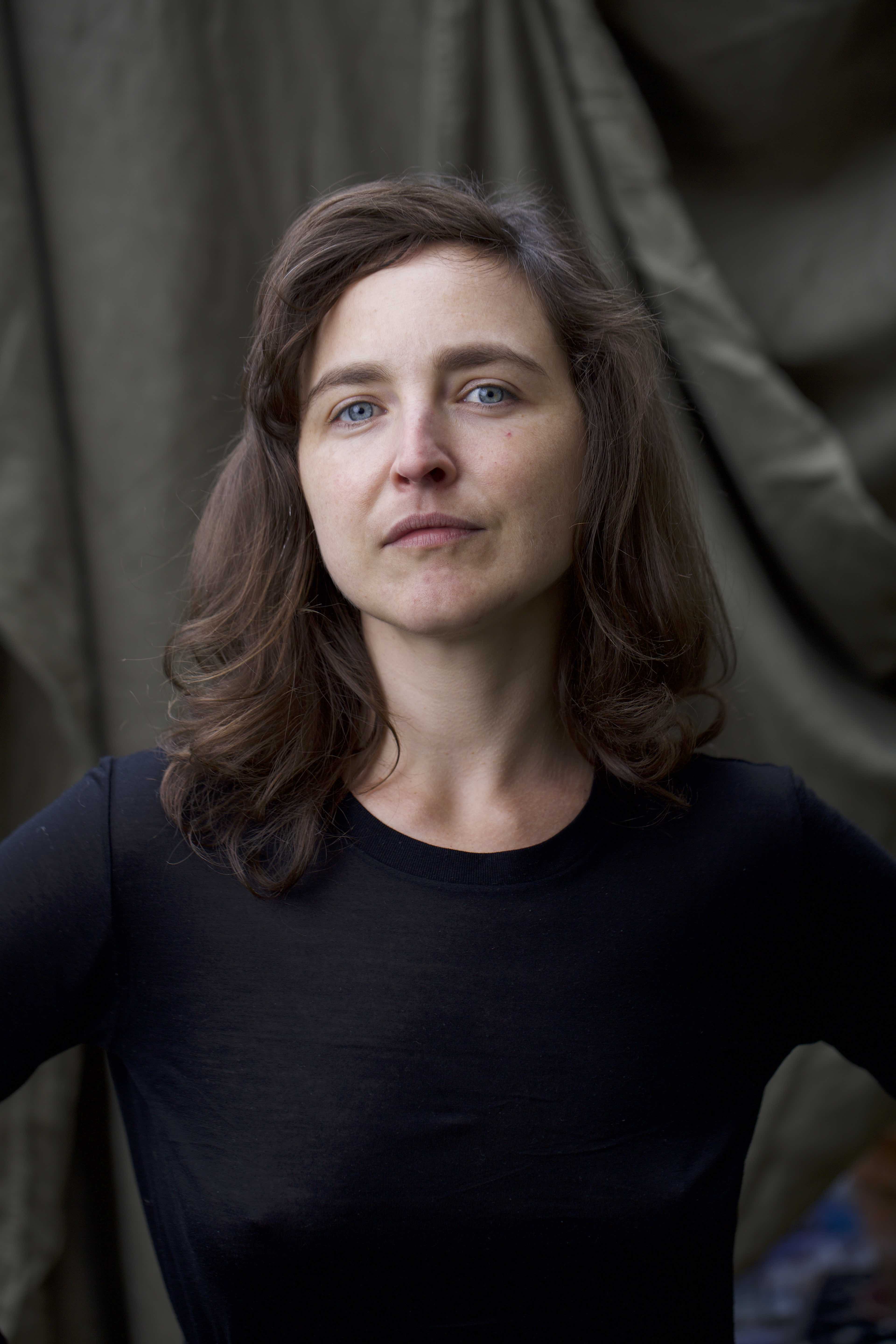 Photograph by Mia McDonald.
Thuy Tran
Thuy Tran is a Vietnamese American multidisciplinary artist and experience curator based in Thailand. A graduate of Georgetown University, she is the Asian Art Museum's Contemporary Art Curatorial Fellow. Thuy co-founded The Rooted Recipes Project in 2018 to reflect on AAPI identity and resistance through meal gatherings. She is part of the 2019 cohort of APAP's Emerging Leadership Institute, a 2017 YBCA Public Imagination Fellow and 2016 EAP Fellow with Emerging Arts Professionals SF/BA. She is the inaugural recipient of the Ebony McKinney Emerging Arts Leadership Award in 2018 and the current recipient of The Asia Foundation's Margaret Williams Fellowship.
Image: Jude Adams, [It couldn't happen here] (detail), c 1975, collage on brown card, 57.8 x 46.2 cm, Cruthers Collection of Women's Art, The University of Western Australia. (c) and courtesy of the artist.