About the UWA Medical School
UWA's Medical School brings together the brightest students, experienced clinicians and committed researchers to unlock the greatest health challenges of our day. The UWA Medical School is an infinite source of teaching and learning for individuals who share our goal of delivering better health outcomes today and into the future.
Our School exists thanks to the generosity of the Western Australian public, rural and community organisations and industry groups who continue to generously support our endeavours. We have a renowned research program carried out in laboratories, hospitals and in the community at a patient level, and we offer a range of scientific and clinical research opportunities across 10 divisions.
Our School offers courses in clinical medicine, with acknowledged leaders in medical education supervising our clinical teaching programs. A strong research culture infuses all medicine courses at UWA.
Acknowledgement of Country and Mission Statement
The School acknowledges that it is located in Noongar land and that Noongar people remain the cultural and spiritual custodians of this land. The School honours the rightful place of Aboriginal people as Australia's first peoples and will graduate students who contribute meaningfully to closing the gap in Australian health outcomes.
The UWA Medical School's mission is to provide education, services and research that creates better health for the benefit of the Western Australian, Australian and international communities.
Study with us
Our Doctor of Medicine program produces capable and caring medical graduates committed to the wellbeing of the patient. Top clinical and academic staff teach the program, and students can pursue placements in Perth, with the Rural Clinical School and overseas. Following successful completion of the course, students are eligible to apply for internship as a pre-registration medical practitioner.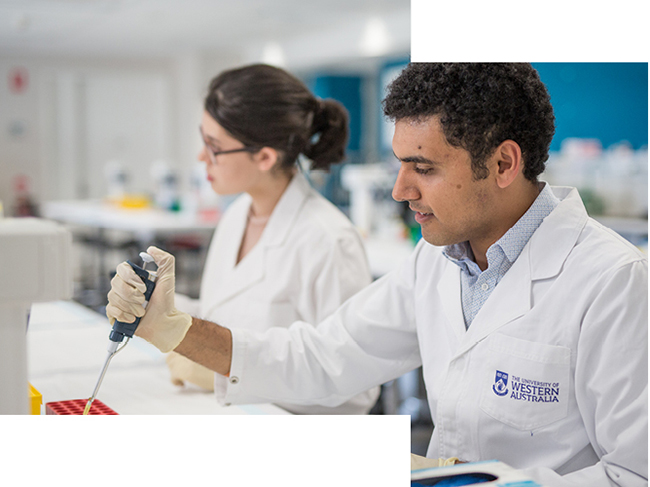 Current students
Current students can contact the student office for all course-related queries.
They can assist with:
course advice and creating a study plan
checking your enrolment
advising on global and extra-curricular experiences
directing you to student support services
helping you with complex matters regarding special consideration, credit transfer, approved leave, academic progression, graduation eligibility and other requests
Health and Biomedical Sciences student office
Our divisions, research and news
Our school is comprised of ten divisions, spanning the breadth of medical research. This research is carried out in laboratories, hospitals and in the community at a patient level.
We have close ties with local and international organisations across various disciplines with whom we collaborate on important medical research.
Alumni, community and mentoring
Find out more about:
UWA Medical Unit
UWA Adjunct and clinical title holder
Resources for mentors and mentees
The Western Australian Medical Students' Society (WAMSS)
Simulated patient program
Medical Humanities Network