Creatures:
Ochred, Pokered, Carved & Twined
27 February – 27 November 2021
PRESENTED BY THE BERNDT MUSEUM OF ANTHROPOLOGY

Creatures: Ochred, Pokered, Carved and Twined delves into the depths of the Berndt Museum of Anthropology's object collection illuminating a diverse menagerie of animal representations from across Indigenous Australia. The exhibition showcases over 100 years of creation practices by Indigenous Australian peoples, for whom the creatures of the land, water and sky were, are, and forever will be, deeply ingrained in their culture and beliefs.
Unknown Creator, Tjulpu - Bird, c.1995. Cundeelee, Western Australia. Wood, 28 x 7 x 8 cm.
Gift of Rod Stockwell, Berndt Museum of Anthropology Collection [1995/0117].
Education Kit
Media Release
Catalogue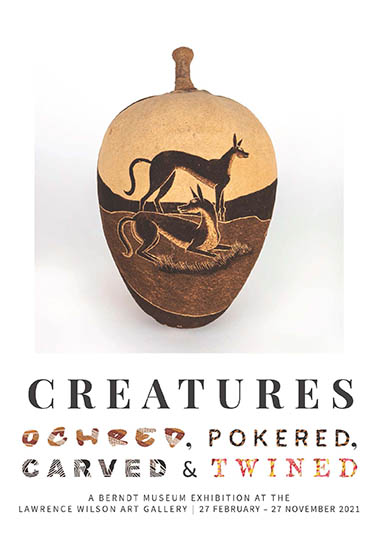 Header: Attributed to Fred Mongta, Untitled (Snake) [detail], c.1986. Cann River, Victoria. Wood and acrylic diamontes, 74 x 11 x 12 cm. Berndt Museum of of Anthropology Collection [1986/0019].