UWA Public Policy Institute
Providing informed leadership by maximising the policy impact of UWA research in Western Australia, Australia and the Indian Ocean region
The UWA Public Policy Institute (UWA PPI) is a bridge between academic research and government, public and business needs, delivering real-world policy impact at state, national and regional levels.
Drawing on UWA's distinct geographical advantage as Australia's Indian Ocean capital city, and by championing an evidence-based approach to policy-making, we also create fresh opportunities for UWA to collaborate with countries across the region.
What we do
Run a dynamic public events program
Produce and disseminate reports
Provide expertise to policymakers
Organise private roundtable discussions

Public events program
Our events span a range of diverse and provocative topics, including mental health, environmental protection, and Aboriginal cultural heritage. Members of the community are warmly welcomed to attend, actively participate, and contribute to discussions.
Breakfast by the Bay | Global economic outlook 2022: Implications for WA
Wednesday 1 December, 7am - 9am
Banquet Hall, The University Club of Western Australia
Members $55, Non-members $65, Table of 10 $600
Book tickets
The world economy is experiencing an unexpected and strange boom. This is most surprising because it was feared that COVID-19 would cause an extended recession comparable to the GFC. Global growth is now being reported at its highest since 2006, however, an examination of this upturn calls for caution.
There are new factors that will all play a role in shaping a sustainable global economy in 2022 and beyond, including:
varying vaccination-levels,
fluctuations in open and closed economies based on pandemic management, and
anticipated withdrawal of government stimulus packages.
The rebound of the global giants, the US, China and the EU, will all depend on how capital markets access each of these factors.
During this breakfast event we will take a closer look at the economic forecast for the coming year and how it will affect our state. How does WA fit into these new trends, what are its unique points of weakness and how can it capitalise on its strengths?
Researcher training: How to work with government
February 2022 (TBC)
For UWA researchers
See more and register
How can you, as a UWA researcher, shape evidence-based policymaking?
During this interactive lunchtime workshop, we'll demystify how government collaborates with researchers, and ways that you can work closely with government officials and policymakers.
This training workshop is particularly designed around the needs of busy academics who wish to engage with policymakers to ensure their research has leads to real-world impact and feeds into policy design and decision-making processes within government.
Expert commentary
COP26
The 26th annual UN Climate Change Conference, or 'Conference of the Parties', brought together almost every country for a global climate summit in Glasgow. Here are some comments on Australia's role in this uniquely urgent world event.
2021-22 WA state budget
With the release of the state budget and news of surplus, we asked our experts to explain what it means for the West Australian population.
Australian Census 2021
As Census time rolls around again, we take a deep dive into what it is, what it's used for, and how it might be improved.
Tokyo Olympics
Are the Olympics still relevant? How can they remain viable in the current socio-political climate?
'Fortress Australia' and closed borders
How long can we stay closed? What are the implications of keeping our borders shut, interstate and internationally?
2021 Intergenerational Report
Download the federal 2021 Intergenerational Report to view modelling projections on Australia's position in 2061 and hear responses to the report from our experts:
Publications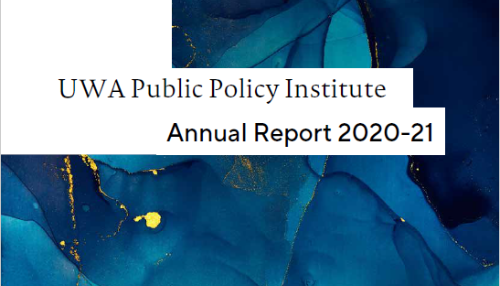 A summary of the Institute's activities spanning July 2020 - June 2021.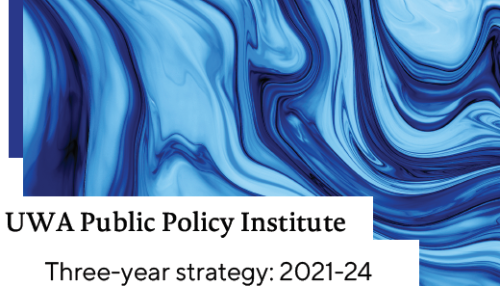 Our goals for the next three years, how we'll pursue them, and the outcomes we expect to see.
Going Further, Faster –
A Policy Agenda for WA 2021

This report, published at the start of a new parliament, contains timely, evidence-based ideas and practical proposals to meet many of the most pressing current and emerging challenges for WA.
The Preparedness Report - Climate change and the challenges facing universities and professions
This publication brings together 10 contributions from leading researchers and practitioners that look at the implications of climate change for academic disciplines and professional bodies: their responses to, as well as their responsibility to adapt in the face of its challenges.
Our collaborators
Government, not-for-profit and industry bodies we work with include but are not limited to:


UWA and UWA-affiliated entities we work with include: