News
Vale The Honourable Stephen Thackray
Stephen Thackray was one of the Law School's most outstanding graduates. Stephen served as a legal practitioner and judicial officer for more than 40 years, devoting most of his time in the law to family law.
He was the Chief Judge of the Family Court of WA and a Justice of the Family Court of Australia until 6 January 2019. From March 2017 until his retirement from the Full Court in December 2018, Stephen was a Senior Judge of the Appeal Division of the Family Court of Australia. A close friend of the UWA Law School and Adjunct Professor, Stephen supported the School with enthusiasm, giving guest lectures and engaging with mediation training and other dispute resolution initiatives.
His Honour's Family Court judgments throughout his judicial career are testament to his intellectual prowess and pre-eminence in family law. We were deeply saddened by the news of Stephen's sudden and untimely death on Monday 30 March and extend our deepest sympathy to his family, colleagues and friends. He will be sorely missed.
For a fuller tribute, see the obituary in Australian Family Lawyer by The Honourable Justice Rick O'Brien, Family Court of WA and alumnus, available with the kind permission of the Family Law Section of the Australian Law Council.

Woman Lawyer of the Year Award
Congratulations to Kate Offer who received this award at the Women Lawyers of Western Australia award ceremony on 6 March. The award recognises Kate's tireless commitment to justice through providing exceptional, innovative and practice-focused legal education over a sustained period.
Law Access Virtual Walk for Justice
In a strong show of support for Law Access and pro-bono legal services in WA, the Law School Staff and Student Team raised $4,962, winning the Top Overall Team perpetual trophy.
Huge thanks to team leader Dr Marilyn Bromberg for coordinating and motivating the UWA team, sponsors and donors this year. Law Access raised a record total of $99,869 from this event, which will be invaluable support to continue their important work.
Law Access advises that donations can be made online any time.
Indigenous legal education and the Juris Doctor
In 2018 the Law School and the School of Indigenous Studies at UWA embarked on a project to incorporate Indigenous knowledges, cultures and experiences throughout the UWA Juris Doctor (JD) degree.
The initial curriculum is now well underway and being implemented across first- and second-level core units, with work continuing on the remaining core subjects. Recently, project leader Dr Ambelin Kwaymullia published a free downloadable access article on the UWA Indigenisation Project.
Dean's Circle
In the previous issue of Obiter Dicta, we announced the Dean's Circle, launched in November last year, which celebrates philanthropy and the individuals who have committed to making a vital contribution to the future of legal education at UWA. We welcome new Dean's Circle Members the Hon. Justice Bruno Fiannaca, Joe Longo and Mary-Eileen Scanlan, and the McCusker Charitable Foundation.
JD international accreditation
The Legal Profession Qualifying Board of Malaysia has approved the recognition of the UWA JD. UWA JD graduates are now eligible to sit the Malaysian CLP examination. This adds to the existing recognition of the JD in Singapore and China.
Dual JD with the University of Denver
After three years of careful planning and negotiation, we have introduced a dual JD with the University of Denver in the United States. Under this program, a student who successfully undertakes two years of the JD at UWA and two years at Denver University receives a JD from both institutions and is eligible for admission to practise law in Australia and the US. The program is open in Semester 2, 2020.
Latest issue of the UWA Law Review
The latest edition of the Law Review features articles by authors including UWA Law School staff and alumni. The issue covers a range of fascinating topics including analysis of who publishes in the top Australian and global law journals, alternative dispute resolution, evidence and freedom of speech. Browse the issue online.
Events
CPD event raised funds for Bushfire Appeal
A joint Law School and Law Society event on climate change, responding to the devastating bushfires in December and January this year, raised more than $7,000 for the Red Cross Bushfires Appeal.
Criminology conference
Between 10 and 13 December 2019, the UWA Law School hosted the 32nd Australia and New Zealand Society of Criminology (ANZSOC) Postgraduate and Early Career Researcher and the main ANZSOC Conference. The theme for the conference was 'Justice Re-imagined: the intersection between academia, government, industry and the community'. This theme explored how to address crime in a more holistic way through a collaboration between all parties involved.
More than 400 delegates from Australia, New Zealand and 12 countries around the world attended. UWA researchers Dr Jade Lindley, Dr Joe Clare, Associate Professor Hilde Tubex and Professor Harry Blagg were local members of the organising committee.
ALRC Seminar on Corporate Responsibility
Professor Elise Bant convened a panel of experts to provide an update and to encourage feedback into the Australian Law Reform Commission's enquiry into Corporate Criminal Responsibility at a seminar on Monday 24 February at the State Library. The panel discussion focused on the ALRC's proposed model of corporate regulation, the attribution of criminal responsibility to corporations and individual liability for corporate fault, and other aspects of the proposals.
Student achievements
2019 prize winners and 2020 scholarship recipients
Congratulations to our student award winners. Although we were unable to hold our annual Law Awards Ceremony this year due to COVID-19 restrictions, you can see the full list of our student award winners and a selection of video messages.
Jessup Moot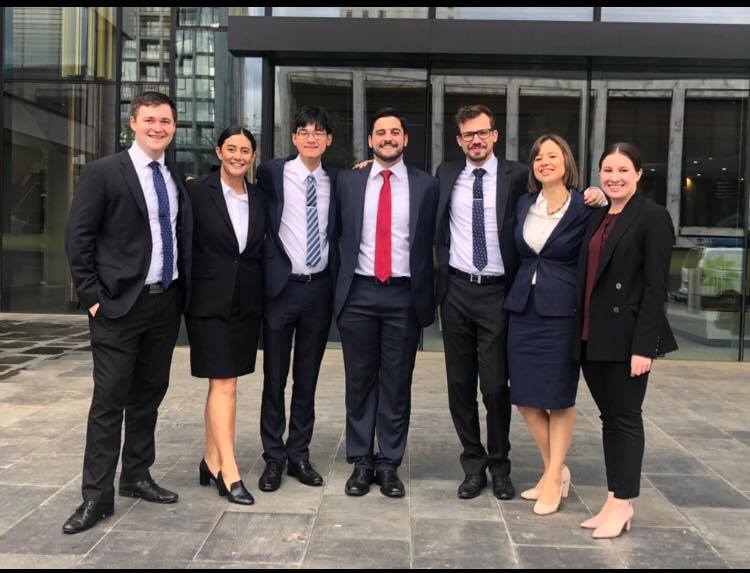 The Philip C. Jessup International Moot team worked tirelessly over the summer. They performed exceptionally well in the National Championship held in Canberra in February, reaching the semi-finals where they lost to UQ by one point. Congratulations to the team: Thomas Coltrona, Alexander Gibson, Aleasha Sanchez-Lawson, Tayu Wilker and Benjamin Wong, and their dedicated coaches Ebony Back, Zac Molloy Mencshelyi and Andrew Hanna [absent]. Further congratulations to Alexander Gibson, who was awarded a speaking prize.
Many thanks to everyone who gave their time to judge practice moots: these greatly assisted in the team's performance and learning.
If you would like to support the Jessup Moot team, contact the Law School.
2020 Ciara Glennon Memorial Scholarship
The 2020 Ciara Glennon Memorial Scholarship was awarded to second-year Juris Doctor student Isabel Philip. Due to COVID-19 restrictions, we were unable to hold the formal presentation at the usual time this year. We hope to do so later in the year.
McCusker Law Scholarship
We are delighted to announce the establishment of the McCusker Law Scholarship and the inaugural recipient, Megan Menon.
Financial Times and Innovative Lawyers Global Legal Hackathon
The Law School fielded two teams in the Global Legal Hackathon recently. A team from Rio Tinto, UWA Law School, and Australian law firm Corrs Chambers Westgarth created a digital legal toolkit to help company lawyers manage health, safety and environment incidents. The mobile phone app helps the user conduct an initial assessment and provides a range of guidance and communications functions. The second team worked on an Employer Information Broadcasting System to safely transition employee return to work through ongoing management of the COVID-19 pandemic.
Well done to Director of Disruption Kate Offer and students Roshni Kaila, Julia Symons, Lucy Burns, Sam Dulyba, Helena Trang, Edmumd Yoong, Pragya Srivistana, Esther Willmott and Steph O'Neill.
Staff updates
Australian Research Council Future Fellow
Professor Elise Bant was awarded a prestigious Australian Research Council Future Fellowship to examine corporate liability for serious civil misconduct in February. Professor Bant has received funding of $919,150 over four years for her project, 'Unravelling Corporate Fraud: re-purposing ancient laws for modern times'. The intended outcome of her research is a road map for comprehensive judicial and legislative law reform to achieve more just, effective and efficient regulation of corporate fraud.
Law School researchers respond to COVID-19
A number of staff have contributed their research expertise to legal issues arising from COVID 19 including:
Camila Andersen in collaboration with Alternative Contracting, 'Social Contract for COVID' in response to the WHO's call for info about the virus.

Meredith Blake

,

'

UWA Expert Series - Allocation of scarce health care resources raises confronting ethical issues'
Michael Blakeney, 'Profiteering from the Pandemic: Counterfeiting and the COVID-19 Crisis' (2020), BioScience Law Review(forthcoming).
Michael Douglas and John Eldridge, 'Coronavirus and the Law of Obligations' (2020), UNSW Law Journal Forum (forthcoming).
Alex Jane, Jeannie Paterson, Elise Bant and Marco Rizzi, 'Coming clean on hand sanitisers', Pursuit (21 April 2020).
Rick Krever, 'Tax Responses to a Pandemic: An Australian Case Study' (2020) 1(1) Belt and Road Initiative Tax Journal 52-57.
Why don't students attend lectures?
Research by Law School academics throws light on reasons why student attendance at lectures has decreased: Natalie Skead, Fiona McGaughey, Liam Elphick, Murray Wesson & Kate Offer, 'If you record, they will not come – but does it really matter? Student attendance and lecture recording at an Australian law school' (2020) The Law Teacher.
Academic promotions
We warmly congratulate our staff on their promotions this year:

To Professor:
Dr Sarah Murray

To Senior Lecturers:
Dr Dominic Dagbanja
Jacinta Dharmanada
Dr Sagi Peari
Staff departures
We bid farewell to Nicole Wilson-Rogers and Dr Brenda McGivern. Dr McGivern was formerly Deputy Dean of the Faculty of Arts, Business, Law and Education and Senior Lecturer in the Law School, and since her appointment in December 2019 is a Member of the Western Australian State Administrative Tribunal. Dr McGivern has been appointed Adjunct Associate Professor at UWA.
New staff
We welcome new academic staff:
Claire Kaylock,

Lecturer from February 2020. Claire returned to Perth from Melbourne where she was teaching and leading academic law programs at Melbourne Law School and Monash. Claire taught Contract at UWA in Semester 1.

Dr Nicholas Tiverios

, Senior Lecturer from 1 July 2020. Nicholas completed his PhD as the inaugural Peter Birks Memorial Scholar at University College London in 2018. Nicholas holds a Master of Laws (Dist.) from University College London (where he was ranked first in his year and studied on the Sir John Salmond Scholarship) and a Bachelor of Laws (Hons I) from The University of Western Australia. He joins us from UNSW where he has been researching and teaching primarily in Contract, Equity & Trusts and Unjust Enrichment & Restitution.