Rural Clinical School of WA
Transforming lives and improving health outcomes
in rural communities
The Rural Clinical School of WA (RCSWA) helps rural communities sustain a locally trained and loyal medical workforce by placing medical students in country regions. Under the program, students gain valuable hands-on experience, enjoy close mentoring and are more likely to return to rural towns after they graduate.
The RCSWA offers placements in 15 rural towns between Kununurra and Esperance, and more than 105 students a year are selected to spend their penultimate year of study in these locations. Students work in small teams with local academic staff, doctors, medical professionals and mentors, and in health services including paediatrics, obstetrics and gynaecology, internal medicine, Indigenous health and general practice.
The RCSWA aims to drive a larger presence of doctors into country towns that face health and medical welfare challenges while giving student doctors the chance to learn from real-life experiences. Peer-reviewed research shows students who undertake an RCSWA placement are four times more likely to return to work in the country compared to others.
The RCSWA program is a professional and personal enrichment opportunity. It is a year-long program undertaken in the second last year of the medical degree. Students are placed at one of 14 sites around the state.
The RCSWA:
is nationally regarded for curriculum innovation and excellence in delivery
has course objectives and outcomes identical to those completed by city-based students with the learning tailored and delivered to the needs of the community
allows for students to gain practical learning opportunities, as well as clinical placements at local hospitals, general practices, community and remote clinics, and Aboriginal medical centres
is the only collaborative rural clinical school in the State
has assisted in training more than 1000 doctors since 2002

Why get involved?
As a leading and competitive health education program, only 25% of eligible UWA, Curtin and Notre Dame medical students can participate each year. As with city-based students, those in the program must adhere to rigorous standards and achieve at least comparable results, while gaining increased practical experience. Our students find the program enriching, both professionally and personally, with rural communities and students continually giving positive feedback on the benefits.
The curriculum you are taught will depend on where you are placed. Many students in the program get involved with local sporting teams or volunteer their time at charity organisations and emergency services. The community spirit is strong in rural regions and RCSWA program participants take advantage of these experiences.
A day in the life of a rural doctor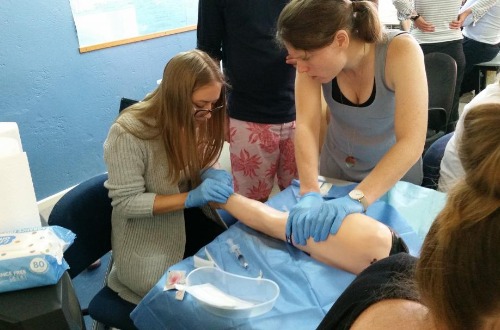 Skills-based workshops
Students are required to participate in workshops to develop the skills needed to administer medical attention to patients. Students in Esperance take part in a Procedural Workshop which involves airway management, suturing, catheterisation, joint aspiration, digital nerve blocks, cannulation and plastering.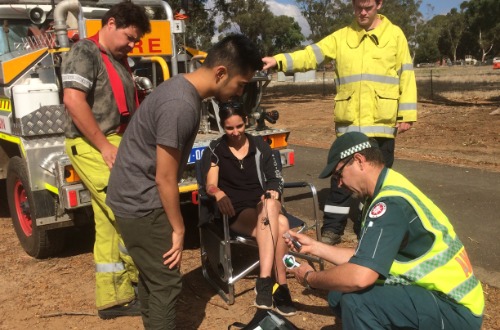 Hands-on experience
Students and local volunteers simulate real life crisis situations in Narrogin, including a snake bike, an accident involving a vehicle, a quad bike rollover and a chemical burn.
The day was run really well with a number of stations mirroring what we may see in the hospital. Being able to adapt to the situation and practise our first aid skills was great.Medical student talking about the rural simulated environment exercise
The clinical and practical skills and knowledge of the people who had completed RCSWA were leaps and bounds ahead of the ones who hadn't. GP registrar, Kununurra
Related course
Doctor of Medicine
The Doctor of Medicine (MD) degree is a four-year, full-time professional degree course. Students in their third year of this degree are eligible to apply for the RCSWA program.
When to apply
Students from UWA and Notre Dame who are undertaking the second year of the MD degree can apply for the RCSWA.
Curtin students in their third year can apply for placement to undertake the fourth year of their degree in one of 15 RCSWA rural sites.
Financial aid
Students undergoing financial hardship may be eligible for a Hardship Bursary. The application deadline for this is mid-February each year, with a specific deadline communicated via email in January. Late applications are considered throughout the year.
Students applying for the Hardship Bursary should make an appointment with their Academic Services Officer, who will be able to provide more information on what can be reasonably accepted as hardship as well as helping source part-time work.
School specialisations
These specialisations examine the key ideas behind teaching, research and practice philosophy. A community of practice enhances the courses, with fortnightly video-conferencing and skill sharing among postgraduates.
Rural Health

A rural health specialisation focuses less on a specialisation in a particular medical field, and more on exposing students to a diverse range of medical scenarios. This integrated teaching method allows students to acquire clinical skills in history-taking, clinical reasoning and diagnosis.

Aboriginal Health

Working with Aboriginal and Torres Strait Islander people can provide some of the most rewarding experiences for medical students and doctors. With a placement in a rural area, you gain cultural and social experience that is hugely beneficial, helping to shape your future career.
Research overview
The RCSWA focuses its research on health issues relevant to rural and remote communities, in particular those which cannot be explored in a city environment.
We aim for real possibilities of better health outcomes within our communities that are spread across vast distances and yet connected through the School's infrastructure and staff.
We value our strengths in research across diverse cultures, life stages and diseases. Projects include improving the quality of preventive health programs by trialling new programs and evaluating their effectiveness; improving screening for diseases by trialling new screening protocols; and improving the quality of primary health care by evaluating health services.
Our particular skills are in engaging diverse rural and Aboriginal communities with the health issues that they feel are most important, translating findings back into best care, and in building a rurally-based, broadly skilled health researcher workforce.
We foster collaborations with groups who have relevant expertise, with the expectation that our skills and community relationships will support feasible and meaningful research.
The School encourages collaborations between sites and with other rural clinical schools. The School's researchers regularly collaborate with Kimberley Aboriginal Medical Services (KAMS), a regional Aboriginal Community Controlled Health Service (ACCHS), providing a collective voice and health support for Kimberley towns and remote communities. The overarching aim of the School's research in the Kimberley is to improve and promote the health and well-being of Aboriginal people in remote Australia through the application of practical community and health service based research.
We promote a culture of collegiality and mentorship within our School. We foster up-skilling in research of all interested medical coordinators, and collaborations between early researchers or students and those with more established careers. The School has four research hubs at Broome, Bunbury, Kalgoorlie and Albany. These hubs support smaller sites with their research in different surrounding regions.
The RCSWA supports the annual presentation of our research within the School, and at conferences and in the peer-reviewed literature.
Diabetes
Type 2 diabetes (T2DM) is a largely preventable disease that involves a significant burden on individuals and communities. The current obesogenic and diabetes-promoting environments have a disproportionate effect on disadvantaged groups, including the development of diabetes at a younger age. Aboriginal and Torres Strait Islander people have higher rates of T2DM than other Australians do in all age groups, with larger differences in younger age groups – a time when the onset of diabetes is associated with earlier progression to serious health complications.

Avoiding the intergenerational consequences of diabetes in pregnancy where possible is also important. Screening for gestational diabetes mellitus (GDM) can potentially lead to improved obstetric outcomes for women with GDM.
Current projects
ORCHID Study: Predicting gestational diabetes mellitus in rural communities

Prevention of type 2 diabetes amongst young Aboriginal people in Derby, Western Australia

Kimberley Investigation and Description of type 2 Diabetes of Young-onset (KIDDY)

Understanding lived experiences for Aboriginal people with type 2 diabetes living in remote Kimberley communities
Improving health services
The School's research team has extensive experience in evaluating rural and remote primary health care services. By embedding research into health services and including health service providers as core members of the research team, we are better able to determine what information is required by these services to help them improve their services.
Current projects
Improving mental health screening for Aboriginal and Torres Strait Islander pregnant women and mothers of young children

Accessing health care at a remote WA Aboriginal Community Controlled Health Service: Pilot Study

The NINI HELTHIWAN project: Improving Primary Care for Aboriginal mothers and babies in the Kimberley region

Family Planning in the Western Desert

Improving the quality of end of life care in the Great Southern region
Kidney disease
Chronic kidney disease (CKD) is a significant health problem within Australia; accounting for almost $900 million in healthcare expenditure in 2004-05. Rates of detected CKD in remote WA continue to increase. Within Australia, rural and remote Aboriginal and Torres Strait Islander people are some of the most significantly affected by CKD. This is reflected by higher incidence rates of CKD within this population, particularly end-stage kidney disease where renal replacement therapy is required to sustain life. Our kidney disease research includes looking at risk factors affecting the development of kidney disease, and evaluating health outcomes for Aboriginal and Torres Strait Islander patients on dialysis.
Past projects
The Western Desert Kidney Health Project

This project is a multidisciplinary team of Aboriginal health, medical and community development workers and artists with the aim of reducing kidney disease and diabetes by 20 per cent in 10 Indigenous communities representing six language groups. The project covers an area about the size of Victoria and populated by almost 4,000 people whose expected lifespan is 17 years less than that of non-Aboriginal people. Contributing factors in this reduced life expectancy are kidney disease and diabetes. Visit the project's website to explore this research further.
Research Steering Committee
The Research Steering Committee (RSC) was formed in 2009 and is chaired by Associate Professor Julia Marley. It has ten members and meets by teleconference every two months. The committee focuses on mentorship, up-skilling, biostatistical and peer support, allocation of funding, and collegiality. The aims of the steering committee are:
continuing to develop a whole of School culture which promotes research
encouraging early career researchers and students to engage with a project
supporting established researchers to increase publication rate and improve their external funding success
The committee assesses requests for collaboration from external organisations in terms of how best to engage the local sites and research governance. This committee also reviews the MD projects proposed by RCSWA students.
If you wish to get in touch with the steering committee, please contact Ms Joslyn Pass or Associate Professor Julia Marley.
Our locations
The RCSWA ensures students are accommodated comfortably and have access to similar facilities as those enjoyed at home.
Our main administrative hub is in Kalgoorlie, with leaders and other staff situated at multiple sites across the State. The RCSWA also has a central point of contact in N Block at the Faculty of Health and Medical Sciences building at the UWA Health Campus.
Each of our rural locations includes an administrative and teaching centre with a medical library, internet, computers, printers, photocopiers and video-conferencing equipment.
Student accommodation consists of fully equipped and furnished homes with Wi-Fi. Our sites are listed below.
RCS Sites
Kalgoorlie – Administrative Headquarters

Urban Centre

Albany

Broome

Bunbury

Busselton

Carnarvon

Derby

Esperance

Geraldton

Karratha

Kununurra

Narrogin

Northam

Port Hedland

Warren Blackwood
I spent my RCSWA year in the Wheatbelt town of Narrogin. I had a wonderful time and found it to be a great clinical experience. Being at a small site meant there was continuity of care. I would see patients in GP, then in ED or the maternity ward and also with visiting specialists, which provided fantastic learning opportunities. The year allowed me to properly explore the role of a country GP and see just how diverse the job can be. Madeleine Gryta, RCSWA 2017, Narrogin
Contact the Rural Clinical School's Kalgoorlie Administrative Headquarters
Location
Rear Kalgoorlie Regional Hospital, St Alban's Road, Kalgoorlie