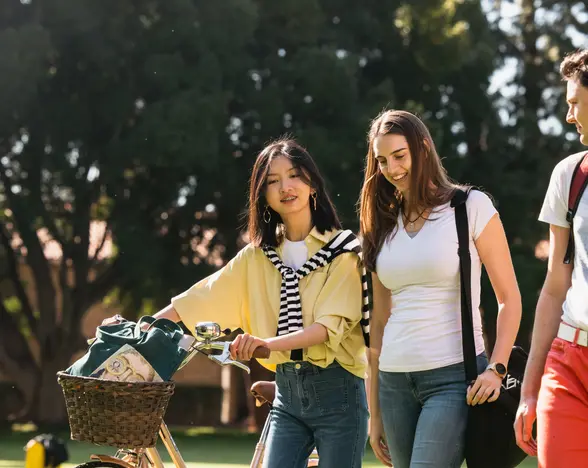 Experience UWA College
Step out from the classroom, there's so much to see and do in Perth.
A whole new world to explore
Nothing will compare to your learning experience at UWA College, but when you're not in class, there's a whole new world for you to explore.
Discover hidden gems around the historic UWA Perth campus, experience all the wonders of Perth and Western Australia and make new friends as you join clubs, attend events and make the most of your time at UWA College.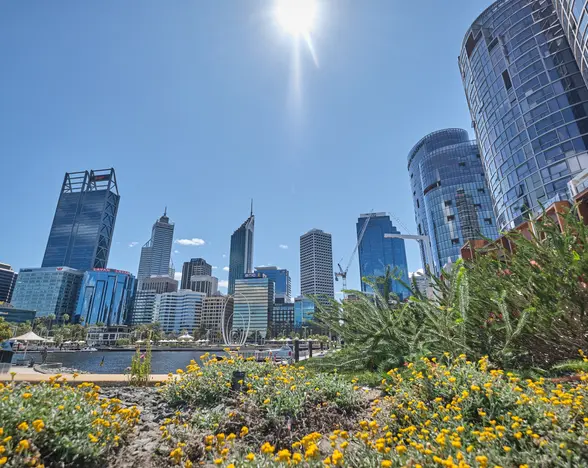 Living in Perth
By choosing to study at UWA College, you'll get to experience the best of what Perth has to offer. A vibrant and culturally diverse city that's perfect for studying, Perth is a great student-city for launching your future career.
The 12th most liveable city in the world (Economist Intelligence Unit's Global Liveability Index 2023) and Australia's 4th largest city, Perth is friendly and welcoming and offers an unbeatable student lifestyle. With UWA's picturesque campus located perfectly along the Swan River, you'll be within easy reach of Perth's CBD, pristine beaches and thriving social scene.
Perth is affordable, safe, spacious and multicultural. Although the feeling of moving into a new city seems overwhelming and hard, remember that you are not alone. All the other students are also facing the same situation. Therefore, don't hesitate to talk to your friends and ask for support, especially from UWA College as they are always there to support you.
Grace, Myanmar
UWA Foundation Program Diploma in Science
Perth offers an unrivalled lifestyle with more than 8 hours of sunshine a day, good to very good air quality year-round (World Air Quality Index Project), and easy public transport.

As a UWA College student, you get to experience Perth at its very best, from trendy quirky neighbourhoods like Fremantle, to the breathtaking wildlife of Rottnest Island and the Coral Coast.

Perth is also one of the most affordable destinations for students looking to study in Australia:

Perth is one of Australia's most affordable capital cities - cheaper than both Sydney and Melbourne! (Worldwide Cost of Living Survey 2022, Economist Intelligence Unit)
International students receive a 40% discount on public transport, and the Central Area Transit (CAT) buses that operate around the city are free.
Perth has been in the top 50 Student Cities for 8 years (QS Top University Ranking)

Find the perfect place to call home with our range of accommodation options. From on-campus living to Perth city apartments and homestay experiences, we have somewhere to stay that will suit you. All are safe and welcoming, leaving you free to enjoy your time at UWA College to the fullest.

Australia's gateway to Asia

Perth is perfect for staying in touch with friends and family back home, where 60% of the world's population are in the same time zone (+/- 2 hours) as us. The closest major Australian capital city to Asia, Perth has regular, direct flights to Hong Kong, Tokyo, Singapore and many more cities.

Perth's unique position in Western Australia makes it the ideal location for global industry and business. Not only can you start making career defining industry connections from your first day at UWA College, but there are a range of volunteering and work integrated learning opportunities available as part of your UWA degree.

Regional City Status: up to 6 years* post study work rights, one year longer than Sydney, Brisbane or Melbourne
A third of Australia's ASX listed companies are based in WA.
Perth is home to the highest number of self-made millionaires in the world
Perth is home to more than 100 resources and energy companies and 8 of the world's 14 largest international energy and mining companies.

*Additional two years of PSW visa valid for eligible courses only. Course details via the Department of Home Affairs.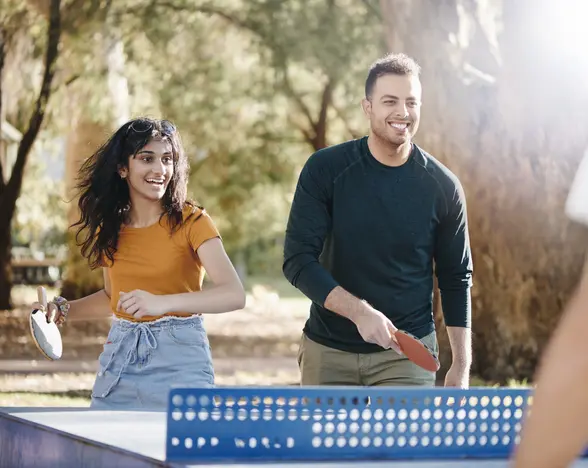 Student life on campus
As a UWA College student, you'll get to immerse yourself in all the student events, clubs and societies that UWA is renowned for.
With a lively cultural scene, including places to eat, drink, and shop, UWA's Perth campus is more than just a university.
You will enjoy an unparalleled student experience with new friendships and fun as a UWA College student. As part of the diverse and inclusive UWA campus community, you'll meet new people and create meaningful connections for life.

International student lounge

The International Student Lounge is located at Shenton House and is a space for all international students at UWA to connect and find support.

The International Student Lounge also features:

Safe space place to chill out and connect with peers
Polaroid wall of visitors to the lounge
Road trip wall – photos and articles on the wall of student road trips in WA
Free merch such as keep cups, totes, free snacks
TV to hook up your laptop to watch Netflix

Not only will you get to make the most of UWA College's purpose-built student hub, right in the heart of UWA's Perth campus, but you'll also get to experience all the world-class facilities that UWA has to offer. UWA's wide range of facilities provide students with the chance to engage in real-life learning environments that emulate on-the-job training with hands-on, career-ready experience.

Health and medical facilities

With a medical centre and pharmacy on campus, access to confidential health advice is easy. UWA College students also have access to UWA's free safety app, SafeZone, connecting you directly with UWA Security and an on-call doctor service.

Learn more about health and medical facilities

In 1980, the UWA Perth campus was adopted into the National Estate by the Australian Heritage Commission, with many locations on campus listed on the State Heritage Register and Municipal Heritage Inventories. With its iconic sandstone buildings and guiding planning principles of creating a 'university in a park', UWA's Perth campus has unparalleled hidden study gems and places for you to stop, relax and take in the natural beauty of the campus. You might even be joined by a native animal or two!

UWA College and UWA also have the immense privilege of sitting on the sacred soil where Western Australian kaartdijin, or knowledge, began. It has been a place to gather and learn for tens of thousands of years, with stories and lessons shared from generation to generation of the world's oldest continuous culture.
You are welcome here. Student Experience is a passion of ours and it sits at core of our education roadmap. A successful study journey starts with a sense of belonging and we've got you covered. From listening to what you have to say and encouraging connections, to helping you make the most of your time exploring this amazing part of the world and supporting you as you navigate this exciting new adventure.
Michelle Marr
Head of Student Services
Student services and support
Students are at the core of everything we do at UWA College. Throughout your studies, you'll have access to a fantastic range of student-centred support.
When you arrive at UWA College, the Student Services team will help you settle into student life in Perth and remain your first point of contact for a range of academic and non-academic matters.
An essential part of all new UWA College student journeys, Orientation helps you to engage with your new peers, welcomes you into the UWA College community and ensures you have a smooth and memorable transition to life in Perth.

You'll take part in an orientation program in the week before your studies start to give you the chance to meet other students, help you settle in and give you all the information you need to be successful at UWA College.

At Orientation, you will:

Have the opportunity to have any questions answered or raise concerns in a supportive environment
Form connections with your new classmates
Attend guided information sessions to ensure success in your studies at UWA College
Explore Perth and UWA's Perth campus to get familiar with your new home in Australia!

"The orientation was awesome. I met new friends and learnt more about UWA College. It really helped me to adapt to the new life in Perth."

Winnie, Hong Kong

Academic support and progression

Our teachers understand the unique needs of international students and are dedicated to your success. In the first week of your UWA College course, you'll meet with your designated Academic Liaison. You can approach them for help with any academic questions or personal issues at any time throughout your studies. They'll help you settle into life at UWA College, monitor your academic progress, and can refer you to additional academic and welfare support if needed.

In addition to UWA College's one-on-one support, you'll also benefit from UWA's academic support services, including study skills workshops (STUDYSmarter), extensive online resources and more.

At UWA College we offer tailored support during your student journey, where you'll also have access to UWA's confidential medical, welfare and mental-health support with a variety of specialist services and a pharmacy on campus. If you're looking for a doctor or GP, there's a Medical Centre on campus, as well as counsellors, mental health nurses, psychologists, physiotherapists and more. Drop by our Welcome Desk, you don't need to make an appointment - there's always someone available to listen and help.

Under 18 Support and Safety

We understand that students under 18 years of age need extra care and support. If you're under 18, we've got you covered and have a bespoke under 18's team at UWA College who specialise in assisting students to settle into life in Perth.

A security team is on campus 24/7 and available to walk you to your car, bus stop or UWA accommodation after hours. UWA College students also have access to UWA's free safety smartphone app, SafeZone. With SafeZone, you'll be connected directly with UWA Security if you ever need help on campus, 24/7, with just the press of a button.

Making friends at UWA College is easy with our range of student-centred activities and events. As a UWA College student, you'll be joining our community of empowered students who work together and help each other thrive.

Throughout your studies, there will be UWA College organised excursions, on-campus events, volunteering opportunities and career support days to help you get to know your peers and make the most of your UWA College experience.

UWA College Community app

Designed for international students, the INTO Community app provides UWA College students with a unique and private forum to connect with your peers, get support, find out about events and learn more about job and mentorship opportunities.

The staff at UWA College are super supportive and helpful. They supplied all the relevant information I needed pre-arrival and were truly responsive through email as well. During orientation, the programs were really well thought out and the UWA College community were really friendly and cheerful. They welcomed us with open hands and made us international students feel at home and welcomed
Isabelle
Malaysia
UWA Foundation Program
UWA College
Level 2, Student Central Building- The University of Western Australia
M506, 35 Stirling Highway, Crawley
Western Australia 6009
+61 (0) 8 6488 1009
Provider
The University of Western Australia (UWA) UWA College in Partnership with INTO Perth

INTO Perth Pty Ltd is an approved third-party provider of The University of Western Australia and will provide the course on its behalf.