At UWA, you can enjoy an unparalleled student experience and seek new experiences, friendships, fun and even a helping hand if you need it. As part of our diverse and inclusive campus community, you'll meet new people and create meaningful connections for life.
Share your UWA journey with us. We want to see the UWA experience through your lens! #UWA #UWAStudents
#1 IN AUSTRALIA
for on-campus events and activities
Sport
Join our gym with state-of-the-art equipment or sign up for group fitness classes, free yoga or social sports including basketball, Ultimate Frisbee and more.
Clubs and events
With 160+ clubs and societies spanning anime to zoology, and Australia's most active Student Guild, you're sure to find your community at UWA no matter what you're interested in.
Cafés and shops
We've got cafés all over campus, the Tav and the Refectory which houses your favourites like Subway, Roll'd, Utopia and Rocketfuel, along with other cuisines. Next door, Guild Village provides a grocery store, pharmacy, ATM and more.
This is Lara, a third-year Juris Doctor student. Lara travelled to Geraldton to undertake her internship with Regional Alliance West (RAW), a not-for-profit organisation offering access to information, advice and support to people experiencing difficulty in rural WA. Lara absolutely recommends a McCusker Centre internship to all students and says it's undoubtedly been her best university experience.
This is Sohail, a Genetics and Data Science student. He's passionate about human rights and justice, which is why he got involved with Students for Refugees (S4R) at UWA. Being S4R's Vice President has been an amazing experience and taught him invaluable lessons about leadership and community involvement. He says he cannot be luckier to work with a group of like-minded individuals who are passionate about the same things as him.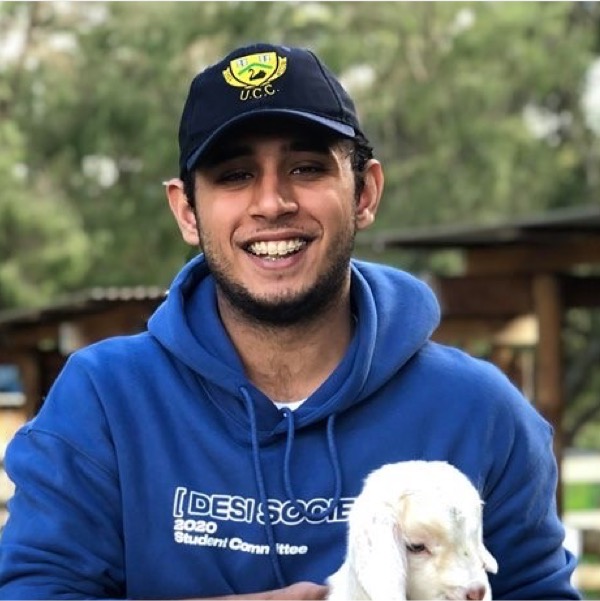 This is Dhruv, a third-year Pharmacology student. Earlier this year he became the Marketing Director for MAN UP, an organisation that spreads awareness of toxic masculinity while empowering young men. As MAN UP's Marketing Director, Dhruv works on content creation for their social media platforms. He is also passionate about health and clinical sciences and, after he finishes his undergrad, he hopes to further his biomedicine studies in a more patient-oriented setting through a pathway like the Doctor of Medicine.
This is Rob. He reckons he's made too many friends to count at UWA. Because of the incredible social side of UWA, he's found it easy to meet people in classes, clubs and everywhere else. He's been Co-President of the AusIMM UWA Student Chapter, which prioritises bringing industry and students together, and hosts events, forums and excursions aimed at promoting the mining specialisation at UWA and introducing students to real-world connections before their careers have even begun.
Beyond

our campus
Learn more about where UWA is located, just 10 minutes from WA's thriving capital city, Perth.
Life-changing
opportunities
Work integrated learning placements and internship
It's never too early to explore your options. Stand out in the crowd and gain real-world experience while completing your degree.
Volunteering
Volunteering is the perfect way to make a positive impact, meet people with the same interests as you and develop skills that'll stand out on your résumé.
Study abroad and student exchange
Learn how you can study, live and travel abroad while gaining credit towards your degree at one of our 150 partner universities.
Supporting you
to succeed
We know starting university can be a bit daunting at times. Whatever your needs or concerns, we're here to help. Discover all our support services covering academic, financial, welfare, health and wellbeing.
A helping hand
Whether you've come from overseas, a regional location or simply down the road, our UniMentor program will connect with a current student who'll help you navigate life at uni.
Accommodation
Whether you're looking to live on campus in a residential college or off-campus, we have plenty of accommodation options to suit.
Study support
We're here to help you with free academic skills development programs to improve your study techniques, time management, writing, communication, English language, maths, stats and research skills.
Accessing higher education
We're committed to providing various admission pathways to joining us at UWA and supporting our students no matter their background.
An inclusive community
UWA has a nationally recognised program that actively supports students (and staff) who identify as LGBTIQA+. We're the only university to consistently rank in the top 10 for LGBTIQA+ inclusion since the inception of the Australian Workplace Equality Index.
Online learning
Learning online can be a great way of learning as you can work at your own pace, set your own schedule and work from any location.