The University of Western Australia has a continual roll call of awards, scholarships and prizes presented to staff and students.
To recognise these achievements, an article is published on the UWA news page on the website and in UWA Forward on the first week of every month. If you know of great awards or achievements across the University please email uwamedia@uwa.edu.au
Name: The Living Room
Achievement: Student support centre The Living Room was recognised at the WA Mental Health Awards 2022 with the Prevention or Promotion Award, presented by Lifeline WA. The Living Room is a welcoming, inclusive and student-focused space that promotes wellbeing through early intervention, peer support and low barrier access to UWA health services to encourage connection and belonging at the University. The awards, which are presented by the Western Australian Association for Mental Health, commend the individuals, organisations, groups and projects for outstanding contributions to the State's mental health sector and for benefitting the wellbeing of the WA community during the 2021 calendar year.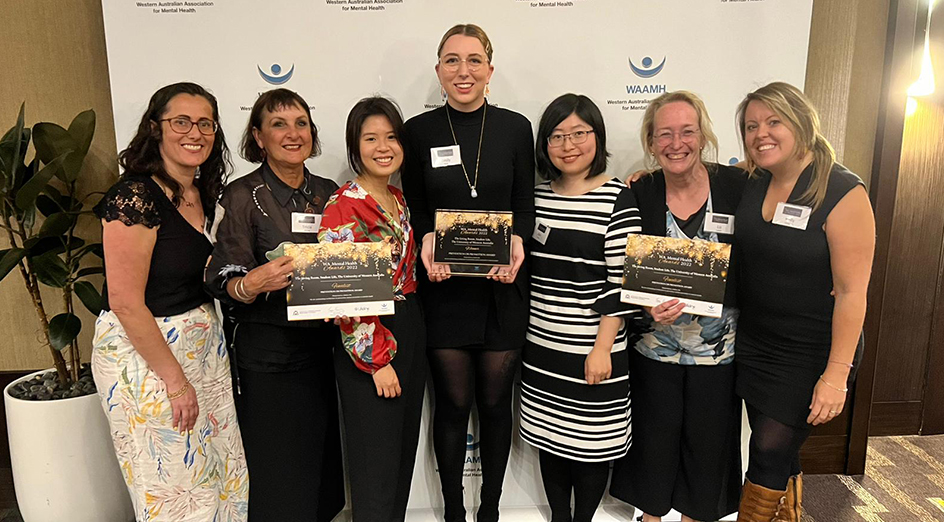 Image: Winners from student support centre The Living Room.
Name: Curtis Rollis
Achievement: Research Assistant Curtis Rollis, from UWA's School of Agriculture and Environment, was selected as one of 330 economists to attend the Lindau Nobel Laureates Meeting in Economic Sciences. He attended along with 19 Nobel Laureates in economic sciences in the southern German town of Lindau. During the five-day conference, Curtis spent over 12 hours per day learning from Nobel Laureates in lectures and networking with other world-leading young economists. He was able to discuss his PhD research with leading academics such as US economist Dr Richard Thaler, which has already influenced the direction and focus of his thesis and research going forward.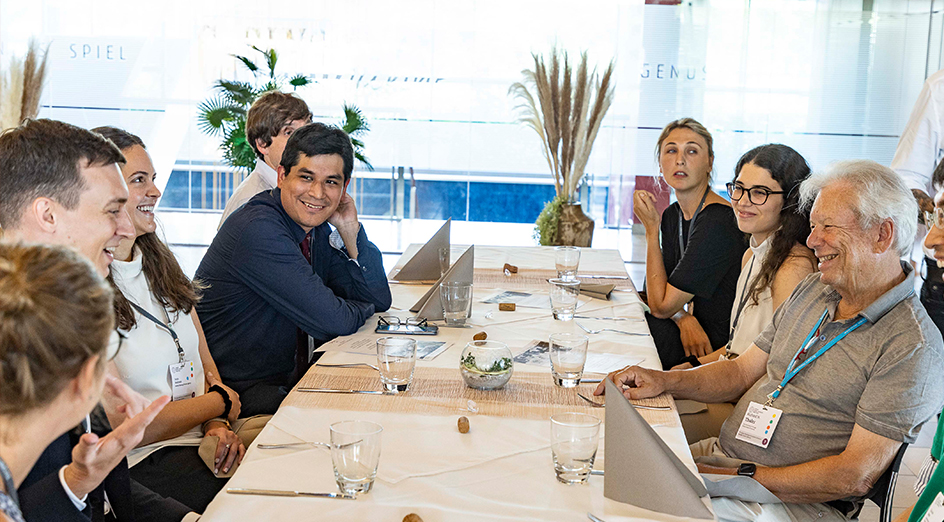 Image: Research Assistant Curtis Rollis (second from left) discussing his work with Dr Richard Thaler.
Name: Bruce Robinson
Achievement: Professor Bruce Robinson has been awarded the Cancer Council WA Researcher Career Achievement Award for 2022. The award recognises a senior cancer researcher with a history of significant achievement in the field and a strong record of leadership in administration, advocacy and promotion of cancer research. The Cancer Council WA said Professor Robinson's research program had led to critical and longstanding improvements in terms of disease burden due to asbestos cancers, mesothelioma and lung cancer. His contribution has helped Perth be recognised as one of the leading research locations for mesothelioma.
Name: Elisabete da Cunha
Achievement: Dr Elisabete da Cunha of the International Centre for Radio Astronomy Research was named WA Portuguese Citizen of the Year 2022 in the Profession category, for her work as an astrophysicist. This award is organised by the Portuguese Community Council of Western Australia and was presented at a gala dinner in August by the Honorary Consul of Portugal in Perth and the General Consul of Portugal in Sydney.
Name: Parwinder Kaur
Achievement: Associate Professor Parwinder Kaur, from the UWA School of Agriculture and Environment, has been awarded the Tech [+] STAR award at the Women in Technology awards. Women in Technology WA is the leading advocate for diversity, inclusion, and equity for women in technology in Western Australia. Associate Professor Kaur is currently travelling, championing Australia-India relations in biotech at the Bangalore Tech Summit, so her award was accepted by her mother. Associate Professor Kaur said her mother had been crucial in her studying at university.
Name: Lakshini Herat
Achievement: Dr Lakshini Herat, Research Associate from the UWA School of Biomedical Science, and her team have secured funding from Diabetes Research WA to investigate whether a new type of medication used to lower blood glucose levels in Type 2 diabetes may also help reduce health complications in Type 1 diabetes. The $60,000 research grant will be used to study the effects of the drug sotagliflozin – which inhibits two proteins, SGLT1 and SGLT2 – in Type 1 diabetes. The team believe the medication may provide superior protection to the heart and kidneys, with diabetes a leading cause of end-stage kidney and cardiovascular disease.
Name: Somayra Mamsa
Achievement: Somayra Mamsa, a PhD candidate in biochemistry and 2021 Westpac Future Leaders Scholar, received a Rising Star (STEM Academia and Research) award in the Women in Technology WA awards. The Rising Star award is for an emerging leader in the area and Ms Mamsa was given the award alongside Shining Star winner Dr Natasha Hurley-Walker from Curtin/ICRAR.
Image: Research Associate Lakshini Herat (left) and PhD candidate Somayra Mamsa.
Name: Ingrid van Bremen
Achievement: Dr Ingrid van Bremen, an Adjunct Senior Lecturer at UWA's Design School, was announced the Professional Contribution winner at the 2022 Western Australian Heritage Awards. Dr van Bremen has contributed to the conservation of WA's heritage for over 35 years through her professional practice and teaching role at the University, where she established and continues to lecture in the Graduate Certificate in Architectural Conservation.
Image: Dr Ingrid van Bremen.
Congratulations UWA staff and students.