Dr Jared Watts was in his sixth and final year of specialist training when he spotted a job advert for a regional obstetrician and gynaecologist (O&G) in Broome servicing the vast Kimberley region.
Broome was where he had spent a formative year training with the Rural Clinical School of Western Australia (RCSWA) in 2004 as part of his medical degree.
"I thought, it can't be true, my ultimate job that I've always wanted, that I thought would take me 20 years to find!
"I applied and was lucky to be successful."
The resident O&G in Broome at that time, Dr Wendy Hughes, was to take Dr Watts under her wing and taught him well.
"The Aboriginal women also took me under their wing and taught me 'secret women's business'."
"There was some initial concerns as I was a young male doctor, that no-one would turn up to my clinics, but they soon were busy. They often used a nickname for me, 'Ladies Doctor Jared', especially in the East-Kimberley. "
When Dr Hughes later stepped down, Dr Watts was promoted to head of O&G in the Kimberley in 2018 and became the co-director of Obstetrics and Gynaecology for the WA Country Health Service (WACHS) in 2021.
A lot of people say there's not many opportunities for doctors in rural areas to progress their careers. I would say it is quite the opposite and I have had some amazing opportunities including being a clinical senator. If I had stayed in the city, I probably would not have had the same opportunity and support.

Dr Jared Watts
To attract Federal Government investment in rural health and clinical research in the Kimberley, Dr Watts knew he had to reach for a national platform – becoming a Council Member with the Royal Australian and New Zealand College of Obstetricians and Gynaecologists (RANZCOG).
His nomination in 2017 by then WACHS director of O&G, Dr Diane Mohen, would be a stepping stone.
"Diane said to me 'to make a difference in the world, you need to get involved in politics and leadership, and change policy'.
"I am sure with her name on the voting slip as my nominee, I was very lucky to be successful with my first application and that opened up a new world.
"I now sit on the Board of RANZCOG and meet with ministers both at the State and Federal level. It's brilliant because you can be a rural O&G that is able to talk directly to decision makers. It has helped with sourcing significant funding for research and projects in rural areas," he said.
Dr Watts is spearheading some world-first research projects in the Kimberley, one being a joint project with Notre Dame University trialling point-of-care cervical screenings.
"We can go into an Aboriginal community with a machine and women can do a swab on themselves and we can get an answer within 45 minutes. Based on the results, they can then have any further investigations and treatments needed at the same time to prevent cervical cancer," he said.
One year in, the project has been challenged due to the COVID-19 pandemic and restricted access to some remote communities but Dr Watts is excited by how life-changing the technology could prove for women
"I always use this example; If a woman in Balgo wants to see me, she faces a plane trip to Halls Creek and then maybe a bus trip at 2am into Kununurra. She then has to stay overnight and see me the next day. The plane only runs twice a week so that's another two nights she has to stay.
"In the wet season, the plane might not be able to land so she's stuck for up to two weeks in Halls Creek. The whole time she has children to think about back in the community. She's given up so much, all for a 15-minute appointment to see me.
"We're hoping that once we prove the technology, that we can roll it out as standard to all women," he revealed.
Dr Watts and two RCSWA medical students are also researching the prevention of skin infections in caesarean sections of women from remote communities.
The Kimberley reportedly had the highest infection rate after caesarean section in the state.
"So, we have taken a step back and looked at reducing the bacterial load on their skin while we do caesarean sections."
"We're using different types of preparations in theatre, different types of bandages, different ways of looking after the wound after surgery. We've reduced the infection rate 14-fold," he said.
Currently a Medical Coordinator for RCSWA Kununurra one day per week, Dr Watts is determined to get all his students involved in surgery "from day one".
"I say in my introduction to students that quite often when I operate, they will be my first assistant. It's incredible the opportunity these students get because in big hospitals the registrars are fighting to do surgery. In Kununurra and the smaller RCSWA sites they don't have to," he said.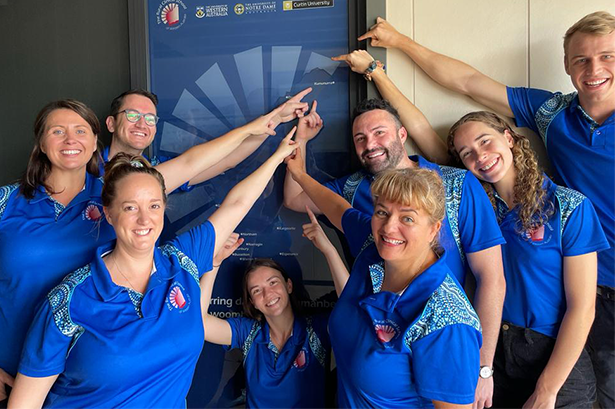 Image: Dr Jared Watts with his fellow RCSWA Kununurra Staff and Students (class of 2021).
"A lot of my students when they sit in with me, are amazed because they've seen the patient in the GP rooms and then a few weeks later they may be there for their surgery. The patients love it too. They've seen this student doctor right from the GP through to the surgery."
Students can naturally feel nervous heading to smaller hospitals such as Derby and Kununurra where there are no crowds of specialists like in the city, but Dr Watts believes this is an opportunity for students to get more hands-on.
"The working teams in small country hospitals are brilliant. You all get to know each other and call each other for help all the time. If I'm in theatre and run into a problem with a patient and need a general surgeon, they're usually in the office next door," he said.
"To the student doctors who haven't tried a rural clinic, I would say come and try before you buy. I think you will find it's an absolutely fantastic career."
So, what will Dr Watts try next?
He will keep trying to represent regional and remote women on the national stage as a 'hybrid-manager', and develop further his skills in clinical research.
"Dr Michael Gannon was one of my mentors early on who said clinical medicine on the front line is fun, and you can make a big difference to one woman at a time, but you need to get involved in the difficult world of politics and leadership to make a difference to thousands of women at the same time.
I'm hoping I can continue to yell for rural women on the national stage.

Dr Jared Watts
Ladies Doctor Jared may get louder.
Image: Dr Jared Watts enjoying some time off, flying over the Bungle Bungles in a helicopter.