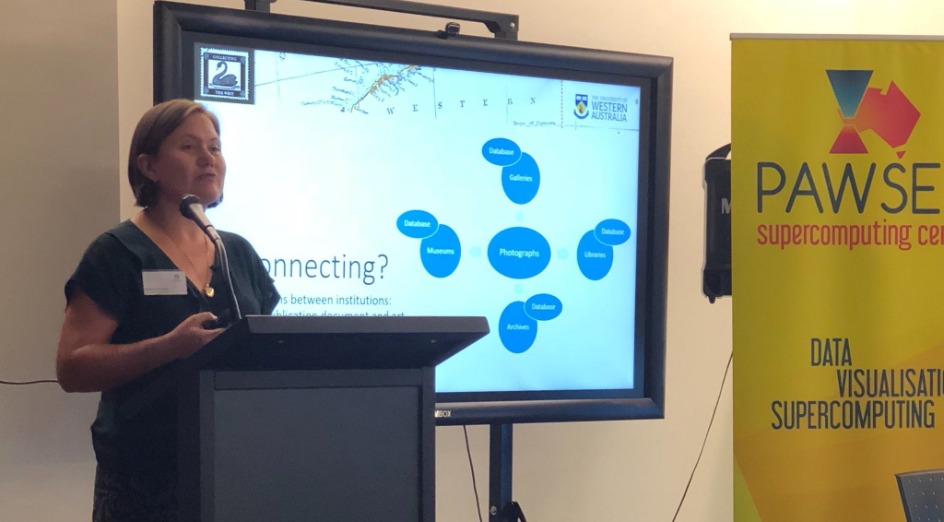 It takes commitment and genuine interest in your subject matter to do a PhD – and sometimes a willingness to change course as circumstances change.
Most of all, be realistic, says Rebecca Repper, whose PhD project is combining her interest in photographs and databases with a study of WA's cultural and historical collections, and the history of collecting in this State.
Rebecca previously worked with the Endangered Archaeology in the Middle East and North Africa project at the University of Oxford before returning to WA and becoming involved with the ARC Linkage Project 'Collecting the West'.
With partner institutions like the WA Museum, the Art Gallery of WA, the State Library of WA and the British Museum, and a specialist supervisor team (Professor Jane Lydon, Professor Alistair Paterson and Dr Toby Burrows), Rebecca saw an amazing opportunity and jumped at it.
She's now more than halfway through her PhD on WA photograph collections, and has continued involvement with the 'Collecting the West' project that aims to understand how collecting institutions (such as museums) shape our understanding of our collections and histories.
"The best thing about my degree is my topic and the fact I have very supportive supervisors and wonderful support staff in Humanities," Rebecca says.
"Doing a PhD can be hard at times, and somehow it seems to cause life to throw everything at you at once, but my supervisors provide constructive support to both my research and how I navigate doing a PhD as a person, and the support staff in the School of Humanities have been very responsive to all of my questions (I had a lot in my first year!)."
Although Rebecca initially took up a scholarship to support her research, she says it's important for each researcher to find a path that works for them.
"I had the opportunity to work on the Aerial Archaeology in the Kingdom of Saudi Arabia project – a project that was too good an opportunity to pass up," she explains.
"A scholarship allows you to better concentrate on your research and be less reliant on outside sources of income; but it's best to really think about your life budget, your research budget, and be realistic about the time it will take to complete your research, and choose scholarship/work/study commitments that work for you."
Rebecca advises against doing a PhD just for the sake of it; but once you commit, treat your topic and yourself with the respect they both deserve.
"These things are hard, intellectually as well as emotionally, and three years sounds like a long time, but it is not, it flies by!" she says. "Make sure you have seriously investigated and considered your supervisor options, because good supervisors are gold and will get you over the finish line."
"This is serious work – you are a researcher. To be accepted as a PhD candidate means you are a researcher, so do not accept a less than serious work space or environment because you are 'just a student'."