Fancy a seat at the UN table, representing our country on a world stage? The hands-on, practical learning in a UWA degree could get you there – just like it did for UWA student William Paparo. The Master of International Relations graduate travelled to Switzerland for a six-week internship at the Australian Permanent Mission to the United Nations in Geneva.
"When I started at UWA I never imagined that, in just over four years, I'd be offered the opportunity of actually doing human rights work and even sitting in on UN Human Rights Council sessions," William says.
It's well known that learning beyond the books is integral for a successful future career, and William took his chance to seek out a real-world industry experience to set himself apart in the workplace.
"Even well before I left school, I'd always been fascinated by the vital role the UN plays in world affairs, so for me, it was quite a natural progression to spend my university days learning as much as I could about this important institution, as part of many courses on global politics and economics."

William Paparo
The Australian Permanent Mission to the UN in Geneva is responsible for representing Australia's interests in the United Nations system, and interns are involved in supporting and advancing Australia's interests at the international level in a range of areas.
William says interns can be required to represent the Australian Government in a formal capacity, such as assisting with negotiations of texts and resolutions and attending committees and meetings.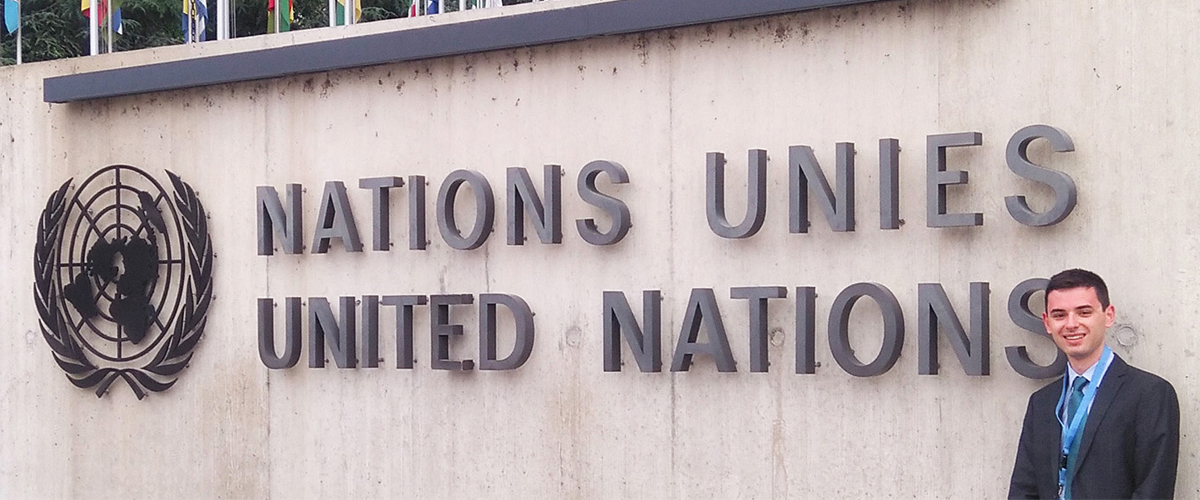 "It was a great honour to be in Geneva helping, in just a small way, to represent Australia's interest in the UN system and also fantastic that my years of study at UWA and strong interest in the field were put to good use," he says.
Find out more about our Political Science and International Relations major or Master of International Relations.
You can also contact our Future Students team on 131 UWA (131 892) or future-students@uwa.edu.au.