Where can you find a cathedral-like venue, a marble and mosaic foyer and vaulted ceilings? The home of majestic architecture, a place known as the 'jewel' in the crown.

Could this be the famous Winterfell from Game of Thrones? Or, a venue of grandeur found right here in the heart of Perth?


As the first established university in Western Australia, UWA's Winthrop Hall is seasoned with history and the home of many great vice chancellors, professors and global researchers.

Unlike the cold lands of Winterfell where hot springs keep the castle warm through the worst winters- here at Winthrop Hall, you can leave your fur blankets at home. In sunny Perth, the climate calls for cool, air-conditioned comfort and a hall that seats an impressive 974 people.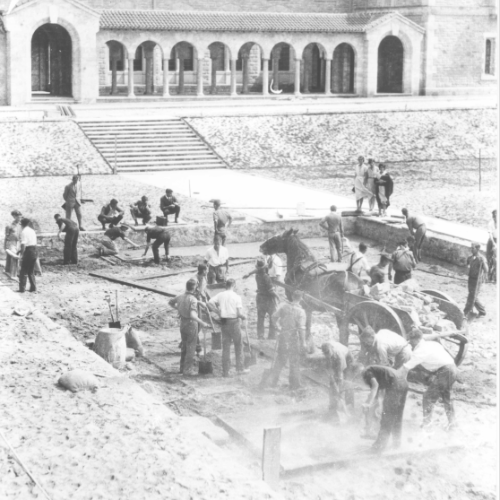 Legend says Winterfell is over 8000 years old and while Winthrop Hall may not be thousands of years old, it does have a rich history. It was built in 1932 and is located at the southern end of the UWA campus. The auditorium combines stained glass windows and Aboriginal motifs on the ceiling. The pipe organ is the show piece of the building and was originally intended to be installed on completion of the building in 1932. However, due to the financial strain placed on the University during the Depression and WWII, they were forced to delay its instillation until 1965, years after the completion of Winthrop Hall.

Just as the great hall of Winterfell plays host to Lady Sansa Stark and her guests, Winthrop Hall has hosted some of the most prestigious events in the region including the Rally Australia Ball, productions by the West Australian Opera and Oz Opera, the Choir of Kings College, Cambridge, and the West Australian Symphony Orchestra. The Hall has welcomed many Prime Ministers, Presidents and Heads of State, including the 2011 Commonwealth Heads of Government Meeting where true royalty, Her Majesty the Queen was a special guest.


When you imagine the kingdom of Winterfell, you picture a grand castle and high walls to protect the people. And you're right. The outer wall of Winterfell stands at eighty feet high and the inner wall at one hundred feet high. But, did you know that our very own Winthrop clock tower stands taller at an incredible 150 feet high?

As well as the clock tower, Winthrop has six rooms that originally accommodated staff and research students. And while there might not be hidden passages, it is now used as a wonderful performing arts theatre and venue for formal dinners, conferences and functions.

From Winterfell to Winthrop, UWA stands as a kingdom of its own as Western Australia's only top 100 ranked university. A home to many great leaders and possibly the next Prime Minister, Premier, Justice of the High Court, Rhode Scholar or Noble Prize Winner.