Studying a Master of Physics prepares you for a wide range of careers as you'll develop top of the range problem-solving and research skills. You'll be trained up to work at the leading-edge of ideas in science, technology, academia, government and other industry sectors.
Sounds good, but what is Physics all about?
Essentially, Physics is all about understanding the world around us at its most fundamental level. It is often the driving force behind innovative technologies, from radars and lasers to medical imaging and quantum computing.
Physics has an enormous range of applications you might not even have thought of yet. What is certain is you'll need a passion for making new discoveries and be agile to changes in technology and new ways of working.
The right Physics specialisation for you...
Postgraduate Physics at UWA covers all the major frontiers of current Physics research and you can choose to specialise in either Astronomy and Astrophysics, Computational Physics, Experimental Physics, Medical Physics or Theoretical Physics.
What have our recent grads done with their Master of Physics?
Let's delve further into our Physics specialisations to find out where a Master of Physics has taken some of our recent grads. Plus hear what our students and grads have to say about their experience of studying a Master of Physics.
Astronomy and Astrophysics specialisation
Astrophysics is focused on the study of the physical nature of stars and other celestial bodies, and on the application of the laws and theories of physics to the interpretation of astronomical observations. With increasing investment in Australian's Space Sector and the development of the Australian Space Agency, now is an exciting time to specialise in astronomy and astrophysics.
You'll have the opportunity to connect with world-leading researchers from the International Centre for Radio Astronomy (ICRAR), The ARC Centre of Excellence for Gravitational Wave Discovery (OzGav), and the ARC Centre of Excellence for All Sky Astrophysics in 3 Dimensions (ASTRO 3D).
This specialisation is right for you if you're interested in:
Radio Astronomy and the Interstellar Medium
The physics of the extremes: extreme densities, temperatures, scales, etc.
Astro-statistics, Galactic Dynamics, Compact Objects, and High-Energy Astrophysics
Hear from Jennifer...
Jennifer specialised in Astronomy and Astrophysics and is now a PhD student at ICRAR, exploring the link between angular momentum and star formation cycle in nearby galaxies.
Studying a Masters in Astronomy and Astrophysics was an excellent experience, as I was able to develop an understanding of the fundamentals of astronomy while also specialising in galaxy evolution through my research project. The environment at UWA was incredibly supportive, with many friendly lecturers encouraging me throughout all aspects of the program. Courses are very thorough covering all aspects of astronomy and include assignments and projects which are good preparation for a career in research. The student community within the astronomy specialisation is also extremely welcoming and collaborative, which gave me the extra support I needed. By taking this masters course it inspired me to continue into a PhD and has given me the skills to succeed.
Computational Physics specialisation
Computational Physics is a rapidly growing and highly interdisciplinary field of study. Your ability to use high-performance computing to solve leading-edge problems will put you in high demand in tech and research industries.
During your studies you will have access to the latest supercomputing hardware and be able to collaborate with leading computational scientists at Pawsey Supercomputing Centre.
This specialisation is right for you if you're interested in:
Quantum information science
Quantum computing
Mathematical and numerical methods
Statistical analysis
Machine learning techniques
High performance computing
Hear from Edric...
Edric specialised in Computational Physics and is now studying a PhD in the field of Quantum Computing.
As a Master's student specialising in computational physics, I grew my understanding of quantum theory while developing a multidisciplinary skillset in high-performance computing. I applied this to my research in quantum computing, where I developed software to study near-term quantum algorithms. Quantum computing offers a unique opportunity for student researchers to make foundational contributions to a high impact field while developing highly employable skills. Studying computational physics at UWA allowed me to collaborate with intelligent and creative people in a highly supportive environment. It has opened the door to internship opportunities with which I've developed professional connections in the classical-supercomputing and quantum-accelerated-computing sectors.
Experimental Physics specialisation
In addition to the fundamental physics courses, you'll be trained in our world-class laboratories which are developing quantum measurement techniques for precision measurement to probe fundamental questions about our universe, testing theoretical predictions, discovering new phenomena, as well as solving practical technical challenges.
This specialisation is right for you if you're interested in:
Broadening your experimental skills
Testing theoretical predictions
Advancements in new technology
Advanced data analyse techniques and computer modelling
Hear from Jesse...
Jesse Schelfhout was named Western Australia's Rhodes Scholar for 2022 and completed a Master of Physics (Experimental).
The Master of Physics with an experimental physics specialisation has been fun and exciting, allowing me to work at the interface of interesting theory and frontier experiment. I have had the opportunity to perform atomic structure calculations using a supercomputer and to collect data using an optical atomic clock. My supervisor has supported me to bolster my research profile through the publication of journal articles, a presentation at an international conference, and collaboration with researchers around the world, all at the pinnacle of emerging research. I now feel well-placed to be involved in the rapidly growing field of quantum technologies that is set to impact our way of life over the next few decades.
Medical Physics specialisation
Gain the technical expertise needed for a career as a medical physicist in Australia with our Medical Physics specialisation.
You'll develop the knowledge and skills to combine physics principles with engineering methods and techniques in the clinical environment and in research, for the prevention, diagnosis and treatment of human diseases.
With our strong partnership with Sir Charles Gairdner Hospital and private centres across Perth, in addition to our international research collaborators, you'll be taught by leading clinical medical physicists who are operating at the forefront of the profession, so you'll gain real-world learning on how medical physics problems are handled in the hospital environment.
This specialisation is right for you if you're interested in:
Working in healthcare
Advances in patient diagnosis and therapy
Medical radiation treatments, devices, and technologies
Diagnostic imaging
Hear from Rikki...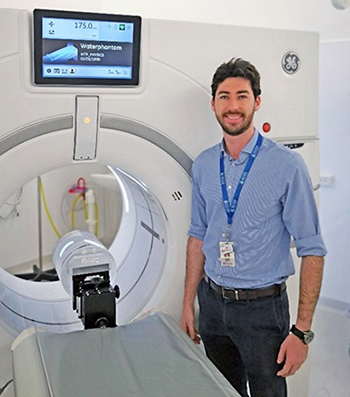 Rikki specialised in Medical Physics and is now the managing medical physicist at Precision Radiation Services.
The most enjoyable aspect of studying at UWA was having the opportunity to meet so many excellent and inspirational people, in the Medical Physics research group and through various UWA student associations and events. I was also grateful to benefit from an exceptional level of support and mentoring from the staff and students in the research group. The best advice I could give current students is to not underestimate the importance of having good communication skills – Medical Physicists are required to cooperate with many different people across multiple working groups and specialties. Also, take advantage of networking opportunities to meet Medical Physicists working in academia and industry. This can be incredibly useful for getting a great job in Medical Physics.
Theoretical Physics specialisation
Theoretical physics deals with the formal mathematical construction of physics. You'll gain the advanced theoretical, mathematical and computational skills needed to explore and explain the fundamental physical theories that oversee the interactions between space, time and matter.
This specialisation is right for you if you're interested in:
Inventing and studying theories
Mathematical models and abstractions
Making calculations with existing models and equations
Quantum theory and relativity
Hear from Nowar...
Nowar specialised in Theoretical Physics and is currently a PhD student in the field of Quantum Fields and Gravity.
Undertaking my master's degree at UWA was a huge decision to make, particularly in choosing a specialisation like theoretical physics! It has been an amazing experience; studying advanced topics such as general relativity and quantum field theory has developed my own scientific education and helped me to pursue research. It is also an opportunity to get to know all the amazing people in the physics department at UWA, both students and staff, and to see and get involved in the research that is going on.
Quantum Technology and Computing specialisation
A first of its kind in Australia, this master's program will give you the skills to pursue a career at the forefront of the rapidly expanding quantum technology and quantum computing sector. You'll cover a variety of areas including essential and advanced quantum theories, experimental techniques in quantum sensing and communication, as well as computational concepts and programming skills.
This specialisation is right for you if you're interested in:
Using detailed computer models and simulations to solve complex problems
Quantum mechanics, computational physics, algorithms and programming languages
The future of computing and next-level computational power