Choosing the best university for your career is an important decision. With so many courses on offer, it can be hard to decide which is the right one for you. Not only do you want to choose the right degree, you want to know that your university offers outstanding industry opportunities.
While a degree gives you the skills you require for your chosen profession, industry opportunities and networks are just as important. Employers love to see real industry experience. They want you work-ready with a wide range of skills and abilities from extra-curricular activities and industry mentoring programs.
So, how do you land your dream job?
Here's our go-to list for fantastic industry opportunities that will give your resumé an A+ when you graduate from UWA.
Industry opportunity 1 – 160+ student clubs
UWA has an amazing 160 student clubs available to you. This means there is something for everyone: clubs like UWA Women in Business, Finance Association of WA and the UWA Music Group, just to name a few. Joining one of these 160+ student clubs while studying is a great way to show your community involvement. Employers want to see your commitment to extra-curricular activities, highlighting your skills and preparing you to meet top ad criteria for employment; including communication skills, working in a collaborative team environment and respect for other cultures and diversity.
Industry opportunity 2 –

Work Integrated Learning (WIL)

Having a degree is only the beginning. When hiring graduates, employers want you to showcase your industry experience. That's why a Work Integrated Learning program is so valuable. This program will assist you to build confidence when mastering new skills and gain real industry knowledge, as you develop and foster lasting networks that could lead to your first job out of uni. Programs like this add so much more to your degree and will benefit both you and your future employer.
Industry opportunity 3 – Career Mentor Link
Have the opportunity to be personally mentored from an industry professional through the Career Mentor Link. With a strong focus on identifying your career goals and developing your job-seeking skills, you will walk away with the confidence to enter your chosen profession. You will discover a better understanding of the industry and gain exposure to current professional practices and trends, while also learning what employers are looking for to benefit your personal and professional networks.
Industry opportunity 4 – Access to exclusive events
As a UWA student you receive instant VIP Access to some amazing exclusive events. UWA's global reputation means that companies know we produce highly sought-after graduates, and so employers come straight to us to source with newly emerging talent.
This is one of the huge benefits of studying at a world top 100 university. The line-up of events is impressive including the UNIQLO Global Management Program, Cisco MENTORME Programme, Chevron Vacation Program Networking Lunch, Wesfarmers and Google at UWA, Discover Rio Tinto, Azure Capital Sundowner and EY at UWA. Here you're set to learn and meet some of the best leaders from the world's largest organisations. Did we mention these events are exclusive!?
Industry opportunity 5 – Annual UWA Careers Fair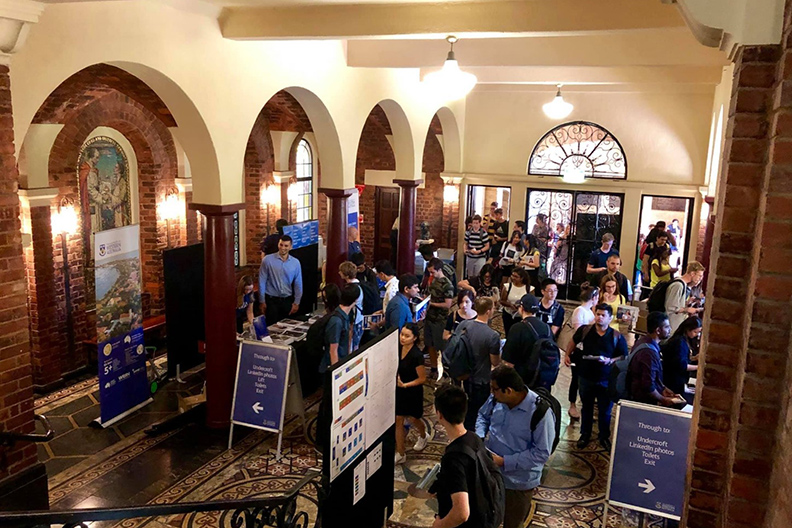 Want some help landing your dream job or internship? The annual UWA Careers Fair is a must attend event, setting you up to meet and network with potential employers. You'll love planning your career goals and researching about possible grad programs, internships and vacation work.
Not to be missed, make sure this event is pencilled into your diary well in advance.
Industry opportunity 6 – IQ Academy
Want to think like a startup, validate your ideas and build incredible teams? Or maybe you want to create products and services people love and discover the art of a great pitch.
Building enterprise skills through education and training accelerates the entry to full-time work by 17 months. The Foundation for Young Australians
That's why, UWA's IQ Academy is a must for next-generation thought-leaders who want to excel their careers. You could very well kickstart your own startup dreams through this program or give yourself the edge to landing your dream job.
Industry opportunity 7 – Careers and Employability Award program
UWA has created a program alongside our industry partners to give your career a kickstart. Undertake career development activities like pre-placement workshops, employer events and employability skills to help you prepare your CV and ace the interview process. You will also undertake work experience, volunteering experience and more. You'll supercharge your skills and experience as well as receive a certificate of completion for your CV.
Industry opportunity 8 – Social impact
The employment landscape has changed over past years, meaning future careers look a little different to what you might think. Employers are thinking outside the box and know they have a corporate and social responsibility to world issues. This means not only do they want to see you highly skilled in your chosen profession, but they also want to find graduates that are cause-driven and willing to make a difference in society.
The Centre for Social Impact is a fast-track to becoming a social-impact leader and addressing some of the most pressing issues in the world. You can enrol in the unit 'Changing the World: Social Innovation, Finance and Enterprise', which offers an introduction to the concepts and practices of social impact.
Students can also join the McCusker Centre for Citizenship. Their goal is to foster caring, connected and socially engaged citizens for future generations. Their award-winning internship program offers learning with not for profit, community and government organisations' locally, regionally and globally. You can even gain academic credits towards your degree when you complete a successful internship through the program.