Gain more than a master's, gain a profession
UWA's Division of Pharmacy provides excellence in pharmacy education and research. We are committed to graduating students who are future leaders in the profession and promote the highest standards.
Our students acquire knowledge in areas of pharmacy practice, clinical pharmacy, pharmaceutics, medicinal chemistry, and biomedicine and biotechnology, including practical training in community and hospital pharmacy.
Our program differs in many respects from others; most notable is our small yearly intake of about 50 students who are selected from a pool of applicants each year.
This fosters an excellent learning culture and our students complete their work in small groups with readily available access to academic and professional staff, plus a superior level of peer support.
Our Vision
To produce leaders in the profession of pharmacy and enhance the quality of life of Australians through the practice of pharmacy.
Our Purpose
To meet this vision, our purpose is to produce graduates who:
have an advanced and integrated understanding in all areas of the practice of pharmacy, including research principles and methods;
practice pharmacy based on excellence in competency, integrity and care;
apply knowledge and skills that demonstrate autonomy, expert judgement, adaptability and responsibility as a practitioner;
acknowledge and celebrate difference, and involve and empower others to reach their potential.
Our Values
Professionalism
We are committed to developing pharmacy professionals whose practice is based on excellence in competency, integrity and care. In every aspect of pharmacy we are accountable, from world-class teaching and research, to professional practice and patient-centred care. We will deliver the highest quality education to ensure the students of today are the leaders of tomorrow.
Collaboration and Collegiality
We operate collegially to foster meaningful and mutually beneficial collaborations with students, staff, patients and other stakeholders. We encourage involvement and teamwork and highly value integrity and transparency in our working with others.
Inclusion
We acknowledge and celebrate difference and will involve and empower students and staff through encouragement, development and mentoring. We seek to understand the perspective, approach and ideas of others to create an environment of belonging and self-worth.
Communication
We promote effective and transparent communication with students, staff, patients and other healthcare professionals. We embrace timely and collaborative communication.
Innovation
We embrace flexibility, creativity and leadership to create proactive solutions to current and future challenges.
The Master of Pharmacy is fully accredited by the Australian Pharmacy Council
Small yearly intake of students
Hospital placements for all students
Teaching delivered by practising expert pharmacists
Significant research project with the opportunity to complete rurally or internationally
Culturally sensitive teaching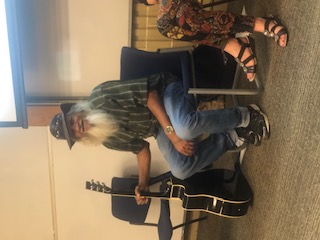 On Wednesday 28th October, first year Master of Pharmacy students had the opportunity to hear the story of Clive Morrison, a Noongar man, and his lived experience of abuse, homelessness, addiction and prison. His goal is to share his story to raise awareness around reconciliation and the struggles Aboriginal people face based on the history of colonisation in this country. Clive recited a poem he had written and also sang two songs for our students on his guitar.
This special presentation was offered to the students in the preparation week prior to their first community placement, where 12 students will be travelling to rural and remote communities.
Students that attended provided feedback on their biggest take-away from the workshop…
'The importance of understanding Indigenous culture and being respectfully curious to learn more about our past, the people we meet and striving to build positive relations within our communities.'
'That the hurt from past generations is not as long ago as I thought and that it is been carried down to the current generations.'
'How complicated and deep-rooted systemic racism is in our daily lives.'
'My biggest take away was that there's so much to the Indigenous community that I still don't know about and that whenever I get the chance to meet an Indigenous person to ask about their story'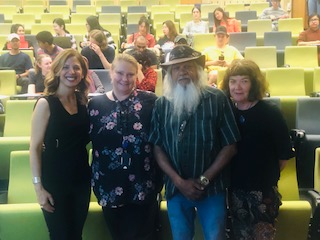 'Eye opening experience for me when hearing from living truth like Mr Clive Morrison. When I get to hear the story of Clive and the impact on his life, I can only imagine how much pain and struggle all of them have to endure to get to where they are today and it is just the beginning. The most heart-breaking part was hearing that they were not allowed in some of the government building till 15 years ago and we have never learnt about that in school. I'm now more culturally aware and more respectful towards Aboriginal and Torres islanders.'
Our research disciplines
UWA has been rated as well above world standard (level 5) for Pharmacology and Pharmaceutical Sciences fields of research in the 2018 Excellence in Research Australia results.
Contact Connie Locher, Deputy Head of Pharmacy