School students from Southern River College and Bridgetown High school have had their classroom experience enhanced with the donation of 27 microscopes from The University of Western Australia. The initiative was supported with help from the Science teacher's Network.
The microscopes, which were previously used for teaching at UWA's School of Biomedical Sciences, have now been given a new lease of life, bringing the wonders of microscopy to the classroom.
Southern River College human biology teacher Kate Cunningham said the microscopes allowed students to see and explore cells at high magnification.
"Students are able to share one microscope between two students rather than having to wait their turn in a group of six," Ms Cunningham said. "This has sparked great interest and enthusiasm in the students, and made a big difference to learning and the application of science for students."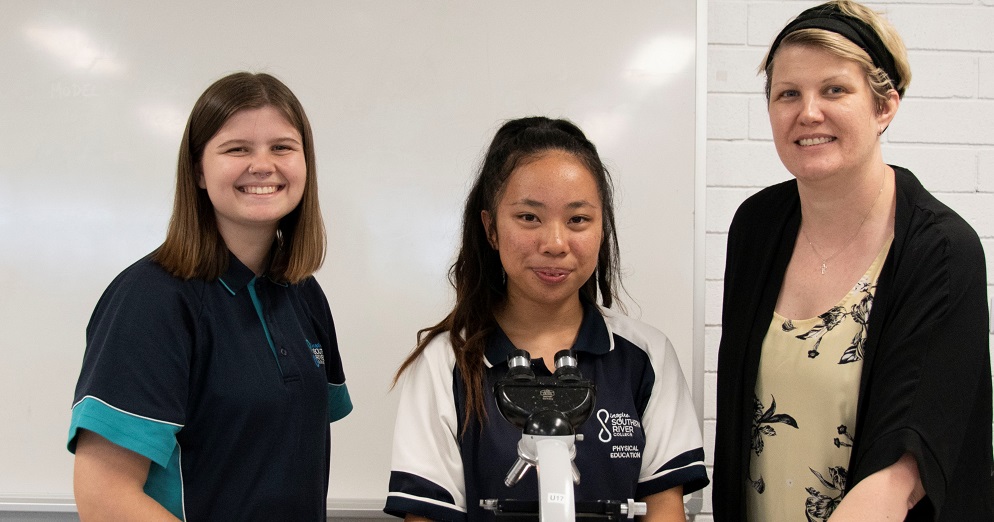 Image: Breanna Werndley, Winky Shane Pesase and Southern River College human biology teacher Kate Cunningham.
Southern River College student Winky Shane Pesase said the microscopes had created an interesting learning environment.
"As a student who is interested in Biology, these microscopes have made learning so much more fun,' she said.
UWA Head of the School of Biomedical Sciences Professor Jeffrey Keelan said the University was proud to support science education in the WA community through the donation of microscopes to high schools across the state.
"This will enhance the hands-on laboratory experience and encourage students to pursue a career in various scientific fields," Professor Keelan said.