FACILITY
Plant Growth Facility
Growing Australia's future
The UWA Plant Growth Facility (PGF) provides a high-quality, functional and practical growing site for carrying out experiments under controlled conditions. Users are able control light quality, temperature, water, nutrients and soil composition while eliminating the variability found in nature. The facility has the capacity for a wide range of research projects and is available to all staff and students while also supporting national and international collaborative research.
The PGF consists of 19 greenhouses, 8 phytotrons, 29 plant growth rooms and 8 plant growth cabinets. Other facilities include an autoclave, soil storage areas and sterilisation equipment, ancillary equipment storage spaces and a deionised water production facility.
The central services building also contains supporting preparation and harvest laboratories, balances, drying rooms and weighing rooms. Some facilities are certified for biosecurity activities, such as working with genetically modified plants or species of quarantine interest.
A major advantage of these facilities is their close proximity to the laboratories that allow a seamless transition from plant growth environments to more intensive laboratory-based analysis, including everything from detailed chemical composition to molecular analysis.
Facility details
Controlled environment rooms are used by researchers who need specific and carefully controlled conditions for their work.
The range of activities include plant pathology, plant breeding and plant physiology through to herbicide testing.
Capacity also exists to perform experiments at elevated carbon dioxide concentrations to evaluate the impact of global climate change on biological systems.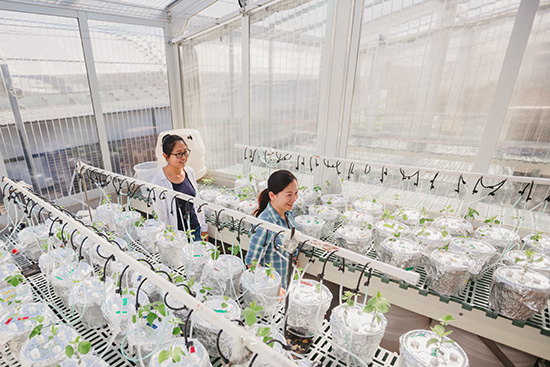 Industry collaboration
The PGF facilitates collaborative partnerships with national and international organisations, including industry, government and the community to elevate our research impact to solve global world challenges.
Some of our current partners include:
The Department of Biodiversity, Conservation and Attractions
Department of Primary Industries and Regional Development
Australian Research Council
Grains Research and Development Corporation
Rural Industries Research and Development Corporation
Australian Wool Innovation
Meat and Livestock Australia
Murdoch University, Curtin University, Edith Cowan University
Various corporate entities, including mining companies, oil and gas companies, environmental consultants, individual farming enterprises and plant breeding entities.
Collaboration with visiting scientists and students
International universities and institutes
Contact the Plant Growth Facility
Location
Find us on campus
Map