Doctor of Optometry Clinical Rotations
The University of Western Australia (UWA) Doctor of Optometry (OD) was established in 2021. At the heart of the program are our values of innovation, evidence-based practice and a genuine commitment to connect to the eye-care industry.
The goal of the UWA OD is to produce optometry graduates that:

will improve the eye health of Australians particularly Indigenous Australians and those living in regional areas

practise with respect to the social, legal and ethical responsibilities of optometrists

are highly sought-after and work-ready with high standards of clinical competence

have the knowledge, skills and attitudes to provide care effectively in a competitive commercial environment

have developed enduring behaviours for continuous self-directed learning and professional development

A state-of-the-art 16 lane UWA Optometry pre-clinical skills lab has been established. Our students attend this clinical skills lab to further advance their clinical skills training and engage directly in primary eye care.
The Clinical Rotations occupies the final six months of the Doctor of Optometry degree, during which each student is placed in various optometry practices. While students will remain connected with the University, for all intents and purposes, they become members of their host practices.
By the time students reach this component of the Doctor of Optometry, they will have developed the skills and knowledge that are fundamental to the practice of optometry. The study period prior
to the Clinical Rotations equips the student to work as an optometrist-in-training and prepares them to work with you. This
placement provides further experience, enhancing their skills and knowledge and creates a work-ready graduate.
We are seeking support from optometry practices to host our students and provide them with an opportunity to work in an environment where they will be exposed to patients, eye care professionals and the community.
As a clinical supervisor you will have the student 'working' in your practice for four days per week. Before you become a clinical supervisor you will need to complete an online training program. This training will help you to transfer your skills and knowledge to our student during their placement. In addition, we have developed a supervisor's manual and a support service to assist you.
The student undertaking their Clinical Rotations learns through a combination of self-directed, guided and serendipitous opportunities. We encourage both the student and their supervisor to experiment with what works best, using a suggested framework that we provide in our Supervisor Manual. This ensures adequate exposure to the range of issues dealt with in optometry.
Before our students commence the program, they will have provided comprehensive services to at least 20 patients and will have passed both their didactic and clinical skills assessments across eight semesters at the University. They will have the basic skills in a range of clinical, professional and optical activities and will be able to deliver a full eye examination within one hour.
If you have registered and been approved to be a clinical placements supervisor for UWA Optometry, then you can access the Supervisor Manual

How it works
When does the clinical placement and or clinical rotations program take place?

The Clinical Placement begin at the beginning of second year (Trimester 1) and ends at the beginning of third year (Trimester 1). The Clinical Rotations take place in Trimester 2 & 3 of third year. The Clinical Rotations are designed to complement the clinical experiences our students receive through placements at public and private optometry and ophthalmology practices.

It occupies the final six months of the Doctor of Optometry program, and takes place from April until mid-November with a two-week break during the Clinical Rotations.

How many hours of supervision and tuition do I need to provide?

Students attend the practice for four days per week for 7.5 hours per day. A supervising optometrist (either you or another optometrist in your practice who has registered to be a supervisor) must be present in the practice when the student is there. In addition to supervising the student's practice and patient-related activities, you must also agree to provide the student with one hour per week for feedback, support and assessment. We will provide you with a template to guide you in this regard.

Will I supervise a student every year?

If you agree to take a student it does not mean that you have committed to taking another student the following year, although you can if you wish to.

Do I have to take a student for the full 26 weeks during Clinical Rotations?

No, most students split their placements into four rotations, each rotation being 6 weeks long. It is possible for you to be involved in only one of the 6 week blocks. You may prefer to take few optometrists-in-training in the same year, each for a different period ranging from 6 weeks to 12 weeks.

How do I exit from the program?

At no stage are you legally bound to be a clinical supervisor. If it no longer suits you or your practice to host a UWA Optometry student, we will arrange to relocate the student.

Do I get paid for supervising a student?

There is currently no mechanism for remuneration of supervision of UWA Optometry students; however we have identified a number of benefits, which may translate to, increased practice profitability and professional growth and development including CPD.

Can I claim Medicare?

For a clinical service to be eligible for Medicare benefits, you must have attended to the patient and been involved in their management. Medicare benefits are assigned based on the length of time of your attendance, as per the Medicare Benefits Schedule.

Does the student get paid?

Students are unpaid and there is no expectation for you to pay them. They undertake placements as a key element of their university studies. Students are committed to gaining experience and enhancing their clinical skills through the normal working week (four days in your practice and one day of engagement with their online curriculum). Should you make an agreement with the student to work additional hours, those would fall outside of the UWA Clinical Placement Program. It is our view that the student should be paid for additional hours at a level commensurate with an optical assistant.

Do I need to pay WorkCover?

No. UWA provides insurance for all students on placement, however should you choose to pay the student for additional hours, and this work will fall under normal workplace legislation.

Do I need to have therapeutic endorsement?

Advice from the Optometry Council of Australia and New Zealand (OCANZ) is that students should spend time with a therapeutically endorsed optometrist. It is for this reason that we require students to spend most of their Clinical Placements and or Clinical Rotations with a therapeutically endorsed supervising optometrist. UWA Optometry requires that all supervising optometrists have been registered with AHPRA for three years or more.

Do I need to provide accommodation or a travel allowance to the student?

No. Students are aware that these placements are an essential part of their course, and as such, accommodation and travel expenses whilst on placement are borne by them.

Can I share the supervisory role with others in the practice?

Yes. We want our students to get a broad experience of working in a practice. Only one optometrist can be the primary supervisor, however we encourage you to involve others such as practice managers and dispensers in their supervision.

Can I organise a student placement with another practice?

Yes this is possible. For instance, a student could undertake observation with a local ophthalmologist or general practitioner. It may be that there are a number of local optometry practices taking a UWA Optometry student and as a group you may wish to jointly supervise the students.

What happens when I go on holiday?

The student must not be left alone to provide clinical services. Our preference would be for a secondary supervisor to look after the student when the primary supervisor is on leave. If there is no secondary supervisor this may be a time, however, when the student gains valuable experience in other aspects of your optometric practice such as front-of-house duties, dispensing, adjustments and repairs and other enquiries. When there is no secondary supervisor, holiday periods of two weeks or more will need to be discussed with UWA and the student to allow for alternative arrangements to be made.

Will the student be registered with the optometrists' board of Australia (OBA)?

Yes. All students are registered as students with the Optometry Board of Australia before they start their placements.

What information about the student will I receive in advance?

Your UWA Optometry student will provide you with their contact details. We require all of our students to have an up-to-date vaccination status, police and working with children checks.

Our students
Before students join a practice for their Clinical Rotations in third year, they will have attained specific competencies relating to theoretical and clinical skills.
Students will have completed 50 ophthalmic and retail dispensing sessions, over 300 hours of clinical skills sessions at UWA, as well as over 150 hours in the UWA pre-clinical facility at the UWA campus and the UWA Optometry Clinic. They will have had undertaken 60 hours of clinical observations and 50 hours of direct patient consultations in the Lions Optics Teaching Clinic, UWA Optometry and other community clinics.
Students will have the ability to complete an eye examination within one hour and perform several consultations per day. The student will arrive knowledgeable, willing, enthusiastic and able in areas covered by the following core competencies:
• Communication and patient management
• Business of optometry
• History taking
• Preliminary ocular assessments
• Refraction
• External ocular assessment • Internal ocular assessment
• Supplementary investigations
• Ocular therapeutics
• Optical appliances
• Contact lens practice
• Paediatric practice
• Vision rehabilitation
Students will have also experienced the full cycle in our clinic space such as;
Benefits
What are the benefits to me and to my practice?
Recruitment and succession planning opportunities

The Clinical Placements and Clinical Rotations are an ideal opportunity for you to assess and consider potential new employees. They will qualify at the conclusion of their placement and will very likely be seeking employment.

Remaining at 'the cutting edge'

An advantage often cited by supervisors of students (as well as employers of new graduates) is that they arrive with updated information and skills. While the student is there to learn valuable skills from you, they also have cutting edge knowledge to contribute to your practice.

Satisfaction and recognition

By influencing the next generation of optometrists you are making a statement to your peers about your role within optometry. We have seen that within the medical profession, the engagement of interns often creates a very positive opinion within the local community and is usually viewed favourably by the patients of the practice.

Practice accreditation and teaching practice status

UWA Optometry will have expectations of you and will provide you with training and workshop programs to help you optimise your teaching skills. There are many ways to teach and just as many ways to learn. Realising this diversity can help you understand why a student may not seem to understand what you are saying. Completing the training we offer will not only enhance your teaching skills but also provide you with Continuing Professional Development points and a recognised teaching practice status from UWA Optometry.

UWA alumnus benefits

Even though you may not have completed your education through UWA, becoming an accredited supervisor will provide the following benefits:

Use of a @uwa.edu.au email address
Access to UWA library and its online community and support
Access to online subscription services to the leading optometry and ophthalmology journals
Recognition as a supervisor in the UWA Doctor of Optometry Clinical Placement Program

Your role
What is the role of a supervisor?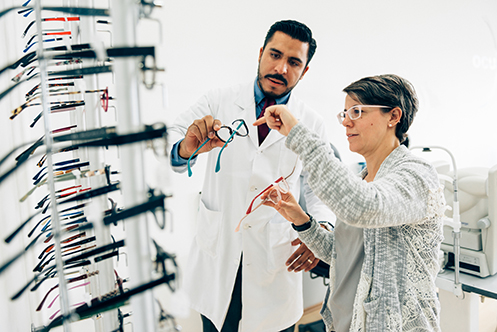 As a clinical supervisor you will have the student working in your practice for four days per week. Before you become a clinical supervisor you will need to complete an online training and accreditation program. This training will help you communicate your skills and knowledge to the student during their placement.
A supervising optometrist (either you or another optometrist in your practice who has registered to be a supervisor) must be present in the practice when the student is there. In addition to supervising the practice and patient-related activities of your student, you must also agree to provide the student with one hour per week for feedback, support and assessment. We will provide you with a template to guide you in this regard.

Register your interest
To ensure UWA's ongoing high standards we accredit all clinical residential placement practices and their associated optometrists who wish to be a primary or secondary supervisor of a student.
Based on information that you supply in your application you may be provisionally-accredited to become a UWA Optometry supervisor. Full accreditation is attained once the online supervisor training modules have been completed. Re-accreditation takes place every four years.
If you have registered and been approved to be a clinical placements supervisor for UWA Optometry, then you can access the Supervisor Manual
To register your interest in the UWA Optometry Clinical Placement Program please complete the
'Practice Information form'