Department of Electrical, Electronic and Computer Engineering
Solving complex electrical generation, transmission and computer system challenges
The Department of Electrical, Electronic and Computer Engineering delves deep into the world of technology, giving students a thorough understanding of how electronics work.
Gain knowledge on advanced programming techniques, discover new computer languages and networks, learn how to build complicated electronic circuits and specialise in the design and testing of electrical devices.
Our research groups
Microelectronics Research Group

The Microelectronics Research Group (MRG) is a world-leading research and development group delivering solutions, new knowledge and education in advanced microelectronics, optoelectronics, micro-electromechanical systems (MEMS), nanotechnology, Very-large-scale integration (VLSI), photonics and microsystems technology, with particular focus on sensors in all areas. It is carrying out fundamental research, of international excellence in quality, by being responsive to the needs of industry, and by demonstrating and transferring technology from theory to practice.

Key members:

Power And Clean Energy (PACE) Research Group

The Power and Clean Energy (PACE) research group is devoted to the study of integrating clean energy generation systems (i.e., solar PV, wind turbine generators, fuel cell plants etc.) into power grids. Our research scope encompasses renewable energy sources, Smart grids, power electronics (especially FACTS devices), dynamic simulation and estimation of power systems, identification and design of Micro grids, network efficiency optimization, and electric vehicles. Our research work entails a wide spectrum of core electrical power engineering knowledge, including Control and Signal Processing techniques and modern Communication technologies.

Key members:

Signal Processing and Recognition Lab (SpaRLab)

The SPaRLab is addressing important issues in audio, speech and video signal processing for detection, enhancement and recognition. Using the latest advances in signal processing (including deep learning) our lab has been researching the problems of our modern technological world: biometric security and anti-spoofing systems, acoustic event detection of dangers and faults, using vocal and facial features for clinical and behavioural analysis, and spoken language understanding for improved human communication.

The SPaRLab is a member of the Automation and Robotics research cluster.

Optical and Biomedical Engineering

The Optical+Biomedical Engineering Laboratory (OBEL) conducts research in biomedical engineering at the interfaces of optics, photonics, biology, biotechnology, and medicine; a field often termed 'Biomedical Optics' or 'Biophotonics'. The group's research is directed towards new optical techniques and applications in medicine and the life sciences, with emphasis on biomedical imaging (optical-coherence tomography, holography and multi-photon microscopy), optical biopsy (propagation of diffuse light in tissues), and the therapeutic use of lasers.

Key member:

Control Systems Research Group

Control methods are used whenever some quantity, such as temperature, altitude or speed, must be made to behave in some desirable way over time. For example, control methods are used to make sure that the temperature in our homes stays within acceptable levels in both winter and summer. Current research topics of the group include model/controller reduction, filter design techniques, robust control and singular systems.

Key member:

Signal Processing for Wireless Communication Laboratory

In the Signal Processing for Wireless Communications Laboratory (SPWCL), we pioneer in research into "CT scan" of the atmosphere (e.g. drones, rain, and cloud) using microwave signals from Low Earth Orbit satellites; design and analyse innovative transceiver architectures and signal processing algorithms for terrestrial wireless communication systems; and design signal processing algorithms for underwater acoustic communications with moving transceivers.

Key member:

Robotics and Automation

The Robotics and Automation Laboratory has been active for more than a decade doing research on all types of autonomous mobile robots, including intelligent driving and walking robots, autonomous underwater vehicles, and unmanned aerial vehicles. Other work includes the design of embedded controllers and embedded operating systems, and other simulation systems.

The Robotics and Automation Lab is a member of the Automation and Robotics research cluster.

Key members:

The UWA Renewable Energy Vehicle Project (REV)

The UWA Renewable Energy Vehicle Project (REV) hopes to "revolutionise personal transport" by building zero emission vehicles, powered by electricity from renewable sources, charged from any plug point and viable to both the performance and commercial markets.

REV is tackling the problems created by rising fuel prices and vehicle pollution head-on.

REV is a member of the Automation and Robotics research cluster.

Key members:

BRITELab

The primary focus of BRITElab is the development of optical coherence elastography (OCE) techniques. OCE is an emerging imaging modality that maps depth-resolved mechanical properties of tissues at high resolution.

Key members: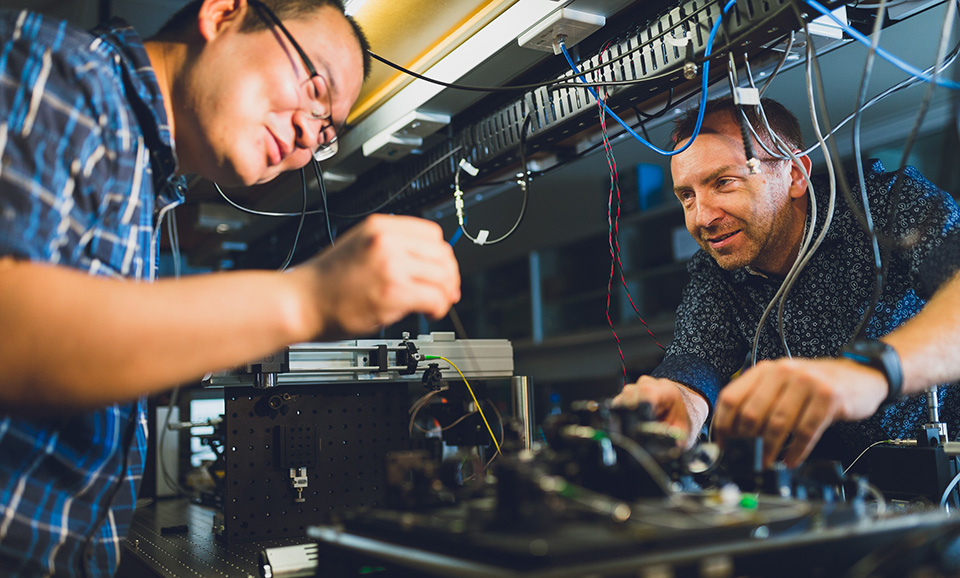 Bachelor of Engineering (Honours)
Electrical and Electronic Engineering major
A degree in Electrical and Electronic Engineering creates opportunities for you to develop sustainable energy solutions, design new technologies, solve detailed computer problems and work with some of the world's best minds.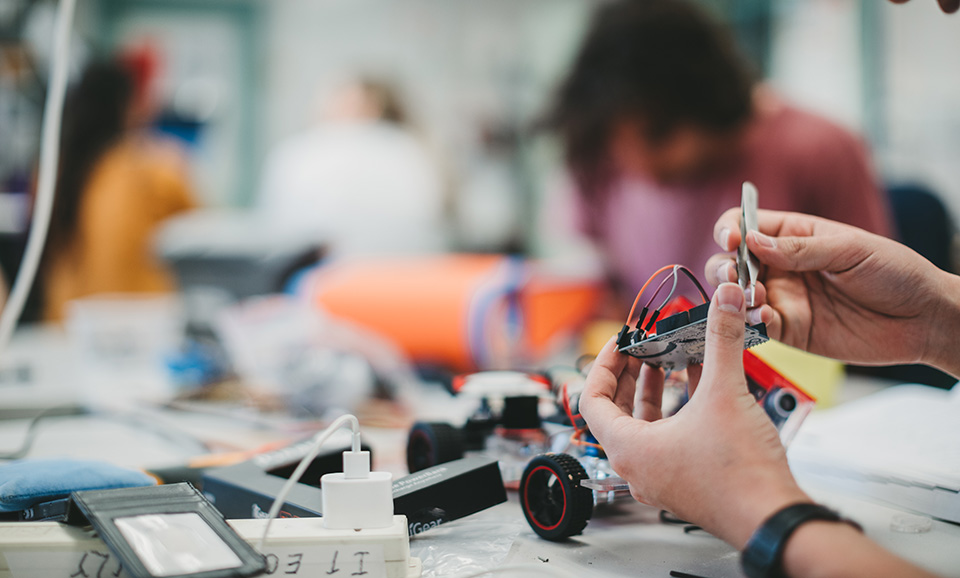 Bachelor of Engineering (Honours)
Automation and Robotics Engineering major
A degree in Automation and Robotics Engineering will provide you with the broad multidisciplinary knowledge and skills that industry requires of people working in robotics, automation and Industry 4.0.
Combining relevant aspects from all software development, electronic hardware design and mechatronics, this course will cover the principles, design and operation of industrial robot manipulators as well as intelligent autonomous robots and self-driving vehicles.
Bachelor of Engineering (Honours)
Biomedical Engineering major
Biomedical Engineering takes engineering design and principles and applies them to medicine and biology for healthcare purposes.

Your career could combine your knowledge of engineering and biology to develop technologies to improve our health. For example, working in hospitals with clinicians to design and implement medical devices, or in medical device companies to create next generation healthcare solutions.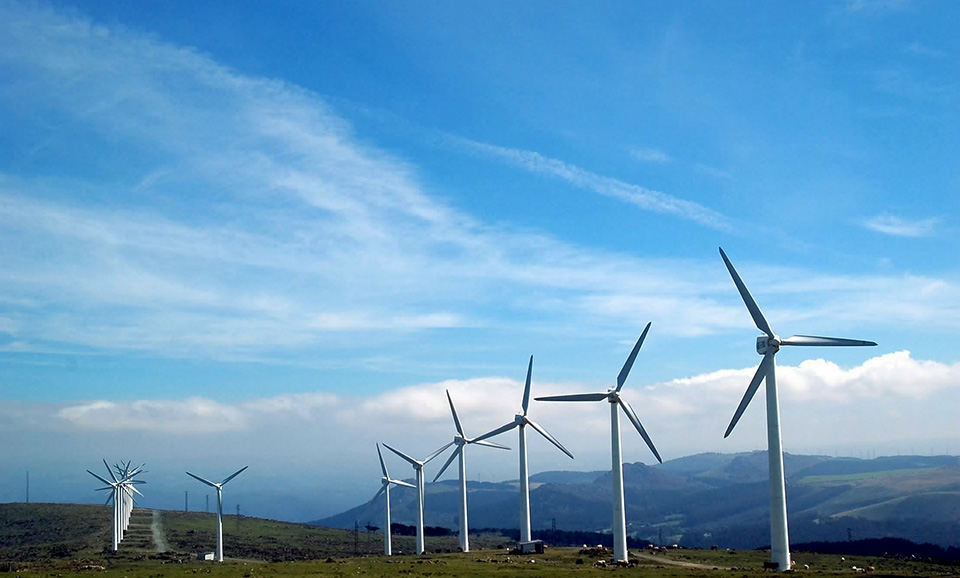 Master of Renewable and Future Energy
As new technologies for the energy sector develop, students will be equipped to adapt and evolve alongside industry changes.
The breadth and depth covered through interdisciplinary collaborations within the faculty offers an opportunity to gain more in-depth technical knowledge and skills to tackle the current challenges and opportunities that come with an uptake of renewable energy and distributed renewable energy in microgrids.
Postgraduate courses
Master's degrees

Research degrees
Industry partnerships
The Department of Electrical, Electronic and Computer Engineering works with a number of industry partners to ensure our graduates get the best headstart on their careers.
The Electrical, Electronic and Computer Engineering Industry Advisory Panel members can be found here