Albany's potential to be a super power when it comes to harnessing clean energy from oceans has been backed by two new reports which outline the Great Southern region's internationally superior offshore energy resource and the 'Value in Waves' for WA's future economy.
The analysis by post-graduate researcher at The University of Western Australia's Marine Energy Research Centre (MERA) Lucy Wang, as part of the WA Parliamentary Research Program, presents the benefits of including wave energy in the renewables mix and its cost-competitiveness over time.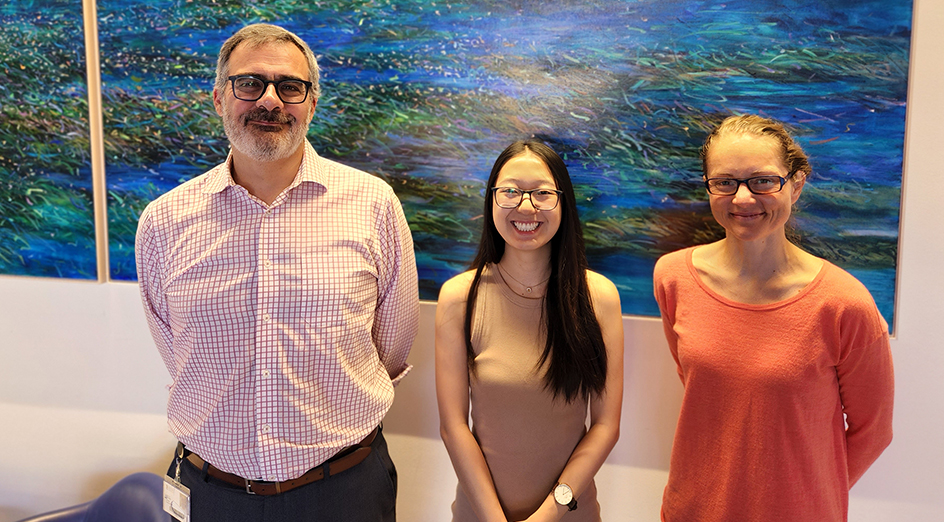 Image: MERA Director Professor Christophe Gaudin with PRP student Lucy Wang and Supervising Research Fellow Dr Jana Orszaghova
MERA centre manager Dr Wiebke Ebeling at the UWA Albany Campus said the work modelled the composition and performance of a renewable energy grid on the WA south coast using solar, onshore wind and wave energy input to satisfy customer demand across all seasons.
"It concluded that the consistency and predictability of waves make the Albany region a promising site to advance wave energy as a clean baseload energy source in resilient renewable energy grids of the future that can reduce the need for battery storage and overcome intermittency issues," Dr Ebeling said.
The PRP project is standing on the shoulders of a previous study that compared wave energy production by the wave-riding M4 technology (short for Moored MultiModal Multibody) in the Southern Ocean off Albany to the world's wave energy capital, the European Marine Energy Centre in northern Scotland.
Dr Ebeling said MERA's research will be backed by the upcoming Albany sea trial, a $3.47 million project to design, build, deploy, operate and retrieve a reduced-scale M4 wave energy converter in King George Sound – marking an important milestone for Australia.
"Funded by the Blue Economy Cooperative Research Centre , WA Government and UWA, this project will make all data publicly available to advance the entire industry sector – a point of difference to projects around the world where commercial sensitivities limit knowledge sharing," Dr Ebeling said.
"The M4 project will validate our modelling and our predictions to establish Albany's potential to produce significant renewable energy from ocean waves, for nearby customers such as the Albany Shellfish Hatchery and the Historic Whaling Station."
Dr Ebeling thanked recently retired Regional Development Minister Alannah MacTiernan for her support in creating an ocean energy knowledge hub in regional WA through MERA and for her mentorship of Ms Wang as part of the Parliamentary Research Program.
Image: (left to right) MERA Research Fellow Dr Adi Kurniawan, Centre Manager Dr Wiebke Ebeling, Hon Alannah MacTiernan MLC, Member for Albany Rebecca Stephens MLA
She said UWA's marine research facility in the Great Southern and Albany's potential wave energy sites will take centre stage next week at the inaugural Postgraduate Summer School of the Blue Economy CRC.
"A cohort of 30 participants, mostly postgraduate research students from across the country and young industry professionals from Perth, will enjoy a busy program of lectures, fieldwork, cultural and stakeholder engagement on the WA south coast," she said.
The Summer School will offer community outreach opportunities, with leading experts in the field of offshore renewable energy holding a public evening lecture on Tuesday January 24 and during an interactive OffshoreWind4Kids session at Emu Point on Thursday January 26.