A rising star of contemporary classical music who graduated from The University of Western Australia was one of four artists to be awarded a prestigious Forrest Research Foundation Creative and Performance Leadership Fellowship.
The Fellowships were set up to encourage arts and humanities professionals to pursue further study in their areas of interest.
Award-winning composer Alex Turley, who has worked with a diverse range of performers including the Sydney and Melbourne Symphony Orchestras, Electric Fields and Rufus Du Sol, plans to create a musical body of work that represents his home State's vastness, people and ecology.
"I believe that everyone has a right to enjoy and understand music and am committed to using my knowledge of the artform to advance this idea," Mr Turley said.
He said the project, Developing and implementing a method of ecological composition to represent Western Australian spaces, would explore connection to land, the role of humans in shaping the climate and the statehood of WA.
The other recipients of the fellowships are Dr Ji Liu and Dr Cassandra Tytler from Edith Cowan University and Dr Andrea Rassell from Curtin University.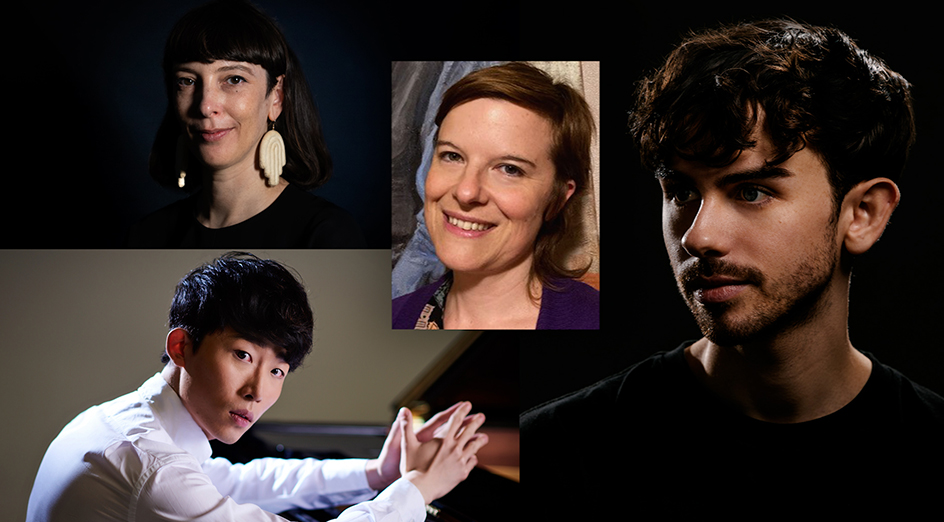 Image: (clockwise from top left) Dr Andrea Rassell, Dr Cassandra Tytler, Alex Turley and Dr Ji Liu, the new Forrest Creative Fellows.
Pianist and composer Dr Liu is interested in merging tradition with new technologies to create compositions and performances that respond to global issues such as isolation, loneliness, the pandemic and climate change.
Dr Rassell creates experimental films and moving image installations that explore the perception of the nanoscale. Dr Tytler's performance video and site-specific installations amplify stories that inspire climate-informed action, empathy and inclusion.
Director of the Forrest Research Foundation Professor James Arvanitakis said the creative fellowships offered a new route to nurture the talents and research leadership skills of those working in the creative and performing arts sector.
"The awards seek to harness the imaginative, creative, embodied and practical skills of creative and performing arts practitioners to generate high impact outcomes that will result in social, cultural and health benefits to the wider community," Professor Arvanitakis said.
The Forrest Research Foundation was established in 2014 by Andrew and Nicola Forrest through their Minderoo Foundation.
"We are proud to support the new Forrest Creative Fellows whose creativity and imagination will enrich the wider community, while enhancing the quality and reputation of WA's arts sector," Nicola Forrest said.